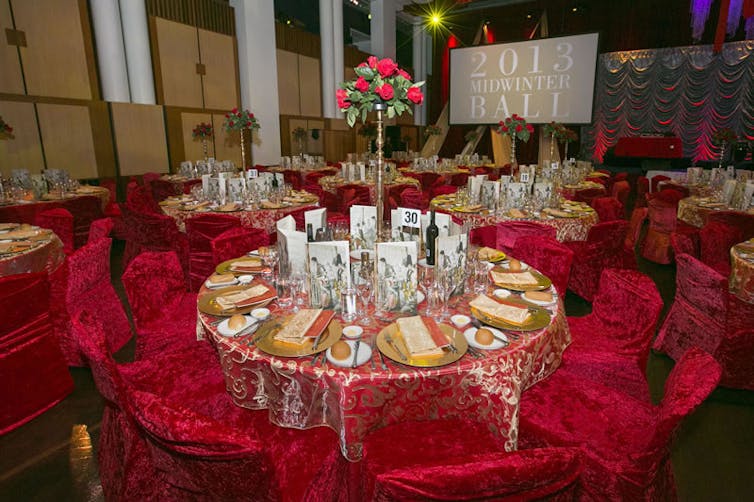 In Canberra the Ides of March has recently come in June, soon after the Press Gallery's Midwinter Ball and at the end of the parliamentary session. Kevin Rudd was deposed in late June 2010; Julia Gillard fell, almost to the day, three years later.
This Wednesday's ball won't have that special frisson of mounting crisis: Tony Abbott and Bill Shorten are safe in their jobs. But they are both surrounded by untidiness and some dissent as this sitting fortnight starts.
Abbott, after arriving back early on Monday from his around-the-world trip, has found some of the first Senate jabs in the struggle over the budget bills coming from his own ranks, with Liberal senators Ian Macdonald and Cory Bernardi attacking the debt levy (which, however, will have an easy Senate passage courtesy of Labor).
Bernardi objected to the levy on principle because taxes should be going down, not up. In contrast, Macdonald said the income tax rise did not go far enough – it should apply to companies as well as individuals.
For good measure, Macdonald attacked Abbott's paid parental scheme (for which legislation hasn't yet been introduced), saying his "inclination" was to vote against the plan unless big changes were made, for example to help stay-at-home-mums. This was manna for Labor in its assault in the House of Representatives on a weary-looking Abbott.
The Prime Minister also faced questioning about the just-released Melbourne Institute of Applied Economic and Social Research's Household Income and Labour Dynamics in Australia (HILDA) Survey, which somewhat undercut Treasurer Joe Hockey's narrative about the "age of entitlement" running rampant.
"The HILDA Survey data show an encouraging trend of declining welfare reliance among both working-age and elderly people over the 2001 to 2011 period," the report said, although there were important qualifications.
"Recent years have seen some reversal of this trend for working-age people. Moreover, reliance on the age pension among people aged 65 and over remains very high, and seems likely to remain very high over coming years," and there was a worrying trend about the disability support pension forming a rising proportion of welfare payments, which pointed to growth in long-term dependency.
Abbott palmed the questions off but more generally the government says the material is out of date and what's relevant is the future, with the budget numbers pointing to alarming trends. Even so, the survey does suggest that, as with other aspects of the budget, the government has been somewhat over-egging the problems.
Bill Shorten - who's been riding high on the polls and is in a better political position than he would have ever dreamed - had his own preoccupations as the sitting fortnight started.
On Sunday the opposition's climate change spokesman Mark Butler conspicuously kept open Labor's options on whether it would recommit to an emissions trading scheme in the 2016 election.
A day later, however, it was a quite different story. Shorten said: "we will work through our policies before the next election, but Labor won't shirk the task of having an emissions trading system". Butler, meanwhile, went from non-committal to certain, tweeting: "Labor's approach to climate policy rests on two pillars: a legal cap on pollution - underpinned by market mechanism, and renewable energy."
More immediately concerning for Shorten was a claim on Monday at the royal commission into union corruption that when he was a parliamentary secretary in 2009 he had contributed $5000 to the campaign of a candidate in the Health Services Union.
The candidate, Marco Bolano, was an ally of the union whistleblower Kathy Jackson. Shorten's office flatly denies the allegation.
On yet another front, Labor figures on Monday night were grappling with a controversial motion due to be debated at caucus on Tuesday calling for the opposition to reverse its support for sending asylum seekers to Manus Island and Nauru, and to declare that these centres should be immediately closed.
Discussions were about whether some compromise could be reached. But if the motion, put forward by West Australian MP Melissa Parke, from the left, gets to a vote it will go down. Even some in the left argue the motion was ill-advised, which shows how far the ALP's thinking has changed over the years.
Labor will not back away from its commitment to offshore processing. In office it reinstated the Howard government's policy; in opposition it judges that it would be politically disastrous to repudiate it.