At the Rio Olympics, American Ryan Lochte won gold as part of the US men's 4 x 200 metre freestyle relay team. That medal, his 12th, made him the second most successful male Olympian swimmer of all time.
A few days later, he was accused of urinating in public, vandalising a petrol station, and making up stories about being robbed at gunpoint by a gang of Brazilians in the city. Lochte's spectacular fall from grace led to serious consequences for the former world record holder. He faces career sanctions, was publicly castigated by Brazilian politicians, and lost an estimated US$1m in sponsorship.
The domestic US media also had a field day, with the New York Post printing the frontpage headline: "Liar, liar, Speedo on Fire". The New York Post went on to say that the 32-year-old was "The Ugly American" and typified "everything the world hates about Americans".
Shortly after that Speedo headline, the swimwear manufacturer and long-term sponsor of Lochte announced that their relationship with him was over. The company said it would instead donate a US$50,000 portion of Lochte's fee to Save The Children's charity work in Brazil, and said of the swimmer: "We cannot condone behaviour that is counter to the values this brand has long stood for."
They added: "We appreciate his many achievements and hope he moves forward and learns from this experience."
Since Speedo's decision, three more of Lochte's sponsors have followed suit. A common theme in the reasons given by all four companies was the insinuation that Lochte's behaviour did not fit with their respective brands. In marketing terms, a brand is affected by what is called the "totality of perceptions" – everything a potential customer knows, sees, feels and hears about an organisation.
In the expensive world of athlete endorsements, organisations such as Speedo attempt to capitalise on the positive public attention and emotional ties generated by an athlete's successes. The hope is that these associations then transfer to people's perceptions of their product.
So if the emotional response that an athlete triggers is negative, as in Lochte's case, we can hardly blame sponsors for wanting to terminate the relationship to minimise the potential damage to their own brands. Sponsors will also want to sever their ties before such perceptions become stable and enduring, and take the opportunity to reassert their own brand identities.
Speedo has done this extremely effectively.
To begin with, research suggests that athlete endorsements can both positively impact sponsor sales and market value. Put simply, the better an athlete does, the more stuff the sponsor will sell and the more money the sponsor will be worth.
Speedo cannot have failed to notice that Lochte's performance at the London 2012 games (five medals in total, three of them in individual events) was significantly better than his performance at Rio 2016 (one medal in the four-man relay).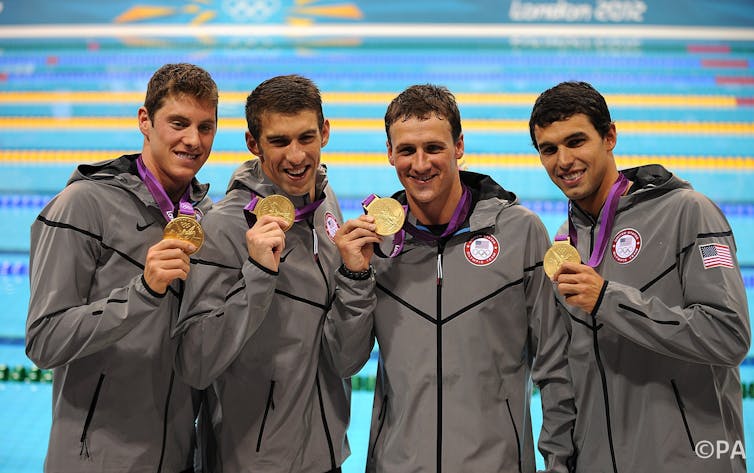 At 32, he is also eight years older than the average member of the American men's swimming team, suggesting that his major sporting achievements are probably behind him. From a purely business perspective, then, Speedo's decision therefore seems justified. Fewer medals means fewer bathing suits sold.
The decision to dump Lochte also brought Speedo a priceless amount of publicity. Their reaction was covered by media outlets across the globe, who also mentioned the company's donation of part of Lochte's endorsement fee to charity.
A gold medal in PR
The fact that Speedo has been so widely talked about has reminded both the swimming and non-swimming public that the company still exists. The statement announcing the end of the deal reiterated or introduced to the public how Speedo wish to be perceived. The donation to Save the Children, as well as guaranteeing traction in the media, served to both provide a counterpoint to the athlete's behaviour, and distinguish Speedo from their competitors.
For the cost of a press release and a relatively small charitable donation, Speedo achieved massive media penetration, and a global assertion of their brand values. They could only have dreamed of such an impact if they had spent millions on a carefully calculated marketing campaign.
The overall effect is even more impressive if you consider that Speedo's deal with Lochte was reportedly due to expire this year anyway. And although levels of publicity surrounding the organisation will wane as interest in the swimmer and his shenanigans dissipates, Speedo have used their brief opportunity effectively.
Lochte, meanwhile, who had aimed to compete at the Tokyo 2020 Olympic Games, is left with no lucrative endorsements, and the prospect of serious punishments from the US Olympic Committee and USA Swimming. He may have a good collection of medals to look at – but after his latest performance, Speedo are the clear winners.