City of Melbourne councillors voted recently to implement the 2016-20 Bicycle Plan. This followed public consultations that included two phases of community engagement and the release of a draft plan last October. Features of the plan, which has a budget of around A$2 million a year over four years, include:
upgrading busy cycling routes;

increasing bicycle parking;

improving end-of-trip facilities;

conducting safety campaigns; and

undertaking research.
Most inner-Melbourne cyclists would likely welcome this renewed commitment to improving the cycling environment. It is important, though, to put this expenditure into perspective.
A A$2 million-per-year plan for the population of about 127,000 who live in the City of Melbourne (about A$16 per person) is a pittance compared to the 20-year, US$600 million Bicycle Plan 2030 in the US city of Portland, Oregon. With a population of about 619,000, the US$30 million-a-year average works out to more than US$48 per person. Portland is mooted as one of the most cycle-friendly cities in the world.
Criticism of the plan
Days before the Melbourne councillors voted on the plan, a Herald Sun editorial said:
Melbourne City Council appears hellbent on turning the city into cyclist heaven … More likely this will soon turn the CBD into an economic wasteland as drivers take their business elsewhere as well as their shopping.
The assertion that installing cycling infrastructure in inner Melbourne will hurt the local economy defies the evidence from a plethora of case studies.
There are numerous international examples where local business-owners have over-estimated the proportion of their customers who travel by car. Consequently, they have considered parking as an overarching issue of primary concern.
They have often resisted anti-car, pro-active transport infrastructure changes – such as removing on-street parking and car lanes, and creating shared paths – on the premise that these will be bad for business.
But such changes have often resulted in increases in retail activity as well as jobs, land value and tourism.
Economic impact of cycling infrastructure
In Valencia Street, San Francisco, traffic lanes were slimmed to slow down cars and accommodate other road users. Nearly 40% of merchants reported increased sales. More than 60% reported an increase in the number of customers who ride bicycles.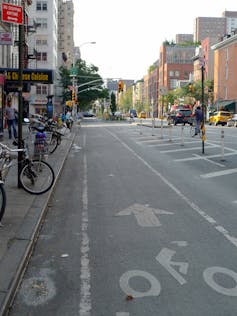 New York implemented a raft of changes across the city including traffic calming, separated and protected bike lanes, and dedicated bicycle signals. These changes resulted in significant rises in retail sales, beating the Manhattan average for the same period and substantially outpacing performance on nearby unaltered streets.
The city's Department of Transport later released a report presenting and explaining the robust methodology developed for evaluating the economic effects of these "Sustainable Streets" improvements. This report is available for use by other cities and public agencies.
In Bloor Street, Toronto, a study of merchants and patrons found only 10% of patrons drove to the area. A majority of merchants believed that a bike lane or widened footpath would increase business and that off-street parking lots would cover the reduction in on-street parking. These findings from Canada demonstrate that local business-owners don't always oppose improvements in cycling infrastructure at the expense of cars.
There have even been case studies in the City of Melbourne itself revealing the benefits of sacrificing infrastructure for cars to make way for bicycles.
A study of Lygon Street, Carlton, found that while the average cyclist's retail spending is only $16.20/hr compared to a car driver's $27.00/hr, six bicycles can park in the space required for one car. Therefore, while one car space equates to $27.00/hr retail spending, six bicycle spaces equate to $97.20/hr.
That puts a new light on the claims by our Herald Sun editorial:
Motorists will be dismayed to learn that doubling the number of bike racks on city streets will mean fewer carparking spaces … Councillors must surely be aware of the problems they are creating for the thousands of businesses long established in the city.
Previous evidence suggests that inner Melbourne businesses will prosper under a changing transport environment – and not "see their money spent against their business and personal interests", as the Herald Sun suggests.
On the contrary, improvements in bicycle infrastructure are likely to have a positive economic impact in their own right. That's before we even consider the other positive effects. Physical inactivity costs Australia $13.8 billion a year when the health impacts were last assessed in 2008. Traffic congestion was estimated to cost Australian capital cities $16.5 billion last year.
The City of Melbourne and advocacy groups should continue pursuing bicycle infrastructure improvements – even at the expense of cars – where feasible.