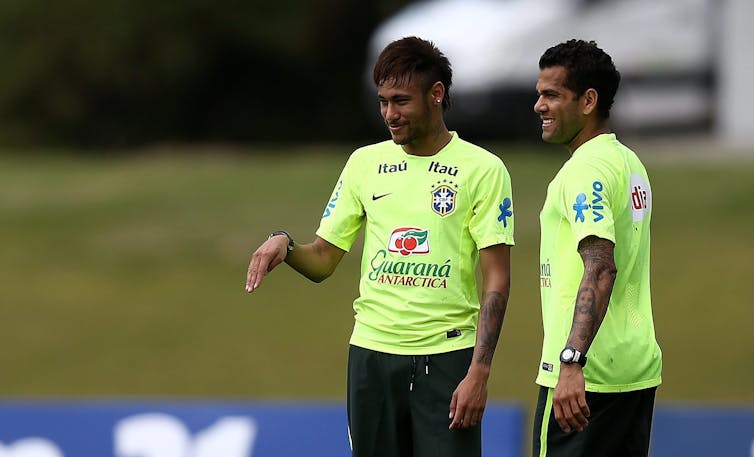 There is a wealth of research evidence about home advantage in sport in general and in football in particular. Stadium design, crowd behaviour, referee performance and travel fatigue have attracted considerable interest as factors in home wins.
One of the most recent predictions about the outcome of the 2014 FIFA World Cup by Andreas Höfert uses home advantage as one of three factors that determine success. His model predicts a win for Brazil.
Six of the 19 FIFA World Cup finals have been won by the host nation. France was the last team to win as the host in 1998. Brazil has won five World Cup competitions (1958, 1962, 1970, 1994 and 2002).
Brazil hosted the World Cup in 1950 but was defeated by Uruguay.
Of the 32 teams at the 2014 World Cup finals, only Germany has had more top four finishes than Brazil (12 compared to Brazil's 10). Brazil's last appearance in a World Cup Final was in 2002.
A recent study has discussed the impact of crowd support for home teams. An analysis of local derbies (in Italy) suggests that:
crowd support has a strong and significant impact on team performance […] the home team scores about 0.45 goals more than the visiting team and the probability of winning is about 13 percentage points higher.
The study looked at referee performance too and noted "referees are more prone to favour the home team". This resonates with another recent study of refereeing behaviour in English football that observes:
significantly more contentious and incorrect or missed referee decisions are awarded to the benefit of the home side.
Brazil last lost at home in August 2002 against Paraguay in an international friendly game. Prior to that defeat Brazil had not lost at home since 1975.
Brazil defeated Italy, Uruguay and Spain in the 2013 Confederations Cup Tournament hosted in Brazil. The referee of the final in that tournament was Björn Kuipers (Netherlands) one of the distinguished referees in the panel of referees at the 2014 World Cup.
Given the importance noted in the research literature about crowd support, it will be interesting to note the support given to the Brazilian team inside and outside the World Cup stadia.
The squad selected to represent Brazil has four home-based players who play for Brazilian clubs. The average age of the team is 28 years (oldest player is 34, youngest is 21). Within the squad there are players from 17 different clubs and 10 leagues.
Brazil plays Croatia in the opening game of the World Cup in the new Arena de Sao Paulo. The stadium has places for 61,606 spectators. Around the country it is estimated that the television audience might be in excess of 90 million viewers. This will be an excellent first test of the home advantage discussions.