In cricket it's known as sledging; in basketball, it's trash talk; in ice hockey, chirping. Whatever you prefer to call it, the banter that occurs between players, whether it is on the field, court, or in the rink, is firmly etched into the fabric of sporting culture.
Cricket sledging can be traced back to some on-field banter between Australian bowler Ernie Jones and English cricketer W. G. Grace at a 1896 Test match, after Grace reacted verbally to Jones' short-pitched delivery. Jones was said to have responded dryly by saying:
Sorry, doctor, she slipped.
When used appropriately, sledging can be an effective psychological strategy to help get an athlete into their optimal performance zone while, at the same time, trying to deter or distract another from getting into theirs.
This topic, of course, was recently brought to the fore following the first Ashes Test between England and Australia. The on-field verbal altercation between Australian captain Michael Clarke and English tailender Jimmy Anderson occurred when a stump microphone overheard Clarke warning Anderson to "get ready for a broken fucking arm".
Clarke was subsequently charged and fined 20% of his match fee by the International Cricket Council (ICC).
Later, unsubstantiated reports claimed that, prior to Clarke's comment, Anderson threatened to punch Australian debutant George Bailey in the face due to the closeness of Bailey's fielding position to the wicket.
Since this incident, Clarke's behaviour has been criticised by some. But many players, fans, and ex-players alike have come to the defence of Clarke, and also in relation to the place of sledging in the game. Australian paceman Mitchell Johnson, while acknowledging that there was high tension on the field that day, praised Clarke for standing up for his players, saying:
That's what you want your captain to do … and that's what he did.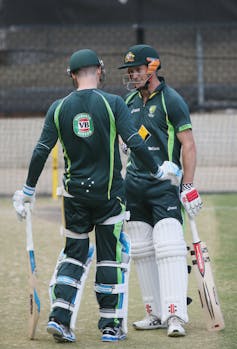 Spin great Shane Warne has labelled Clarke's fine a "disgrace" and has encouraged the Australians to be equally as aggressive and verbal towards the Englishmen in the upcoming second Test.
Even Anderson himself has come out defending the use of sledging in the game, saying he had no problem with anything that the Australians did or said on the field:
I probably dish it out more than most in the field, so I generally get it back more than most … I expect it and accept it.
A psychological weapon or skill?
Sledging is one of many psychological stressors athletes may face in their quest for sporting glory, along with playing in front of a passionate crowd or the sheer importance of the event being played.
Sledging is often referred to as a form of psychological warfare, where the aim is to break the concentration of an opposing player or, at the very least, instill enough doubt in his or her mind to create a mental distraction or a physiological change. This, in turn, can disrupt or change the opposing player's technique, focus or game plan, which can ultimately have a detrimental impact upon his or her performance.
Insulting a batter on their skill level, for instance, puts additional pressure on the athlete, leading to an increased likelihood that they'll choke under the pressure.
Research from 2011 into the impact of sledging, or verbal gamesmanship, on cricketers' performance found that the most notable effects of sledging were negative and included an:
…altered perception of self, an altered state of mind, decreased batting ability, and overarousal.
With very little separating the physical fitness, abilities and skills of high-level athletes, many competitors attempt to get a mental edge on their opponents by mentally preparing themselves for all situations, including such purposeful distractions.
By taking the time to work on developing effective concentration and cognitive strategies, athletes can learn to ignore or reframe any comments that are thrown at them by their opposition to inspire them to engage in higher levels of performance. Performance routines and relaxation techniques are two strategies players commonly use to cope with sledging.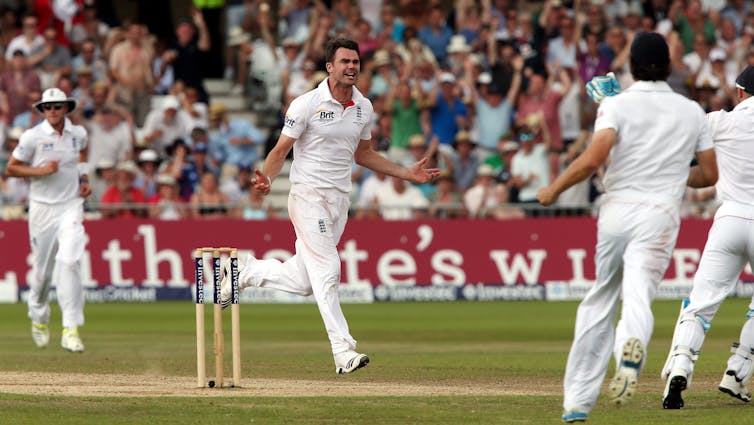 Interestingly, Anderson has come out since the first Test and described sledging as a "skill" that he considers as a "key element of his own game". Rather than viewing sledging as a stressor, Anderson perceives it to be "one of the weapons at [his] disposal" to help him to focus and get the best out of himself performance-wise.
Of course there are unwritten rules related to content and intent when engaging in sledging – and so there should be. Some of these rules, for example, might be that sledging should not include comments that personally attack a player by belittling their beliefs, family life or personal circumstances, or which relate to a player's sexual orientation or race.
As with all rules, unfortunately, these too have been broken on multiple occasions, and no doubt, will be again. It is human nature after all, that there will always be someone who takes things too far. But for the most part, it appears that players accept sledging as part of their game, and somewhat enjoy the unpredictability that it brings.
We should allow the players to continue to have their personal experiences on the field under the watchful eyes of the umpires, and continue to fulfil our role, which is to be spectators of the game – particularly if we cannot deal with the repercussions of hearing about what truly happens around the wicket.
This issue, along with our victory in the first Test, has certainly played a role in reinvigorating Australia's interest in this year's Ashes series after a tough couple of years for Australian cricket.