A former politics lecturer is in hot water for being caught on film appearing to don an orange bra with a studded leather jacket, smoking a cigarette in his underwear, snorting white powder from a woman's breasts and allegedly making rude comments about the prime minister.
John Buttifant Sewel has attracted so much attention because he was a member of the House of Lords – although he has now resigned – and because he seemed to brag about using public money to fund the above-described activities.
The scandal has once again stirred up a clamour for the House of Lords to be reformed. Sewel's alleged behaviour has not raised any issue of great constitutional importance but reminds the public of its distaste for the unelected upper house.
Unfortunately, the attention is unlikely to last long. And given how little appetite there is for change in the lower House of Commons, any meaningful change is unlikely too.
A tenacious bunch
The situation was very different in 1909, when the Conservative-dominated House of Lords blocked the Liberal government's budget. This led to the 1911 Parliament Act, which curtailed the power of the House of Lords and prevented it obstructing money bills.
At this stage, a peer could only leave the house by dying or could be temporarily excluded through bankruptcy or imprisonment. An act of parliament could also be brought in specifically to remove an errant lord, as was the case in after World War I to a group of lords who had supported the King's enemies.
There are now many more ways to leave the Lords. In 1963 the Peerage Act allowed hereditary peers to disclaim their peerages for their own lifetime, but to enable their sons to resume the title and membership of the House of Lords. The first person to take advantage of the reforms was Labour MP Tony Benn, who had inherited a peerage on the death of his father, former Labour cabinet minister, the first Viscount Stansgate.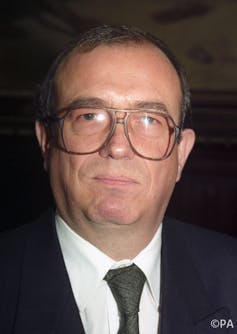 In 1999 Tony Blair's government started a still unfinished reform process. Most of the hereditary peers left the Lords, although 42 places were reserved for those elected by their own party group.
When Robert Shirley, the 13th Earl Ferrers, died in 2012, the ensuing by-election, in which peers vote, attracted 27 Conservative candidates for his spot. Politicians are always arguing for more choice. They also tend to regard a high turnout at elections as a good thing and, by this measure, the 2003 Lords by-election following the death of Lord Milner was exemplary. All three eligible hereditary peers turned out to vote.
The House of Lords Reform Act of 2014 allowed peers to retire or resign, as Sewel has now done in the face of pressure from colleagues. He took his time deciding though, and indeed there is still no compulsion to retire at any set age or length of service. Conservative life peer Peter Carrington, aged 96, is still a member of the House of Lords after 74 years' service.
Had Sewel not resigned, the House of Lords (Expulsion and Suspension) Act 2015 allowing peers to suspend or expel members could have been employed. But this process would take considerable time.
Pigeon steps to reform
Over the past century, the volume of House of Lords reforms has increased, but the impact of each successive piece of legislation has been diminishing. The fact that an alleged bra-wearing, powder-snorting incident involving one peer has triggered a new debate on further reforms suggests that the appetite for change is much greater than the level of agreement about what should be done.
The expenses scandal of 2009 demonstrated that public opinion can be raised to boiling point over parliamentary misbehaviour, but little distinction was made in the media between serious fraud and accidental claims for single portions of dog food. Duck islands, dog food, orange bras and trouser presses make for better headlines than big issues.
David Cameron has managed to play the situation to his advantage. Citing his failure to pass reforms of the Lords to create a mainly elected chamber during his coalition government with the Liberal Democrats, he has decided not to introduce any new legislation. He forgot, of course, to mention that the 2012 reforms failed when 91 of his own MPs voted against a three-line whip.
He instead plans to even up representation among the parties in the second chamber by creating new Conservative peers. The Liberal Democrats currently have 101 peers but only eight MPs, while the Conservative Party, which has an overall majority in the Commons, has has fewer life peers than the Labour Party.
So far the Sewel affair has led to the prospect of a further bloating of the House of Lords. There will be a debate on its future but all the major political parties seem content to make sure it leads nowhere.
That means that, years down the line, when this scandal is remembered, it will not be for its role in prompting fundamental constitutional change but for the image of a man slumped in a chair wearing women's underwear.