The result of the EU referendum was always going to be relatively close, and 48% of the British population didn't get their way. For them, initial feelings of disbelief will dissipate but anger and resentment may well linger.
Tensions have been high for months, the campaigns have been brutal and the stakes have been far higher than in any general election.
This decision will have far longer lasting implications than electing a five-year government, which is why people have been so emotional, passionate, and concerned about it. We might have expected this; history tells us that referendums are not nice things to participate in.
Of course, not every Remainer will experience defeat in the same way. Social Identity Theory espouses that we each interpret the world based on the groups in which we fit, such as social class, gender, ethnicity, and, in this case, which side of the referendum debate you associated most with.
It follows, therefore, that the result will be exciting for some and destructive for others.
Winning and losing
The consequences of this vote are far reaching; the implications for political, social, and economic futures will continue to shift and change as the weeks and months go by and a new Britain outside the EU emerges. The divisiveness of this vote has wrenched apart friends and family, communities and colleagues. How long it will take for these heightened emotions to calm down is unknown.
In Scotland the fallout of the independence referendum of 2014 is still being felt. And the debate around the EU referendum has been nowhere near as positive as it was in Scotland for the independence vote.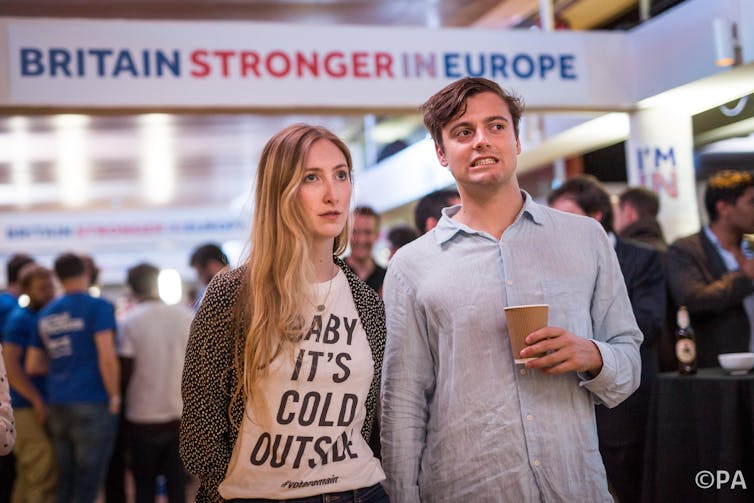 Arguments have happened. There have been disputes around the dinner table and on social media. We can't ignore them. And in fact they should be acknowledged.
In his work, Horst Rittel talked about "wicked problems". These are complex, messy, and argument-inducing – and they have no simple "right" solution. The EU referendum was just such a problem, so it was never just about winning or losing – it is far too complex for that. It was about each of us having the opportunity to air our views and to make a difference.
Onwards and upwards
The heightened emotions throughout the campaign mean that the feelings stirred by the result are stronger than any other vote in recent political history. That is clear from the outpouring of emotion that has already followed the vote.
We might expect the coming months and years to be further fuelled with anguish and bitterness for some. The debate over the past six months has been all consuming and, in many ways, divided the nation; the situation will likely remain politically toxic for some time. So how can we influence that?
Think consciously about how to engage with friends, family, and colleagues. Don't rub it in that they didn't back the winning side and you did. Let's not be hostile and instead empathise and encourage people to identify the positive elements of the outcome – but certainly don't belittle their perspective.
So, the UK will soon no longer be in the European Union. The democratic process has been followed. The result isn't to the liking of 48% of the population, but that is the nature of democracy. That 48% would not like to be treated with contempt if they had won and they would not like to be denied any right to democratically express their views.
Remember, just because your side didn't win doesn't mean votes or perspectives are any less valid. The country now needs to reconcile its differences.