Although it is not yet 6am, and the sun has only just begun to rise, already the thermometer is pushing 30C, and the humidity so high it is impossible not to sweat.
I'm leading an Australian archaeological team in Paphos in Cyprus. Today it's a major Mediterranean tourist town, but in the Hellenistic and Roman periods it was the capital of the island and an emporium for maritime trade routes. The archaeological remnants of the town are so significant they were UNESCO World Heritage listed in 1980.
The University of Sydney has been digging at Paphos for two decades, carefully revealing the architecture of the ancient Greek theatre. The building was constructed around 300BC, and used as a venue for performance, spectacle and entertainment for more than six and a half centuries.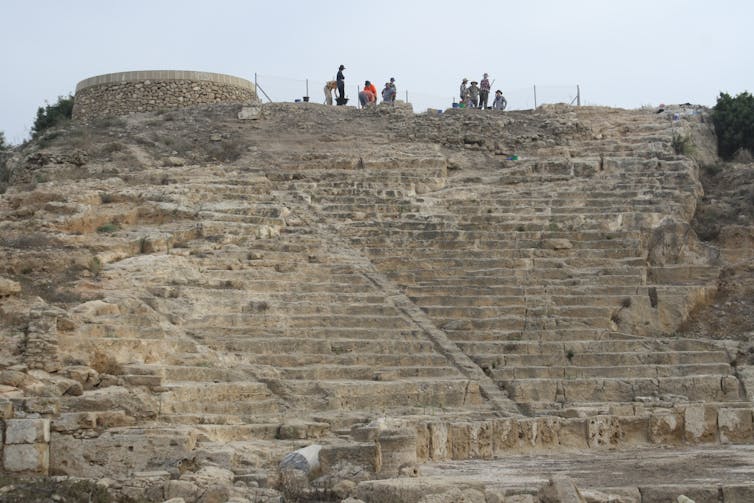 This season 20 people are working in Cyprus to help us understand more about the site. They include professional archaeologists and students. But there is a third group – our volunteers. This is an increasingly popular trend among archaeological excavations where members of the public pay to work as part of the team.
The Paphos Theatre Project has run our volunteer program since 1996. More than 250 people have joined us in that time, and they have come from all age groups and walks of life. We have taken school teachers, lawyers, entertainers, business managers and retirees all looking for an adventure with a difference.
As a director of the excavation I want to examine the relationship between archaeologists and volunteers to see what we both get from this exchange.
Why join a dig?
First, what makes a person decide to pay to travel to the other side of the world to work long hours in the heat on someone else's project?
The motivation driving the volunteers is diverse, as a survey of this year's volunteers reflects. One had time on her hands and wanted to do something physical. Another saw it as an opportunity to follow a dream. Personal growth was a common comment. Interestingly, nobody mentioned the desire to find objects, which I would have assumed was a popular (mis)conception of archaeology in the wider community.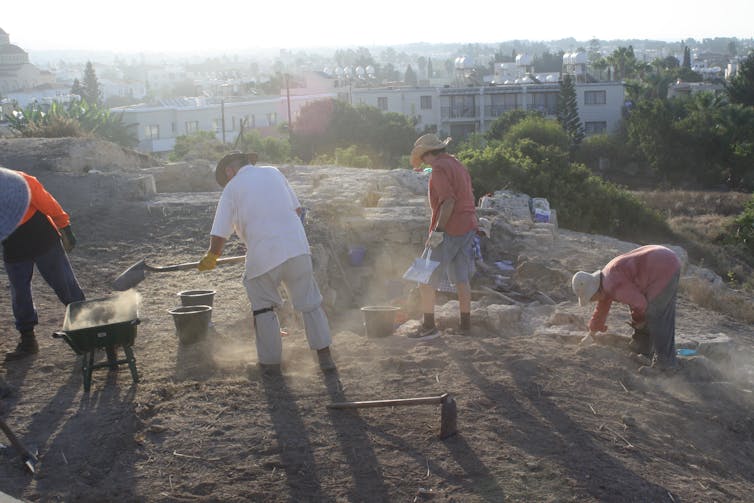 Some of the volunteers are veterans of previous campaigns at Paphos; others have followed the "dig-bum" circuit and work on excavations globally when family and work commitments permit. Indeed some volunteers had more fieldwork experience than the students, just not the academic training.
Many of the people I asked said that they saw themselves more as "travelers than tourists" – and loved the opportunity to live in the same place for a period of time and meet local communities. It was not just adventure they were looking for but a desire for unique experiences more meaningful than a holiday travel.
Like the archaeologists they work with, intellectual curiosity was a strong factor: they said they enjoyed "trying to put the pieces together".
Why would an excavation want volunteers?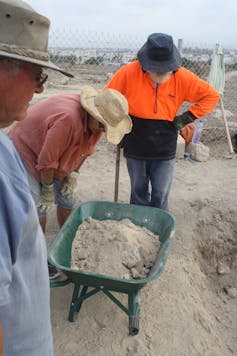 Obviously contributing volunteers bring financial benefits to projects.
But I strongly believe that using volunteers gives archaeology enormous potential to interact with a wide audience. The concept of "public archaeology" focuses on engaging non-specialists to think of stewardship of cultural resources and providing the public with the means of constructing their own past. Fieldwork provides one of the best means of allowing people to actually participate in the archaeological process and nurture an understanding of the discipline.
The experience of working with untrained team members also helps us focus our communication skills. If we struggle to explain archaeological methods to a volunteer while actually standing in a trench in Cyprus, then how can we expect to teach archaeology in a lecture theatre or museum in Australia?
Of course many volunteers bring skills from other experiences that are valuable on the site. All of the volunteers I spoke with commented upon how much they cherished the interaction in working with and learning from experts.
Managing expectations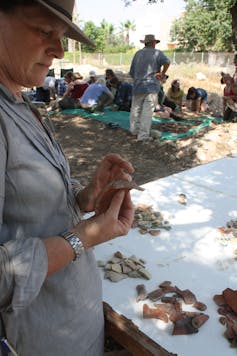 The most difficult aspect of the relationship between project and volunteer is the difference between expectation and reality. No matter how often people are told in Sydney the work involves hard physical labour it does come as a surprise to find yourself holding a shovel. The romantic notions of classical archaeology are dispelled very quickly in the field. Some people struggle, but most quickly adapt and some excel at the challenge. Everyone I asked agreed, "it is hard work, but it is very rewarding".
We archaeologists sometimes expect volunteers to be able to quickly pick up skills we have spent a career refining. We must remind ourselves not to get frustrated but rather to encourage. Balancing the needs of the volunteers with the pressures of completing research goals can be difficult, but the benefits of working with volunteers certainly outweigh any stresses.
Those people will forever be ambassadors for the discipline of archaeology, able to reach far more people through dinner party discussions than I could in a lifetime of presenting public lectures.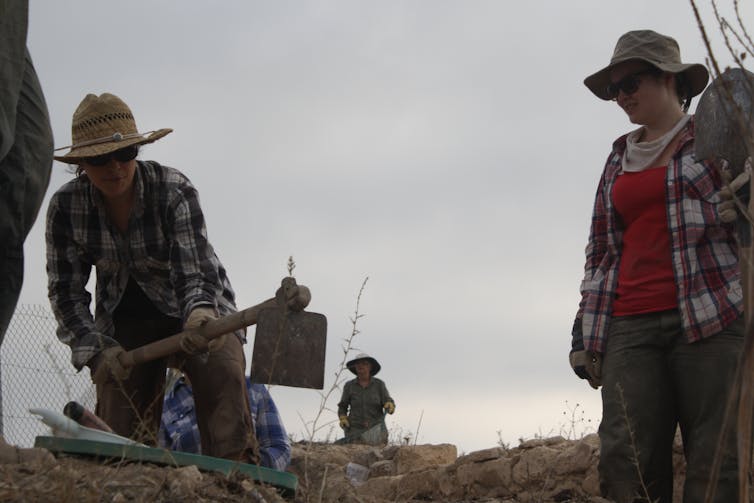 Quizzed if they would volunteer again, every member of the 2014 team I asked answered affirmatively. I can think of no higher compliment for enriching volunteering programs, nor a greater demonstration of the need to develop stronger relationships between academic field research and the general public for whom we serve.