There are currently four major museum exhibitions around the world that explore and demonstrate the work of the Austrian artist Egon Schiele (1890-1918). One of these, The Radical Nude, has just opened at London's Courtauld Institute. Other shows are already open in New York, Tulln and Zurich. All are testament to the lasting impact the highly focused body of work from his short-lived career has continued to have on artists working today.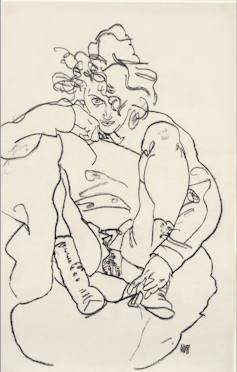 Schiele's contribution to the role of drawing, and to the depiction of the human subject was groundbreaking, despite his extremely short life – he died in Vienna when only 28. In the last year of his life, he was invited to exhibit 50 works in the Secession's 49th exhibition, indicating the esteem with which his work was held.
But this represented a changed public perception, to some extent. The explicit, what some considered almost pornographic, nature of his work meant that the previous years were more tumultuous and included his imprisonment on charges of immorality and the burning of one of his more "offensive" drawings by the court.
And indeed, they are highly charged images, with the lascivious glances of his subjects, exposed genitalia, of masturbation and Sapphic encounters. Schiele's work was dedicated to the exploration of the human condition in all its raw nakedness and libidinous sexuality.
This was confrontational in the context of Vienna then, and it remains so today. Other paintings and artists come to mind, such as Durer's Nude self-portrait (c.1503), Manet's Olympia (1865), or Rodin's sequence of fluid erotic drawings, but what distinguishes Schiele is his extension of this exploration. The sexualised body is his fundamental and celebrated subject, lying at the very centre of his work. The gestures and poses of his subjects, exaggerated for emotional emphasis, emphatically and directly explores the power of provocation.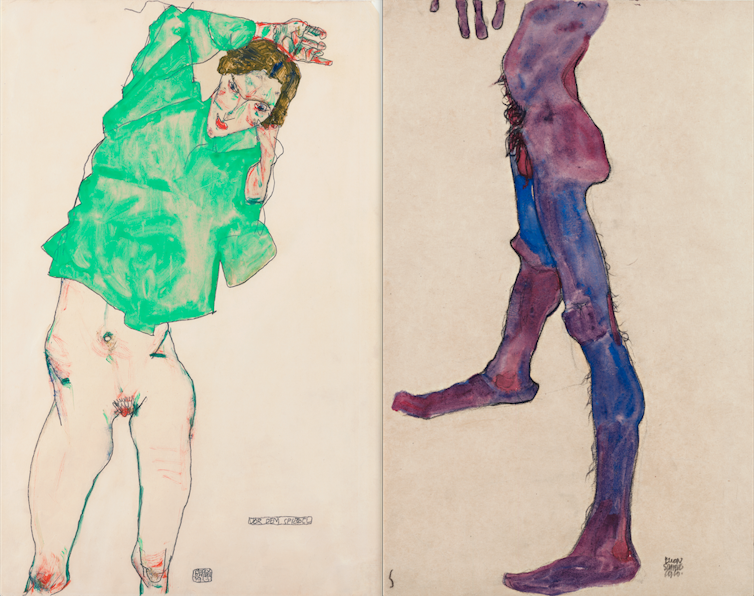 Baring all
It was only in the 19th century that the nude became more of a subject in its own right. Previously it was principally used as an object for preparatory study. Mirroring this transition, drawing also became less of a preparatory study – and in Schiele's work it became a core element.
Significantly, his drawings were not solely about studying the human form. They depicted and exposed intimate human experience through the equally intimate act of drawing, which no longer took place in the life room of the Academy but in the privacy of the artist's studio. Accompanied by a mirror, paper, black chalk, pencil, watercolour and perhaps informed by playing with a camera, he drew himself, his models and their friends. This was a response to living, breathing subjects and intimate experiences enacted in front of him. The relationship of the drawing hand and seeing eye was expanded to celebrate thought, feeling, sensation, the abject, and desire.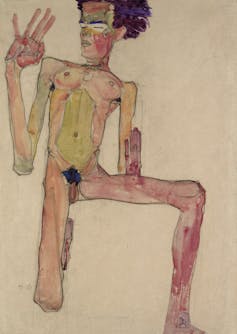 Schiele also made many self-portraits. They often appear to be caught in the frame of the mirror, suspended in time and motion. In Kneeling Nude with Raised Hands (self-portrait) (1910), Schiele's hands and limbs are pressed firmly against an invisible surface, captured simultaneously in the picture plane and the mirror. This allowed him to see and depict the objectified self and, when depicting others, the picture plane serves as a window or aperture through which to view the subjects of his gaze.
Schiele's elegant decisive lines depicting the figure, often made with sumptuous black chalk, were frequently adjusted through the later addition of watercolour. This serves to heighten sensations of imagined or physical touch. Frequently, an imposed outline of white gouache ensures the sensation that the figures float, in space and time. The elegant, supple line, use of pattern and negative space all reinforce a visceral sense of a suspended, heightened moment of sexual charge.
Pertinently, John Berger explains:
Image-making begins with interrogating appearances and making marks. Every artist discovers that drawing – when it is an urgent activity – is a two-way process. To draw is not only to measure and put down, it is also to receive.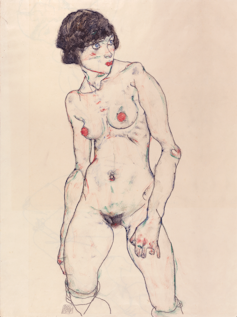 This vital exchange is evident in Schiele's work. Despite a raw nakedness, the sequence of drawings made of the model with stockings typically depict a strong and confident woman, laid bare, yet in control.
Part of our fascination with Schiele perhaps lies in his early death from Spanish influenza. There's a suspense here, that of the interrupted development of an artist. The tantalising promise of his work, its energy, explicit sensibility and the nature of its youthful subject matter all captivate the viewer. They closely mirror current predilections and preoccupations of artists such as Tracey Emin, Marlene Dumas, Paul Yore.
Schiele was arrested and imprisoned on the basis of the evidence of a drawing. His capacity to elicit a passionate response was palpable. The power of these drawings transcend time and context - and they continue to arrest our attention. If you can see any of the exhibitions currently taking place around the world, go.