On their watch… $100 billion has been added to the national debt. – Opposition Leader Bill Shorten, speech to Queensland Labor Business Breakfast, June 8, 2016.
During a speech launching Labor's economic plan, Opposition Leader Bill Shorten said that under the Coalition government, $100 billion has been added to Australia's national debt.
Is that right?
Checking the source
When asked for sources to support Shorten's statement, a Labor spokesperson told The Conversation that:
The 2013 Pre-election Economic and Fiscal Outlook statement showed net government debt at the time of the last election was $184 billion. The 2016 Budget, and Treasury's independent PEFO which came out three weeks later, showed net debt for 2015-16 will be $285.8 billion – a blowout of more than $100 billion by the Liberals in less than three years.

The Budget papers also show that in 2016-17, on the Liberals' plans, net debt will reach 18.9% of GDP – the highest level since at least 1970 and higher than under any Labor Government in the last 45 years.
Is the claim accurate?
Shorten's comment that "$100 billion has been added to the national debt" is correct, but it doesn't quite tell the whole story.
$100 billion as a round number is a fair characterisation of the difference between net government debt in 2013 and in 2016.
It's good that the Labor spokesperson clarified that Shorten was talking about net debt, not gross debt – but that wasn't immediately clear when Shorten first made the comment.
It is net debt, not gross debt, that really matters. Net debt takes account of the fact that foreigners owe us money, too. Just as you count money in your mortgage offset accounting when figuring out how much you "net" owe the bank, so should we do as a nation when looking at government debt.
This is particularly important since the Future Fund, Australia's Sovereign Wealth Fund, is valued at around $117 billion. The fund has been earning strong returns, so this number has grown over the last three years.
And it is not net debt in total that is relevant, but net debt as a percentage of Gross Domestic Product. That number has been growing, too.
It now stands at 18.3% (shown in the government chart below) up from just over 10% in 2013. However, it is low in comparison to other countries, as the following chart illustrates.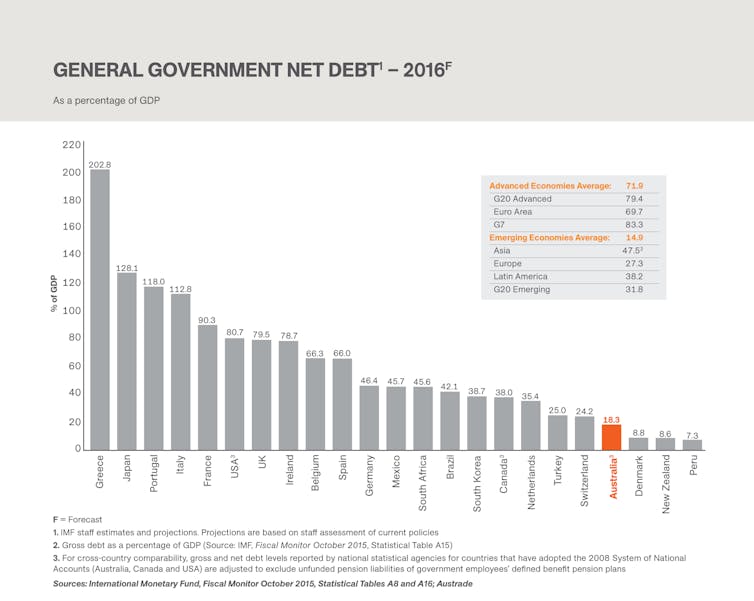 Verdict
Bill Shorten is correct that Australian government net debt has grown by about $100 billion under the Coalition government. But net debt to GDP remains low by international standards. It is getting high by Australian historical standards, which underlines the need to solve the structural budget deficit problem. – Richard Holden
---
Review
I think that this article provides an accurate check of Shorten's statement.
The statement can be verified from the Pre-Election Fiscal and Economic Outlook papers of 2013 (Table 7) and 2016 (Table 6). The data show that net debt effectively increased from $184 billion before the 2013 election to the current level of $285.8 billion. Further support for the statement comes from the 2016-17 Budget Paper 1, Statement 10, Table 4, which shows that net debt was $153 billion at the time of the last Labor budget.
The author is also correct in pointing out that as a proportion of GDP, net debt in Australia is low by international comparison. Data from the April 2016 issue of the World Economic Outlook Database of the International Monetary Fund indicate that out of 27 advanced economies for which data are available, Australia has the sixth lowest level of debt as a proportion of GDP (19.9%, 2016 estimate). To me, this suggests that the approach to fiscal policy should focus on undertaking counter-cyclical measures – meaning reducing spending and raising taxes in boom times, while increasing spending and cutting taxes when the economy slows – rather than reducing debt in itself. – Fabrizio Carmignani
---
Have you ever seen a "fact" worth checking? The Conversation's FactCheck asks academic experts to test claims and see how true they are. We then ask a second academic to review an anonymous copy of the article. You can request a check at checkit@theconversation.edu.au. Please include the statement you would like us to check, the date it was made, and a link if possible.