The Conversation is fact-checking claims made on Q&A, broadcast Mondays on the ABC at 9.35pm. Thank you to everyone who sent us quotes for checking via Twitter using hashtags #FactCheck and #QandA, on Facebook or by email.
---
Global demand for coal is still going through the roof. – Trade Minister Steven Ciobo, speaking on Q&A, May 30, 2016.
Trade Minister Steve Ciobo told the Q&A audience that global demand for coal is still going through the roof. (Watch from 2:38 in the clip above.) Is that correct?
Checking the source
When asked for a source to support his statement, a spokesman for Steven Ciobo said the minister had addressed the issue in a tweet sent the day after the Q&A program aired.
Ciobo's tweet refers to the International Energy Agency's (IEA) 2014 Medium-Term Coal Market Report.
This report said:
In 2013, coal added more primary energy than any other fuel and was the fastest-growing fossil fuel. 2013 coal demand grew 2.4% on a tonnage basis, more than oil and gas, enhancing its position as the second-largest primary energy source and closing the gap with oil.
The report, however, goes on to note that coal prices in 2014 were low due to significant global oversupply, saying that:
In 2014, coal oversupply persists and very low coal prices continued to dominate. For a few years, the focus of coal producers was to expand production. New capacity was constantly added and demand led by China consumed every additional tonne. However, since 2011, oversupply and low prices have dominated.
Fast-forward one year, and the IEA's 2015 Medium-Term Coal Market Report says that global coal demand growth has "halted":
For the first time since the 1990s, global coal demand growth halted in 2014. This was the result of a combination of some structural and temporal factors, mostly in China, where half of global coal is used… Given the economic rebalancing in China and ongoing structural decline in OECD countries, even with the continuation of growth in India and ASEAN countries, a downward trend in global coal consumption in 2015 is likely.
Declining coal consumption in China is reducing global demand
The decrease in coal consumption in China was effectively an overhang from the global financial crisis (GFC).
During the GFC, China sought to avoid economic decline by a significant domestic stimulus program.
The stimulus program bolstered investment in construction and manufacturing in the years following, but is now petering out. Reports point to a worsening situation in 2015, as coal imports declined sharply from 2014.
Further evidence of declining global coal demand is the fall in coal prices out of Newcastle.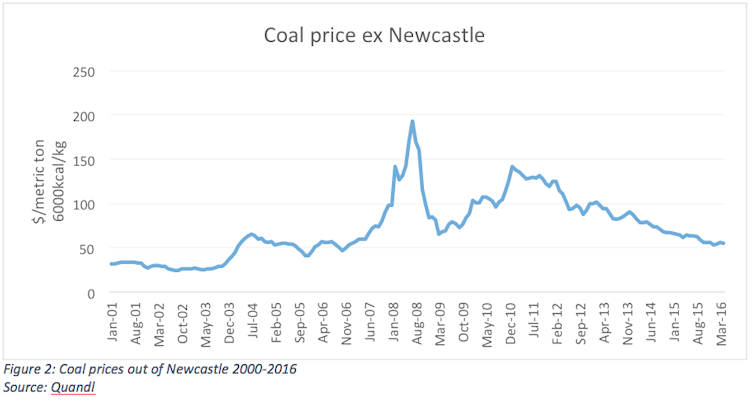 A good indication of coal demand is the share prices for coal miners. In the US and in Australia, coal mining companies' share prices are not showing evidence of high expectations of growth in demand.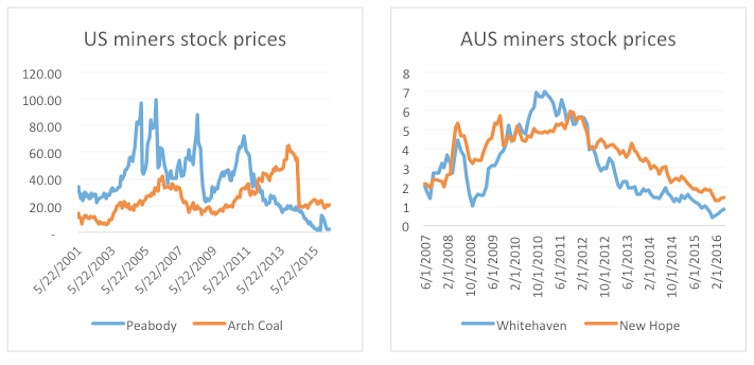 Can India fill the gap?
The IEA's 2015 Medium-Term Coal Market Report noted that India is the only major economy with strong coal growth.
However, the report found that:
India is not the new China. As forecast in former editions of this report, India will become the second-largest coal consumer in the world, bypassing the United States, and the largest importer of thermal coal… [However], growth in India and ASEAN countries will not compensate for the new trajectory of Chinese coal demand.
The situation in India is fluid. Prime Minister Narendra Modi is reported to be a champion of solar energy and the country is pursuing significant investment in solar (as well as coal).
India's Energy Minister Piyush Goyal is committed to eliminate costly coal imports of thermal coal for use in electricity generation.
IEA modelling gives clues about future global coal demand
The IEA makes projections into the future in a report called the World Energy Outlook.
Last year's projections provided three scenarios: a current policies scenario, a new policies scenario (also known as the medium scenario) and a 450 scenario.
The 450 scenario models energy demand based on policies required to cap the concentration of greenhouse gases in the atmosphere to 450 ppm (parts per million). That's the level needed to stand a chance of keeping global warming to 2°C.
The IEA's new policies (or "medium") scenario and subsequent modelling of global leaders' commitments to carbon reduction assume that "climate ambition is not raised progressively" and warming will most likely be in the 2.7 to 3.5 degree range.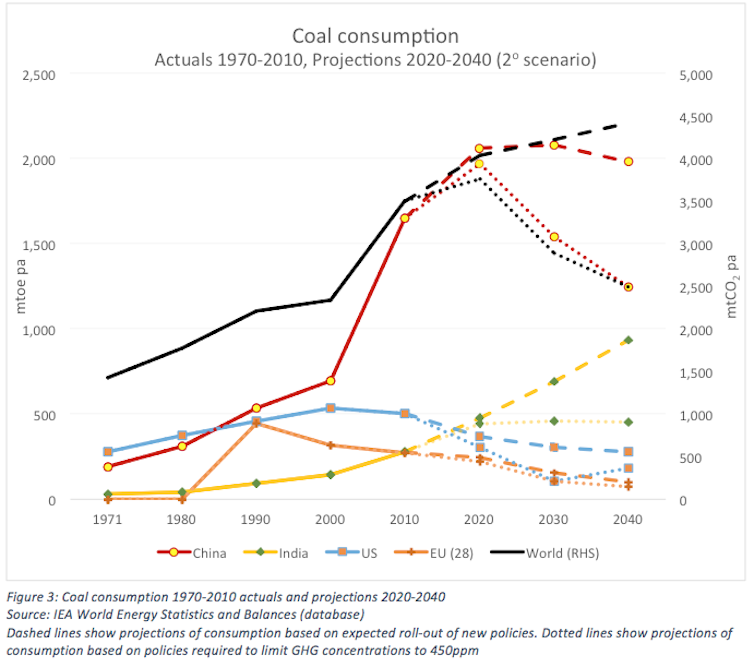 Global leaders reaffirmed at the Paris Climate Conference the goal of limiting global temperature increase well below 2°C.
On that basis, the IEA's 450 scenario may give us a clue about future energy demand in a world committed to avoiding dangerous climate change.
The IEA's 450 scenario shows a very significant decline in consumption of coal in the decades ahead. That also calls into question the minister's claim that coal demand is still going through the roof.
Verdict
Steven Ciobo's statement that global coal demand is "going through the roof" is inaccurate. – Lynette Molyneaux
---
Review
The FactCheck is correct, but the author could place more emphasis on the central scenario from the International Energy Agency, rather than its 450 scenario.
The latest predictions for the future of coal demand from the International Energy Agency have highlighted that the massive growth in demand for coal over the past 15 years will not continue, and the fuel faces more uncertain times.
Consumption of coal across OECD countries is predicted to fall 40% by 2040. Yet the central scenario of the IEA still has coal meeting 10% of future increases in energy needs to 2040.
This is driven in particular by Southeast Asia, where primary energy demand for coal is predicted to triple between 2020 and 2040.
This means that the most likely IEA scenario is that global consumption of coal will continue to increase but at a much slower rate than before, noting that there is still uncertainty about how China's and India's consumption may change over time. – John Rolfe
---
Have you ever seen a "fact" worth checking? The Conversation's FactCheck asks academic experts to test claims and see how true they are. We then ask a second academic to review an anonymous copy of the article. You can request a check at checkit@theconversation.edu.au. Please include the statement you would like us to check, the date it was made, and a link if possible.