Review: Escher x nendo, National Gallery of Victoria.
---
M. C. Escher (1898-1972) is an artist whose name is synonymous with mathematically challenging, optically intriguing and intellectually perplexing prints. This Dutch artist created a world of impossible objects, endless staircases and radical visual transformations that challenge our grasp of reality and our understanding of the shape of time. His woodcuts, lithographs and engravings, at least in reproduction, have become iconic, where the image is known better than the artist's name.
In his lifetime, Escher had to wait until he was in his fifties to receive widespread popularity and only at the age of 70 did he achieve his first retrospective exhibition. Escher, with his intricate tessellations, complex geometric structures and mathematical riddles, steered a course in his art that seemed a long way from the popular trends and styles in 20th century modernism and attracted the support of fellow intellectual travellers rather than mainstream art critics and art historians.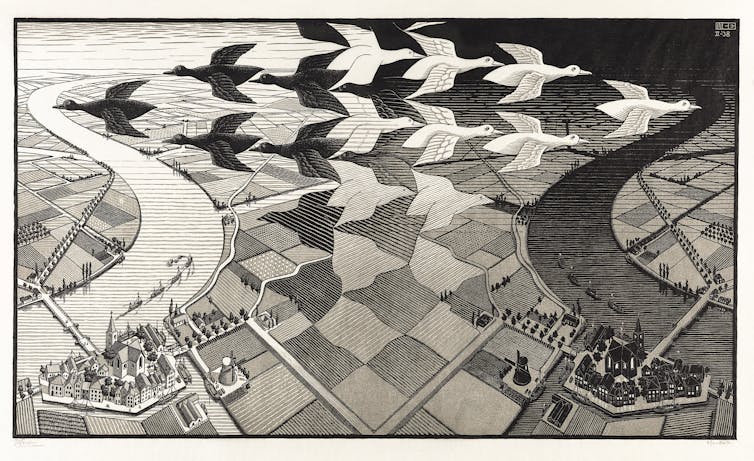 In recent years, there has been an explosion of interest in the work of Escher with a hugely successful exhibition of his art held in Rio de Janeiro in 2011. A major exhibition at the Scottish National Gallery of Modern Art in Edinburgh in 2015 toured to London and throughout Italy, attracting huge crowds in each venue. The time for Escher has arrived.
The last major Escher show I saw was the substantial centennial tribute exhibition that I caught in San Diego, two decades ago. Curated by Ruth Fine from the National Gallery of Art in Washington DC, it thematically presented the development of the artist's vision in a fairly didactic manner.
In the previous history of exhibiting Escher, there is nothing to prepare us for the shock to the senses in the National Gallery of Victoria show. Borrowing about 160 Escher prints and drawings from the Gemeentemuseum in The Hague, the NGV engaged the nendo design studio in Tokyo and its Chief Designer and Founder, Oki Sato, not to design an exhibition around Escher, but to enter into a collaborative dialogue with the artist.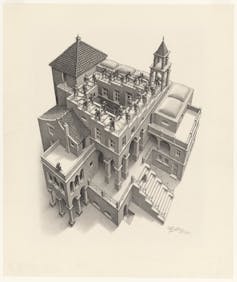 A hallmark of a great exhibition, one that revisits a repertoire of world-famous art, is that it allows us to find a new perspective on what we thought we already knew. In this exhibition, we see Escher afresh – not through the eyes of 20th century empiricism, but through those of 21st century digitally liberated design. One of the main challenges that Escher set himself was to replicate three-dimensional form on a two-dimensional surface. His intention was not to completely embrace illusionism and treat the piece of paper like a frame for a window into the world, but to continuously explore the tension between these dimensions. nendo works in reverse. The studio operates in three-dimensional real and digital worlds but wishes to replicate two-dimensional effects.
Throughout the exhibition, there are numerous visual ambushes that subvert our grasp on reality as we are invited to enter an exciting labyrinth of visual ambiguities. Oki Sato's "icon image" for Escher is a little schematic house design through which the fantastic world of Escher is engaged. This design is replicated in many completely unexpected ways, such as a giant "chandelier" made up of tens of thousands of these tiny houses that becomes a kinetic fabric of vision and a metaphor for the distorting mirror created by Escher.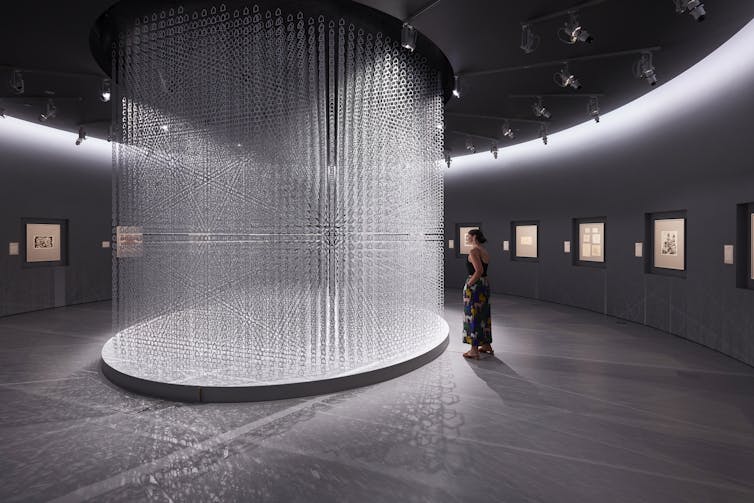 In another exhibition space, the viewer encounters a house-shaped tunnel, or an illusionistic space made up of these house designs of ever-diminishing sizes, allowing you to be initially physically, and then visually, drawn into an impossible space. This acts as a metaphor for the optical illusions so close to the heart of Escher.
The most impressive of the nendo interventions and one of the most impressive installation designs attempted in any Australian gallery, is a huge space accessible from an elevated platform where scores of these simplified houses have been constructed leading from positive to negative spaces. It is within this installed, completely immersive environment, consisting of improbable constructions, that we encounter some of the classic pieces of Escher.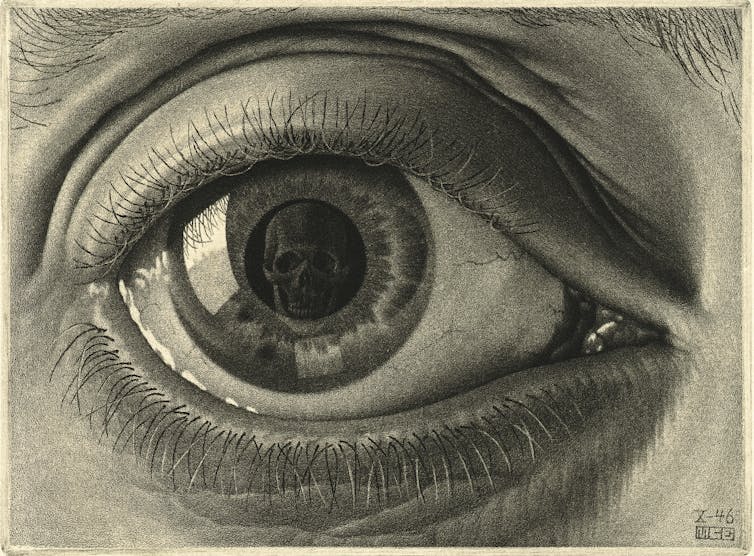 These immersive environments seduce and intrigue the viewer, constantly leading them into the fantastic imagination of Escher. This is less an exhibition of the prints of Escher than a physical encounter with the world of Escher and the experience of his improbable inventions.
The exhibition does include most of the classic works by Escher, such as the "Drawing hands" lithograph (1948), where each hand appears to be drawing the other; the perfectly observed "Eye" mezzotint (1946) and his most famous images – the "Day and Night" woodcut (1938) and the "Ascending and Descending" lithograph (1960). A rare treat is his bewilderingly complex late woodcut "Snakes" (1969) – an exploration of interlinking shapes of infinity – now shown within the "snake house", a serpentine, waist-high installed room replicating and reinterpreting Escher's snake design.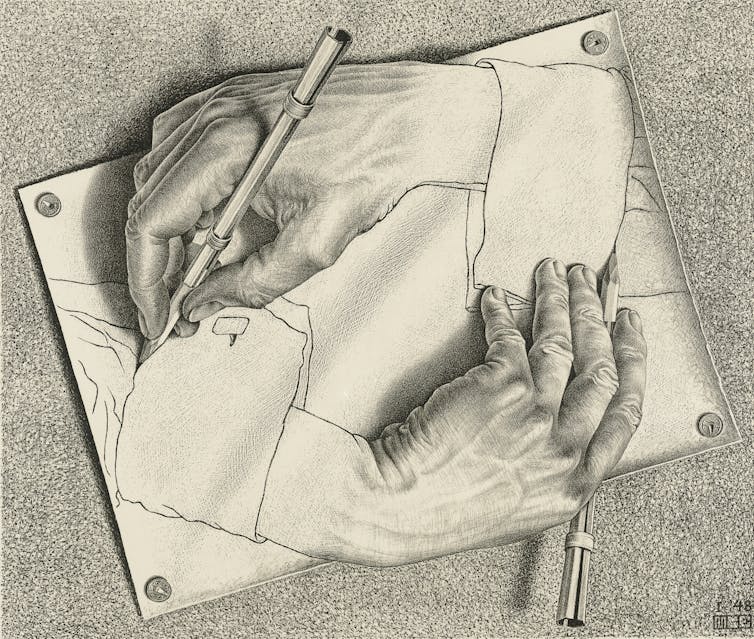 This exhibition is not so much a presentation of the work of Escher, but an interpretation of his art from a very contemporary perspective. It will surprise, delight and challenge the viewer and suggests that, perhaps, this cerebral sombre Dutchman had a dry sense of humour that he hoped would be discovered in posterity.
---
Escher x nendo: Between two worlds is showing at National Gallery of Victoria International until April 7 2019.