By now you'll have heard the Australian Sports Anti-Doping Authority (ASADA) is investigating Essendon Football Club. At this stage, there has been speculation about the injection of "peptides" by players in training, without any confirmation that this was the case.
So assuming the speculation has some foundation, what are peptides?
In the literal sense, a peptide is just a very small protein. As might be expected, there are hundreds upon hundreds of known peptides, as many as there can be amino acids combined in short chains. Peptides have a wide range of potential activities, including:
There may be no cause for alarm in the case of Essendon, as there are several sports-legitimate and unregulated uses for peptides, per se. Leucine peptides or the hydrolysed protein mixture PeptoPro, for instance, are simply the high-performance cousins of whey protein supplements - essentially, they are "pre-digested" protein fragments designed to aid recovery from vigorous activity.
These substances are no more controversial than ordinary protein supplements. Such peptides can be bought over the counter and require no secrecy.
Certainly, such peptides are never injected.
Worst-case scenario
The ugly and entirely more likely option is that the peptide being speculated about is one from the family of growth-hormone-releasing peptides, of which there are several available: pralmorelin, hexarelin, tesamorelin, or sermorelin, and more.
These various growth hormone-releasing peptides, or secretagogues, stimulate the production of growth hormone by the pituitary gland. This is reminiscent of Lance Armstrong's drug of choice, erythopoetin (EPO), which stimulates the body to produce red blood cells.
A spike in endogenous growth hormone (which may also be injected directly) is used to aid recovery and muscular growth - and, while not as effective as anabolic steroids for the growth and maintenance of muscle mass, growth hormone has significantly fewer side effects. Significantly, it's also more difficult to detect.
Suffice to say, these growth hormone-releasing peptides sit squarely in the WADA banned substances list. Much recent research has gone into identifying their patterns of usage, and how the individual drugs might be identified in blood tests.
Where to now?
The current investigation may have broad repercussions. Representatives of the Geelong and Gold Coast football clubs, and rugby league club Manly, have said they employed some of the people who worked for Essendon's fitness program.
Given ASADA is involved in this case, there is unlikely to be much clemency if any club is found guilty.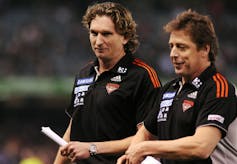 Athletes operate under what is known as the "strict liability" clause, which means an athlete is directly responsible at all times for substances that are found in them, regardless of how they got there - and guilty until proven innocent.
The fact Essendon players supposedly signed a consent form or waiver will be of little relevance either way. But it's unclear what the position is, as so far we are dealing with a report that a program of drug use existed, and not hard evidence of use.
We can assume more information will come to light and, given the high profile accorded to doping cases recently, we certainly haven't heard the last of this story.
People have been busted for possession and use of growth-hormone releasing peptides before … and that list may be about to get a whole lot longer.