Coral reefs around the world are in trouble because of climate change and other pressures such as overfishing, pollution and outbreaks of coral-eating predators. Currently, they are in the spotlight because a mass bleaching event on global scale has been declared – the third since records started in the 1980s.
As mass bleaching events become more common due to rising ocean temperatures, it is increasingly urgent to understand what makes corals resistant to heat stress and climate change.
Natural laboratories
Naturally extreme environments such as the Kimberley region in northwest Australia are ideal laboratories to study this question. My colleagues and I reveal in research published today in Scientific Reports that the highly fluctuating temperatures in these extreme environments boost the ability of coral to cope with heat stress – but they do not provide immunity to bleaching.
The Kimberley region is a fascinating place: largely unspoiled and abounding with coral reefs despite conditions that would be deadly to the majority of coral elsewhere on the planet. This is because the Kimberley has the largest tropical tides in the world, up to 10 metres!
As a consequence, intertidal coral communities often get exposed to air for several hours during low tide and also experience mid-day temperatures up to 37°C for short periods of time. In contrast, maximum summer temperatures on most coral reefs elsewhere rarely exceed 30°C.
The "super-corals" living in the nearshore Kimberley are adapted to these extreme conditions and likely have not experienced any major bleaching events in the past according to the Bardi Jawi people, the Traditional Owners at our field site in Cygnet Bay. This made us wonder whether adaptation to such environmental extremes has made corals more resistant to bleaching and climate change – a compelling idea that we wanted to test.
Why corals bleach
Coral bleaching occurs when corals suffer from heat stress and expel the microscopic symbiotic algae that live inside their tissue. Since the algae not only give coral most of their colour but also the majority of their food energy, bleached corals are essentially starving and can die if water temperatures remain hot for too long.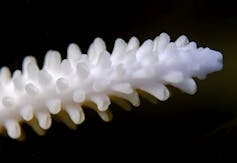 We tested the heat tolerance of nearshore Kimberley corals in a tank experiment, where we simulated a bleaching event by heating the water in some of the tanks 2-3°C above the corals' typical summer temperatures. Such temperatures are already encountered during marine heatwaves today and could become "normal" summer temperatures by the year 2100.
To our surprise, even the "super-corals" started to show signs of bleaching within only a few days – but some corals were more resistant than others.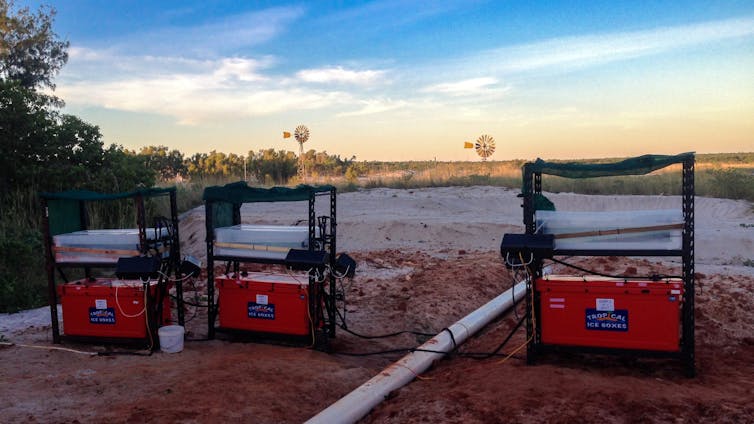 Heat resistance
Corals from tide pools which regularly experience exposure to air, stagnant water, and temperature extremes coped with the hot water much better than corals from below the low-tide mark, where conditions are far more moderate. This shows that highly-variable, extreme temperature environments can boost the bleaching resistance of corals.
The microscopic symbiotic algae inside corals also influence how a coral reacts to heat stress. Although some types of algae can withstand hot water better than others, we found that all corals in our experiment harboured algae from a group that isn't particularly known for its stress resistance. This confirmed the important role that the environment plays in determining coral resilience to climate-driven stresses.
Finally, corals occur in a myriad of growth forms, including branching, mounding, plating, massive and even encrusting types. In our study, branching staghorn corals bleached sooner than massive corals and many of them died, whereas all massive corals survived.
This type of bleaching pattern is typical for most coral reefs in the world. Unfortunately, the more heat-sensitive staghorn corals are the dominant corals on Indo-Pacific reefs, which is partly why mass bleaching events result in such wide-spread coral mortality.
Good and bad news for the future
Our results offer a mix of good and bad news for future coral reefs. Since extreme temperature environments boost the heat resistance of corals, they could potentially serve as temporary refuges from climate change. Corals in these environments could also recover faster from bleaching and thus potentially help to repopulate coral reefs that are hit harder.
The bad news is that even super-corals from extreme environments nevertheless remain vulnerable to severe heat stress events. As such events are becoming more frequent, it is unclear whether corals will be able to adapt fast enough to keep pace with global warming.
The current global bleaching event is a foretaste of what is to come. Repeated bleaching events have already led to significant coral deaths and reef decline in places such as the Persian/Arabian Gulf.
However, even when it comes to annual bleaching, some corals are more resistant than others and can recover quickly, as some of my past research has shown. And in the Kimberley, off-shore reefs recovered quickly after the first recorded global bleaching event in 1998 due to their isolated location.
While there is enough reason to be alarmed about the future of coral reefs, obituaries may be premature. Future coral reefs will likely be severely degraded, but there is hope that these cities under the sea will persist for many more decades.
Chances are that the super-corals from the Kimberley will be among the stalwart survivors.