I'm standing in a line at Brisbane Supanova 2013, a pop culture convention, when I'm approached by a young family with a tiny girl in a sparkly Snow White gown, complete with bright red hair bow.
"We were wondering if you would pose for a photo with our daughter," says the mother. "You're the first Disney Princess she's wanted a photo with all day."
I smile my very best Snow White smile, adjust my own bright red hair bow, and kneel down so that I'm at the same eye-line as mini-Snow White.
"Why, that would be perfectly wonderful," I trill, clapping my hands and channelling Adriana Caselotti – the voice actress in Walt Disney's animated classic.
My name is Emerald, and I'm a Cosplayer.
Background
Since the late 1990s interest in Japanese anime (cartoons) and manga (comics) in Australia has increased to the point where there were more than 20 anime and popular culture conventions held throughout the country in 2013.
One of the draw cards at these conventions, in addition to traders, big-name stars and anime screenings are fans dressed as their favourite characters. Known as "cosplay", the popularity of wearing these kinds of costumes has grown alongside popular culture conventions.
Cosplayers pay special attention not only to the costume they wear – including detailed makeup and elaborate wigs or hair styles – but to a character's signature pose or way of speaking.
In Japanese language usage, the term cosplay is often used to refer to any act of dressing in costume. This includes something as simple as donning a wig, any sort of Halloween fancy dress, live action role play and costumes of an adult or fetishist nature.
However it is principally used to describe the fan activity of dressing as manga and anime characters.
From Japan to the West and back again
In English, the word cosplay used to refer only to costumes based on Japanese products, but the definition has broadened to include western comics.
The term "cosplay" can be used as a noun to refer to the costumes worn while cosplaying ("a Sailor Moon cosplay") or as a verb ("I cosplayed as Superman").
There is some dispute as to whether cosplay actually originated in Japan or America. We know that the term "cosplay" was coined by Nobuyuki "Nov" Takahashi, the founder of the anime publishing company Studio Hard, in 1983/4 to describe the costumes he saw when he travelled from Japan to attend WorldCon in Los Angeles.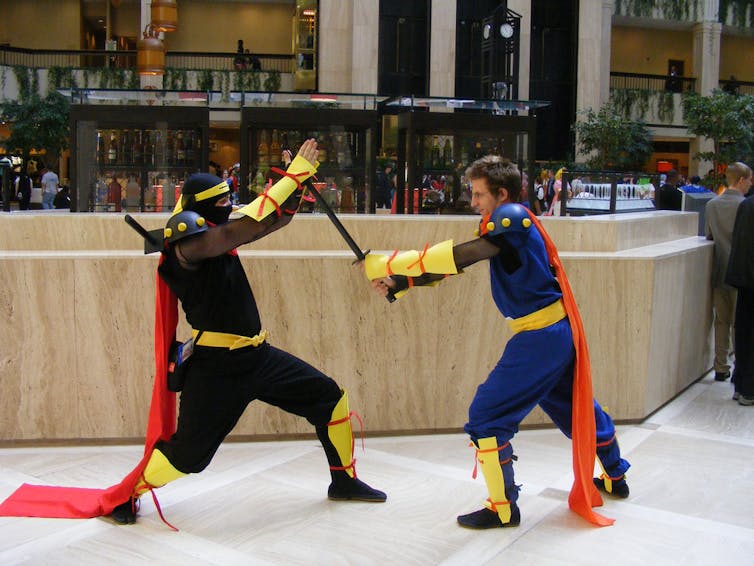 Takahashi wanted a short, catchy word that would describe the magnificence of what he had seen the American fans doing. "Masquerade", "costume play" and "costume acting" were passed over as being too much of a mouthful when given a Japanese pronunciation.
However there is little argument that in its current form, the roots of cosplay lie in Japanese fandom culture that has been adopted by fans around the world. For many practitioners, part of the attraction of cosplay lies in its "Japanese-ness".
Who cosplays?
Cosplayers come in all shapes and sizes, genders, ages and talent levels. There is no golden rule as to what makes a successful cosplayer.
Trying to define good or bad cosplays can actually be rather unhelpful. To my mind it is better to look at "competition cosplay" and "convention cosplay".
In "competition cosplay" the costume must be constructed by the competitor to a high standard of accuracy. Competitors will often perform a short skit that can include everything from magic effects, backing videos and vocal tracks to epic sword fights and acrobatics.
In contrast, "convention cosplay" may be bought or made by the wearer and are often as intricate as costumes worn on stage by competitors.
While "competition cosplays" are worn to test their maker's skills and win prizes, "convention cosplays" are worn solely for the pleasure of dressing as a beloved superhero, princess, magical girl or television character.
If you are interested in trying your hand at cosplay, you can find your local popular cultural convention by searching online. You just might make your own, or someone else's, dream come true.