Africa's largest economy and biggest democracy will hold a hotly contested presidential election on March 28. In addition to Nigeria's perennial problem of corruption, the major issues at stake are national and regional security alongside the country's economic future.
Responsible for killing many thousands and displacing a million and a half people in the country's northeast, the Islamist terrorist group Boko Haram constitutes a serious threat not only to Nigeria but to West Africa more generally. At the same time, falling global prices for the oil produced in Nigeria's Niger Delta have contributed to a significant decline of national revenue. Ratings agency Standard & Poor's downgraded Nigeria's sovereign rating on March 20, citing the oil price among other concerns.
The two main contestants for the presidency are the incumbent president, Goodluck Jonathan of the Peoples' Democratic Party (PDP), a Christian from Nigeria's predominantly Christian Niger Delta, and the northern Nigerian Muslim leader, Muhammadu Buhari, of the All Progressives Congress (APC).
Originally slated for February 14, the Nigerian elections were postponed to March 28 by the National Electoral Commission in order to give a military task force time to secure parts of north-eastern Nigeria which had fallen under the control of the Islamist terrorist group Boko Haram. The opening successes of this military intervention have been an important factor for the outcome of the forthcoming elections.
The gift of incumbency
The PDP has been in power since Nigeria's return to civilian politics in 1999. This is partly due to its ability to negotiate Nigeria's main political division between a predominantly Muslim north and a largely Christian south, and partly because of its ability to manage relations with the military after almost two decades of military rule.
After the former military head of state Olusegun Obasanjo, a southern Christian, held power as a civilian president between 1999 and 2007, the presidency passed on to Umaru Yar'Adua, a northern Nigerian Muslim. When Yar'Adua died in office in 2010, Goodluck Jonathan, as vice-president, took over the administration. Jonathan's emergence as the PDP's presidential candidate in the election that followed in 2011 drew strongly on his incumbency. It was especially hailed in his home region, the oil-producing Niger Delta, as the first recognition of the region's immense contribution to the country's national income.
Religious divisions
But Jonathan's electoral victory in 2011 also led to widespread violence in northern Nigeria, where Buhari had established himself as the country's main opposition leader. According to official figures, Buhari won 64% of the vote in the 12 "core" northern states in 2011.
But Buhari's endorsement of the introduction of Islamic or "sharia" law from 1999 in 12 northern Nigerian states divided the northern vote along religious lines and alienated him from the northern Christian population.
After his loss in 2011, Buhari began to adopt a more collaborative approach. He took a lead in uniting the national opposition under the banner of the APC in 2013, and has since gained a convincing foothold in the south.
Anecdotal evidence from this region suggests that voting intentions do not always reflect religious identification. But the fact that southern support for Buhari is strongest in the religiously mixed south-west means that his support base is strongest in states with a significant Muslim population.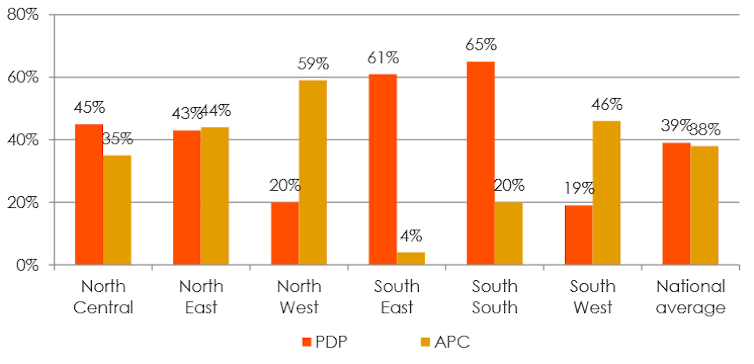 In turn, Jonathan has openly pursued Christian endorsements ahead of the 2015 election, for example embarking on a shared Christian "pilgrimage" to Jerusalem with Ayo Oritsejafor, the president of the Christian Association of Nigeria in October 2014.
But together with his lack of military links, Jonathan's open identification with Christian interests may have limited his chances for re-election. He has been seemingly unwilling to address large-scale corruption or sustained reforms to improve the provision of basic services such as electricity. Initial enthusiasm for a raft of reforms to the power sector has stalled, and little has changed on the ground.
Jonathan has also failed to deal successfully with the challenge of Boko Haram, even after international attention was drawn to the threat posed by the group after the kidnapping of about 200 school girls from the town of Chibok in April 2014.
As most victims of Boko Haram have been Muslim, Jonathan's inactivity was perceived both as a sign of weakness and as an indication of his disregard for Muslim voters. In contrast, Buhari – who, like Obasanjo, was a former military head of state in the 1980s when he became famous for his "war against indiscipline" – has to some seemed better positioned not only to tackle Boko Haram but also to address the country's corruption and infrastructural problems.
Security may be trump card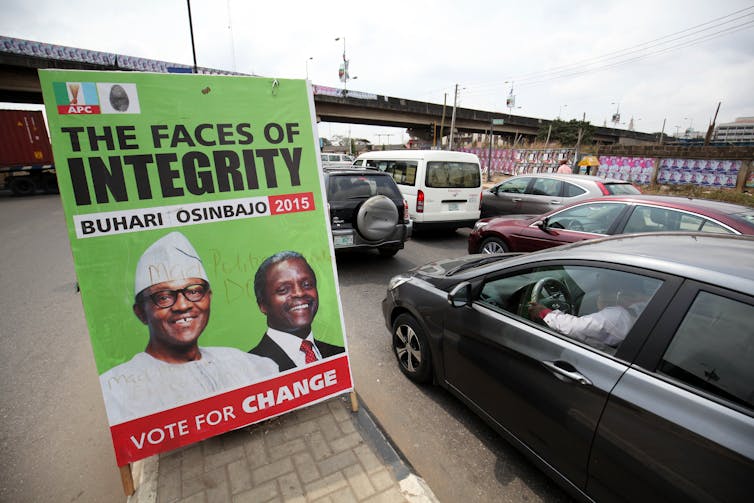 But if some observers speculated that Jonathan was the likely loser of the elections ahead of the original February date, the military successes of the past six weeks have levelled the playing field again. Confirming his ability to engage with both Boko Haram and the Nigerian military, the recent campaign has established that Jonathan can provide firm leadership.
This may be enough for those voters who are painfully aware that the relative peace in the Niger Delta owes much to Jonathan's presidency. Officially, disarmed militant groups still have excellent access to small arms, often obtained in return for their toleration of illegal refineries. There is little doubt that, if provoked, Niger Delta groups are capable of limiting Nigeria's oil production and so further reducing the national revenue and creating considerable unrest in the south of the country. Some militants have called for action should Buhari win.
Voters' concerns about regional security vie with economic, political and religious interests. An electoral victory for Jonathan promises relative economic stability and peace in Nigeria's south, but it is not likely to bring political reform.
By contrast, a victory for Buhari might limit Nigeria's economic development if unrest resumes in the Delta, but it offers a realistic chance of improved security in the north as well as of much-desired political change. Yet, given Buhari's authoritarian record while in power in the 1980s, a vote for change is, for many voters, an expression of faith that the bearer of their hopes himself has changed.
---
Click here for articles on Nigeria's 2015 election.