The demand for mobile banking applications (MBA) is on the rise because of perceived advantages in security, usefulness and speed, but what are the other factors that influence their adoption and use, and what are the profiles of those who adopt them? The DOCKSIDE project, coordinated by the University of Nantes, aims to explore such questions.
The study focuses on users from two countries, Cambodia and France, by using a research framework extracted from the well-known Technology Acceptance Model (TAM) and Unified theory of acceptance and use of technology (UTAUT).
Banking on mobile banking
E-banking is both growing and become more widespread around the world. This can be explained by three interlinked trends:
Greater Internet coverage in a growing number of territories.
Higher quality of the operators' offers.
Higher efficiency of the users' practices.
Nevertheless, the factors that explain their initial adoption and their subsequent use are still interesting to identify and to compare. The object of this article is to compare the explanatory factors such as ease of use, utility, security, trust and convenience as perceived by Cambodian (Asia) and French (Europe) users. The full research, with a focus on the economic and entrepreneurship impacts (Ratten, 2012), will be published in 2019.
A few words about the Cambodian and French contexts…
The DOCKSIDE project aims to strengthen multidisciplinary research (economics, management, environment, etc.) as well as cooperation between Cambodians and Europeans, especially in emerging areas. This Erasmus+ project also seeks to confront and adapt research practices, models and methodologies. For example, in the case of this research, the authors began their empirical study in Cambodia (Phnom Penh) in autumn 2017 and then continued in France (Nantes) during spring and summer 2018.
Innovative digital payment in Cambodia debuted in 2008 when Wing and ANZ Royal Bank launched a money-transfer service for mobile-phone users. As of 2016, 32.4% of Cambodia's 15.76 million residents used the Internet according to the World Bank. Research conducted by the Open Institute in 2016 found that 48% of Cambodians use one smartphone or more.
In France, "65% or 34.7 million of the French population has Internet coverage, 61% had declared that they access Internet directly from home using a high-speed connection", according to Sanchez & Gallie, 2010. More recently, in 2017 Eurostat reported that 62% of the French population used Internet banking, compared to 50% in 2010. France had a population of 67.12 million in 2017, indicating that approximately 41.62 million used Internet banking that year. Interestingly, 47% of bank customers used mobile banking services on mobile phones more frequently than computers in 2016.
… and about e-banking services
The technological offer of French and Cambodian banks is comparable, but the distribution and the background of the countries' populations are not.
Traditional banks have the potential to provide mobile banking access to people in rural area where a few people could have computer without an Internet. They also have the possibility of bringing mobile banking to areas where people do not have Internet due to an extensive cell phone use and the limited capacity of Internet banking. The Internet should be added the range of banks' services while others branch and phone services are kept traditionally to strategise from branch to mobile banking and to capture an adequate market share during this transition period.
The trend toward mobile banking has potential for the banking sector. By providing such services, banks can retain their existing client base and transform mobile phones users to mobile banking customers. But it seems increasingly difficult to attract and retain users. With a wide range of service providers, it is difficult for financial institutions to retain customers' loyalty. Plus, users have gained rights due to recent evolution of legislation and regulation.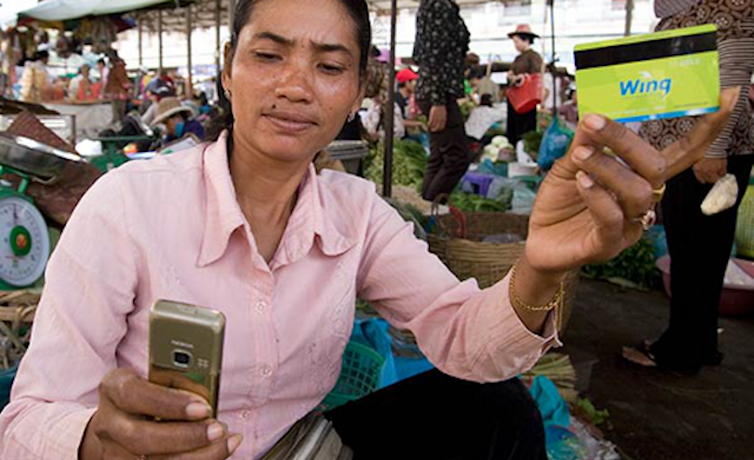 About data collection and analysis
Our study aims to compare factors that really affect the intention to adopt and use mobile banking applications in Cambodia and France. In all, our field survey collected the opinions and perceptions of 252 representative e-banking users (126 from each country, urban and connected), with parity between men and women and between younger and older users.
Both paper-based and online surveys were used to get a large enough sample for treatment and analysis using the Statistical Package for the Social Sciences (SPSS). Data were collected from October 2017 to July 2018. The questionnaire follows previous research studies including some empirical research by both universities. A seven-point Likert scale, ranging from "Strongly Disagree" to "Strongly Agree" was used to measure and treat all items. Our main results are summarized below.
About main results…
The research is divided into two sections. The first compares the conventional factors that affect intention to adopt and to use mobile banking app between the two population. The second compares how gender and age influence (or not) the adopting behaviour.
The research found that both countries share a similarity (mean values > 5 "agree") of perceptions toward the usefulness, easiness and intention to use mobile banking applications. Concerning self-efficacy, French users have more experience with and knowledge of mobile banking than Cambodians. This result might be link with the different periods of Internet network introduction (France around 2000, and Cambodia around 2008) and of smartphone availability (2010 and 2013, respectively).
… focusing on trust and usefulness
However, both nations gave a low scores (mean values < 5 "agree") to their level of trust in mobile banking. Strengthening perceived trust remains a major issue, especially safety, confidentiality of personal information – including the GDPR, which is affecting data-privacy laws across Europe – as well as transaction safety, encryption technology and legal protections.
In terms of demographics, men and women in the two countries have similar attitudes about the use, benefits and conveniences of mobile-banking applications. However, both still rate their level of trust lower. In Cambodia, the 26-35 age group has more knowledge and experience with mobile activities than those 16-25 and 36 and up. In France, those 26-35 are more likely to have better knowledge and experience of mobile banking than those 16-25 and 36 and up. The youngest age group, 16-25, does not surpass those 26-36 in self-efficacy due to their income, knowledge, and working experiences.
Finally, we can highlight some interesting differences concerning the influence of gender and age. For example, the perceived usefulness is higher in France for women, whereas in Cambodia it's higher for men. Similarly, perceived trust is higher in Cambodia for women, whereas it's similar for men and women in France. Lastly, in both France and Cambodia, users 26 and older are more are confident and capable using mobile banking than those under 26.
A few words about IT globalisation process
Even if the two countries are different in socio-economic terms, the practices and attitudes of their (young) population are quite similar concerning e-banking. This exploratory study highlights the true similarity among young users (male and female) of the factors influencing the adoption of e-banking technologies, but also – in the course of their learning and appropriation of mobile technology – behaviours and uses that are fairly similar. Research continues by focusing on the economic and entrepreneurial impacts (or lack thereof) of the growing use of e-banking in terms of value, therefore value creation, wealth and social innovation.