Facebook is trialling a new Messenger Kids app in the United States.
The standalone app is aimed at under-13s, who aren't currently eligible for a normal Facebook account. Parents are responsible for setting up the account and approving any contacts their children add. Kids can then use the app to video chat – both one-on-one or in a group – and send photos, videos and text messages. Currently only available in the US on Apple devices, Facebook expects to extend it to a wider audience in the coming months.
In the week since the app launched, headlines have focused on its potential downsides, amid concerns about data privacy, tech addiction and kids' well-being.
But I argue that there is another side to this story: the fact that teaching kids about messaging at a young age is essential to preparing them for the hyper-connected world they will need to navigate in the future.
---
Read more: Scare-mongering about kids and social media helps no-one
---
It's already happening
At the moment, there is relatively little research in Australia about toddlers' and children's use of digital technologies. But studies in the UK and emerging Australian studies suggest that kids are going online at ever earlier ages, and doing a much wider range of activities.
Children younger than 13 are already using social media, and messaging functionality is increasingly built into the "communicative ecology" of families.
On a recent overseas work trip, I shared photos and messages with my nine-year-old daughter via her dad's Facebook Messenger account. Like most kids her age in Australia, she has daily access to a mobile phone or tablet.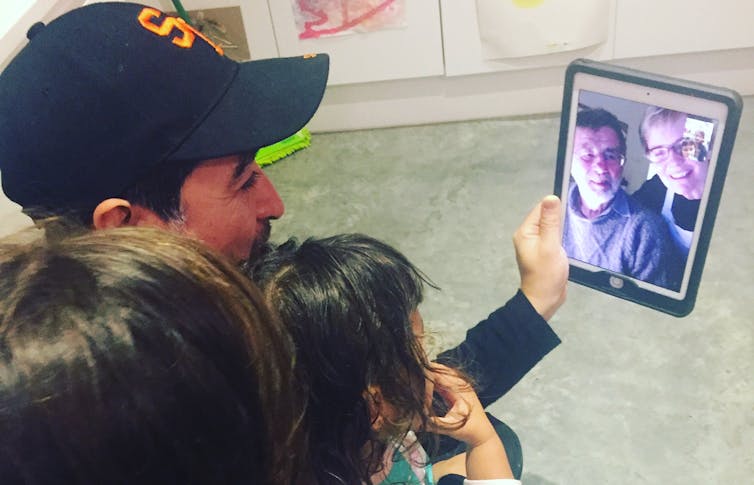 And like the average Australian household with children younger than 15, we have seven internet-enabled devices in our home. But we don't have a landline, so web apps, including social messaging apps, are becoming more central to our family communication.
Messaging is also embedded in multi-player games used by older children, such as Minecraft and Clash of Clans.
There are both challenges and benefits associated with kids connecting with others via games and apps, but the functionality is not going to go away. Learning how to navigate social media together is now a key feature of childhood and parenting.
Messaging can be good for kids
The Facebook app is an interesting innovation in the social media space precisely because it promotes learning about and using social media together with kids. The focus is on developing online skills by supporting communication with known relatives and friends, because kids can only connect with parent-approved contacts.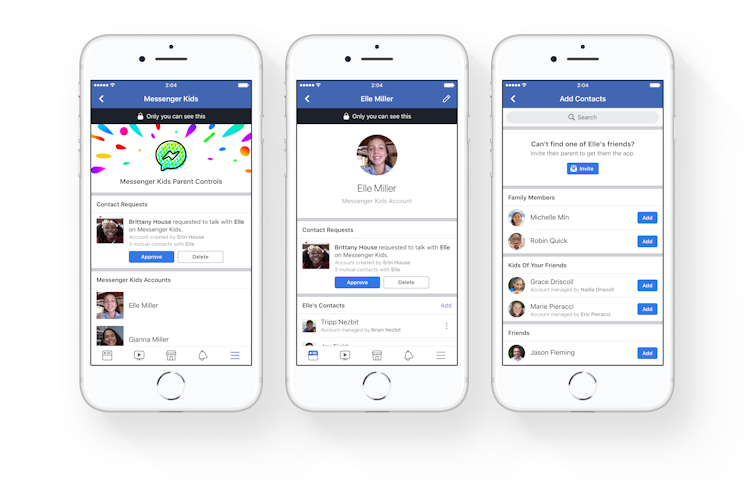 As leading kids and tech commentator Anne Collier has written, the most significant thing about the app is that while it has plenty of parental controls built into it, the app itself is not actually a parental control tool. Rather, it is a service that kids and their families and friends will need to learn to use - and use well - together.
---
Read more: Text-messaging isn't, like, ruining young people's grammar
---
Evidence already exists to show that social media can be good for mental health, building friendships, and resilience.
The app will evolve over time as kids and parents use it. What is important is that parents do not become complacent about the app as a "silver bullet" solution to educating children about the internet. Rather, we need to see it as just one tool to foster healthy, respectful relationships with our kids, and learn through the technology.
Bullying and data privacy
For now the Facebook Messenger Kids app features no ads, in-app purchases or sharing of data with other apps on the same device. But as with all websites and apps, this one will be fallible. Learning to think about what we share and how we share it (just like when you meet someone in a park) will still be important on this app.
Bullying can happen anywhere and it is possible – as we've seen before – that the app could extend bullying beyond the schoolyard. But all contacts in the app must be pre-approved by parents, and it has reporting features with pop-up feedback, dedicated content moderation, and notifications to parent Facebook accounts. Those features should enable parents to stay better abreast of how kids are using it. Unlike Snapchat and other apps, content can't be deleted. This will also help kids and parents review communication, and take necessary steps if someone is being mean or harassing.
---
Read more: 'Screen time' is about more than setting limits
---
There are more than 2 billion Facebook users worldwide, and the chances are that our kids will soon add to those statistics. Facebook and other major platforms should be part of a broader effort to help kids and parents learn how to communicate safely and respectfully in a world saturated with social media.
And we should all develop critical digital literacy skills by learning about who is behind the apps and platforms we use, and what happens to our information and data. If using the Facebook Messenger Kids app helps to promote these conversations, that is a very good thing.