The Conversation is fact-checking claims made on Q&A, broadcast Mondays on the ABC at 9:35pm. Thank you to everyone who sent us quotes for checking via Twitter using hashtags #FactCheck and #QandA, on Facebook or by email.
---
I know that since 1976, there have been 70,000 asylum seekers settled in Australia who arrived by boat. Not one of them has been found to have a link to terrorism. – Tasneem Chopra, cross cultural consultant, speaking on Q&A, November 23, 2015.
Since the recent Paris terrorism attacks, Chopra and others have argued that Australians have nothing to fear from refugees arriving by boat.
But others have linked national security concerns to refugees.
Liberal Senator Cory Bernardi recently told the ABC that:
In our previous refugee intake, we've had examples where people who've been accepted as refugees have gone on to commit terrorist acts or plan terror attacks in this country.
So are Chopra and Bernardi right in making those two claims?
The answer is not entirely black and white, partly because of a lack of publicly available information. But based on my knowledge of this area, research and contacting senior police investigators, this is the best evidence available.
Boat vs plane arrivals
The first thing to remember is that the majority of asylum seekers arriving in Australia do so by plane.
It's also true that of the handful of former refugees who went on to involve themselves in terrorist activities, most grew up in and were radicalised in Australia. Most arrived as children. They did not step off planes or boats in Australia as fully formed terrorists who somehow evaded security checks and slipped into Australia.
When asked for a source for her assertion, Chopra sent a comment from the Asylum Seekers Resource Centre that said:
The statistic is based on the past 15 years of work in that sector where not one asylum seeker who arrived by boat has been charged with domestic terrorism. Man Haron Monis, the perpetrator of the Lindt Cafe seige, arrived by plane. And regarding the numbers of boat arrivals, this was drawn from stats with this parliamentary library link, indicating around 69,000 since 1976.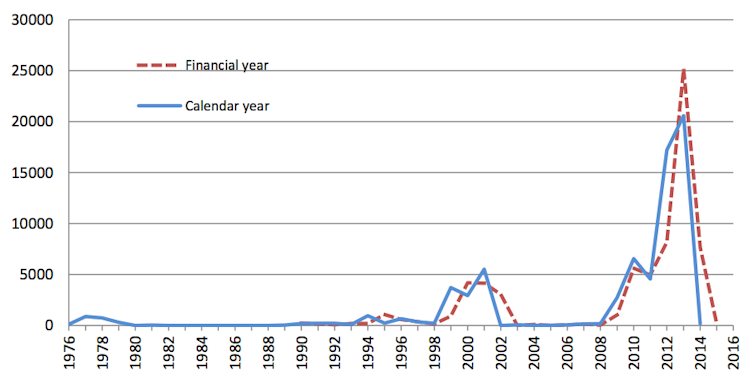 I know this is not a very satisfying answer, but we can't say with absolute certainty that no refugees who arrived by boat have been linked to terrorism. That's because the police who have investigated the handful of terrorist plots in Australia that have been perpetrated by former asylum seekers didn't always collect information on their mode of arrival.
It's also true there's no obvious, compelling evidence proving Chopra is wrong. As an expert advising the Australian government and courts on terrorism and counter-terrorism, I am not aware of any perpetrators or plotters who arrived in Australia by boat.
Some people who have arrived by boat may have gone on to break Australian laws or commit crimes, but that is obviously not the same as saying they are terrorists.
What about the Lindt Cafe seige, the Paramatta shooting and others?
It is true the man behind the 2014 Lindt cafe seige, Man Haron Monis, was a refugee who arrived in Australia from Iran. However, he did not arrive by boat – he came on a plane, just like most refugees. In fact, he arrived on a business visa.
Whether or not the Lindt Cafe seige qualifies as a terrorist act is also contested. Some experts say it was; others contend that while Monis latched onto Islamic State as his cause, there's no compelling evidence to indicate that Monis had any confirmed links with them.
Farhad Khalil Mohammad Jabar, the IS-inspired 15-year-old who shot police accountant Curtis Cheng outside the NSW Police Parramatta headquarters in October, was of Iraqi-Kurdish background. His family moved to Australia. No reliable evidence has emerged so far to suggest he arrived in Australia by boat.
A spokesperson for Senator Bernardi also referred The Conversation to a plot to attack the Holdsworthy Army Barracks in Sydney.
One of the plotters in that case, Saney Edow Aweys, arrived in Australia as a 15-year-old refugee, but we don't know for sure if he came by boat or plane. The judgement in that case doesn't say.
Senator Bernardi's spokesperson sent another news article on Mohammad Ali Baryalei, accused of conspiring to behead an Australian in a random attack.
Baryalei's aristocratic Afghan family came to Australia as refugees when he was a child, the ABC has reported.
Again, it's not clear whether Baryalei arrived in Australia by boat or plane. There's no compelling evidence suggesting it was one or the other. We do know he was a child when he arrived.
So Bernardi is also correct to say that, in general terms, there are a handful of documented cases of refugees who have settled in Australia being linked to terrorism. These refugees did not arrive as fully formed terrorists who slipped through security measures.
Verdict
Let's look at the two claims separately.
We can't say with absolute certainty that Tasneem Chopra is correct to say that no refugees who arrived by boat have been linked to terrorism. However, there's no obvious compelling evidence showing she is wrong.
With the current intake of the 12,000 Syrian refugees, there are tight selection processes and comprehensive screening procedures conducted before refugees enter Australia that dramatically reduce any chances of terrorists (or criminals) slipping into Australia.
Bernardi is correct. There have been a handful of asylum seekers who arrived in Australia by plane who we know have been eventually linked to terrorism.
It's also worth noting what Chopra's co-panellist, former Greek finance minister Yanis Varoufakis said on Q&A the same evening:
… when you have a massive exodus of refugees, there may very well be a couple of insurgents that infiltrate but it's neither here nor there. Both the terrorist attacks and the refugee influx are symptoms of the same problem but one doesn't cause the other.
– Clarke Jones
---
Review
This is a sound analysis. There is an unfortunate trend in the debates about national security and border security towards both hyperbole and generalisation. This article is careful to avoid these. It examines the publicly available material and ultimately concludes that it is impossible to say whether or not any Australian terrorists arrived in this country by boat. While this lack of certainty may be frustrating for some readers, there are two important points to be taken from this article.
The first is that extremely few - if indeed any - of the people who have arrived in Australia by boat have later had any involvement with terrorism.
Secondly, this article highlights the irrelevance (including to the police) of how terrorism suspects arrived in Australia. In my experience - both in co-authoring a book, Inside Australia's Anti-Terrorism Laws and Trials, and also appearing as junior defence counsel for Saney Aweys (linked to the Holdsworthy Army barracks plot) in his trial before the Victorian Supreme Court - whether a person arrives in Australia by boat or plane has no bearing on their likelihood of later being involved in terrorism. To the best of my knowledge, the mode of arrival was not even something that we discussed with Aweys during our pre-trial interviews.
The only thing that I would add to this article about Aweys' background is that he spent many years in a refugee camp in Ethiopia before coming to Australia and being granted a humanitarian visa.
This - in combination with the fact that his arrival coincided with the Australian government's decision to accept a significant number of refugees from Somalia and that I have no recollection of him spending any time in immigration detention - would suggest that he did not arrive here by boat. This could be confirmed by speaking to Aweys but that is of course easier said than done, given his current detention in a maximum security gaol. – Nicola McGarrity
---
Correction, January 23, 2018: the original version of this FactCheck named Curtis Cheng as a police officer. Mr Cheng was a NSW Police Force accountant. We apologise for this mistake, and thank the reader of The Conversation who brought this to our attention.
---
Have you ever seen a "fact" worth checking? The Conversation's FactCheck asks academic experts to test claims and see how true they are. We then ask a second academic to review an anonymous copy of the article. You can request a check at checkit@theconversation.edu.au. Please include the statement you would like us to check, the date it was made, and a link if possible.