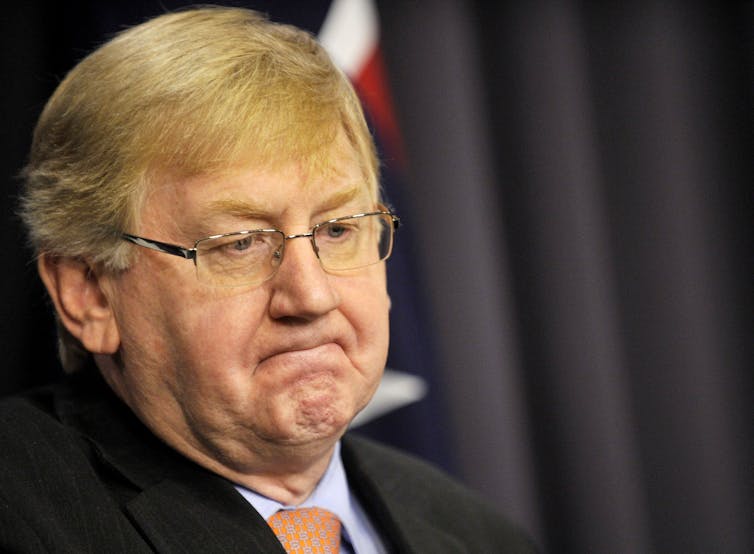 Could anything be worse for the Gillard government than Thursday's leadership farce? Possibly what has happened on Friday.
The events were not so jaw dropping as those surrounding the fizzing spill. But the loss of two of the government's most respected cabinet ministers, Martin Ferguson (Resources) and Chris Bowen (Tertiary Education), massively damages its credibility, reduces its already diminished capacity to deal with the business community, and looks like the whole outfit is imploding.
The day's parade of three ministers jumping overboard was surreal. It started with Bowen at 9.30 am. Ferguson fronted the media at 2.45 pm, quickly followed at 3.40 pm by the well-regarded Kim Carr (Human Services, in the outer ministry) who had already been demoted from cabinet in apparent payback for being a Rudd backer.
Each of the three appeared in the Blue Room, where the Prime Minister holds many of her press conferences. It could be seen as the ultimate "up you" gesture to the leader they had unsuccessfully tried to overthrow.
That makes four ministers – Julia Gillard sacked Simon Crean after he demanded the spill – off the front bench, plus parliamentary secretary Richard Marles who quit on Thursday.
The bad joke is that there is plenty of room for promotions. The confronting reality is that the government, facing a difficult budget and a horrendous run up to the election, has a gaping hole in its core.
The Rudd-supporting ministers talked of doing the honourable thing. There was some push factor involved, but not for all of them. The Gillard forces were sending waves of anger in Bowen's direction. But they didn't seem to have the same intense feelings about Ferguson.
Gillard should have tried her hardest to avoid this outcome. Perhaps she should have gone as far as reinstating Crean, seen as a party elder, as a reconciliation gesture. But, in a winner-takes-all attitude, she didn't seem to comprehend how bad three resignations on one day would look. Asked on early morning radio whether she would punish those who plotted against her, she praised Marles for doing the "honourable thing", adding "I anticipate there will be a few more people considering their position". Later in the day she said, "I'm someone who's made of pretty strong stuff, and I think that's been on display."
This was the street fighter wanting to kick those already floored, not the leader who understands that it would be to her own benefit to be magnanimous.
With this number of losses, the challenge of the reshuffle has become huge. Whatever she does, it is hard to see Gillard winning any marks, and if it contains retribution, the commentary will be savage.
The exiting ministers all called for unity in the fight of Labor's life. But there were also devastating critiques, made for use by the Liberals. Ferguson criticised the resort to class warfare, a crack at Treasurer Wayne Swan and Gillard. "The only way we will regain our electoral momentum is not to just focus on class war rhetoric".
Carr homed in on the recent over-the-top attack by the PM on 457 visas (without naming her). The changes were quite modest, he said, but "the communications strategy around them was an entirely different matter."
While the ministers bailed out Kevin Rudd ruled out, once and for all, ever seeking to be leader, and gave an account, from his point of view, of what had happened.
Recalling his promise of last year not to challenge, he said that if he had done so, he would have been attacked for "having walked back on my word".
But clearly this undertaking was not absolute. He said he had told colleagues the only way he'd be available was if there was a draft by a "significant majority". He did not define "significant".
On Thursday afternoon he had gathered his key friends and ministerial colleagues and "asked for their views" He quizzed them on the prospects for both a significant majority and just a majority. They said "zero" to both questions. "I said, therefore what should I do", to which they all answered that he should not run because it would divide the party.
If Rudd had been completely faithful to his "no challenge" position he would not have been asking these detailed questions, although, as Crean said publicly, standing in a spill could be seen as not being a "challenge" (but only if you are very literalist).
All the talk of unity by the various players, whichever side they are on, is in keeping with the world of unreality into which this government has descended.
Of course, like the departing ministers, Rudd is pledging to be a team player. "Julia Gillard has my 100 per cent support", he said. "The time now is to bind up the wound".
Well, you wouldn't find enough bandages in half a dozen hospitals to do that.