Countries that have well developed primary health care systems are known to have better health outcomes, fewer people in hospital, increased patient satisfaction and lower costs.
Primary health care is where people engage with the health system for the first time. In high income countries this is often with a general practitioner who has postgraduate training in family medicine. But in low and middle income African countries this is most often with a community health worker or nurse.
The challenge with this is few countries in Africa have well developed primary health care systems.
In addition, these African communities carry a heavier burden of disease. Communicable diseases such as HIV, tuberculosis, and malaria live side by side with interpersonal violence and trauma, maternal and childhood deaths and a growing number of noncommunicable diseases such as hypertension and diabetes.
So while these African health systems try to tackle this burden of disease, they are constrained by a scarcity of health workers and poorly developed primary health care services.
To improve primary health care, services must be built around the needs of people rather than diseases. This person-centred care is a core principle of family medicine.
But family medicine is rarely encountered in African health systems. The continent is the last to embrace the need to train family physicians as a key component of the primary health care team and district hospitals.
Unless family physicians are trained along with the primary care providers such as nurses, doctors and mid-level healthcare workers, Africa will not be able to reform its health services.
Primary health care is important
In Africa health systems are often more developed in the capital cities. These systems focus on prestigious referral hospitals and specialist care as well as private health care for a small group of people with health insurance.
Primary health care is often seen as cheap health care by low level health workers in distant outposts of the health care system with few resources to make a difference. Sometimes programmes for priority diseases such as HIV replace comprehensive primary health care and create inequity by disease.
Primary health care is often the responsibility of community health workers or nurses with limited training. These health workers may lack the capability to offer a comprehensive service by themselves.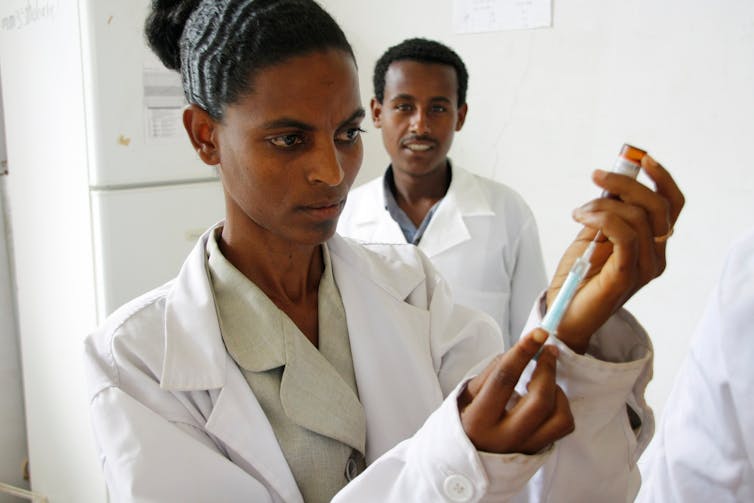 In South Africa, for example, mental problems such as depression and anxiety are common but rarely recognised in primary care. Children still die from dehydration and pneumonia after receiving care and patients with chronic diseases such as diabetes remain uncontrolled. South Africa has recently decided that every clinic should have access to a doctor.
But doctors are few and far between in public sector primary care services. When they are available they are often junior, transient, or lack the skills needed to provide effective general practice. At district hospitals there are also problems. This results in mothers, for example, dying due to "a low skill set among junior and inexperienced doctors".
To change this a family medicine approach is needed.
An emerging discipline
Family medicine is an emerging discipline in sub-Saharan Africa. In South Africa it has recently been recognised as a speciality and all nine medical schools have functioning departments of Family Medicine with both undergraduate and postgraduate training programmes.
Family physicians are doctors with postgraduate training to work as expert generalists in primary care and the district hospital.
But in other African countries, family medicine departments have been struggling for recognition. The health systems are still dominated by a reliance on centralised specialist services. Many of these countries are emerging from conflict and need to rebuild infrastructure. Others, like Swaziland, do not have medical schools, or like Namibia and Botswana, have only recently created them.
There is no requirement for doctors to be trained as general practitioners with the necessary competencies after they leave medical school. Career pathways are also poorly developed in district health services.
Nevertheless many countries in Africa have started to offer training for their doctors after graduation to provide them with the skills to work in primary care and district hospitals through Departments of Family Medicine. These are based at local medical schools. Countries such as Ghana, Nigeria, Uganda, Kenya, Malawi, Botswana and South Africa have established training programmes. But numbers remain small.
South Africa, for example, started full-time training for family physicians in 2008 and now has around 0.1 family physicians for every 10,000 people. This compares to 1.2 in China and up to 11.4 in Canada. Many other countries are ambivalent or uncertain such as Zambia, Zimbabwe, Rwanda and Tanzania.
The African context is completely different from high income settings. One key difference is that doctors must also be equipped to work in district hospitals, often in rural and remote areas, where there are no specialists.
The model of primary health care that is emerging is that of a multidisciplinary team that works in both the community setting and primary care facilities. This model has been very successful in countries like Brazil.
The road to better health care
The World Health Organisation says primary health care is needed "now more than ever" to successfully tackle the burden of disease on the continent.
The World HealthAssembly has reiterated the need
to train and retain adequate numbers of health workers, with appropriate skill-mix. This includes primary health care nurses, midwives, allied health professionals and family physicians, who are able to work in a multidisciplinary context in cooperation with non-professional community health workers to respond effectively to people's health needs.
But primary health care is not just about tackling disease and caring for sick people. Ideally it should also focus on promoting health and wellness, preventing disease and addressing the underlying social determinants of ill health.
It is meant to be accessible and to offer a comprehensive range of services across the burden of disease. It should enable continuity with a team of health care workers that you trust and to be the hub from which your care is co-ordinated.
African countries with a strong commitment to developing effective primary health care must include a family physician in their primary health care team. Africa needs family medicine and needs to commit to training its doctors to provide it in a model appropriate to the African context.