On Tuesday 24 November Bruce Billson, the federal member for Dunkley announced his intention to leave politics after the next election. His decision to do so came on the back of his demotion from the role of Minister for Small Business in the wake of the ascendance of Malcolm Turnbull to Prime Minister in September.
Billson's decision to leave politics is a disappointment to those who wish to see effective small business policy. He was arguably one of Australia's most passionate Small Business Ministers. A sector that represents around 99.7% of all businesses and employs almost half the total Australian workforce.
Billson's loyalty to deposed former Prime Minister Tony Abbott came at a price. In the subsequent cabinet reshuffle Turnbull demoted him from the front bench Ministerial role in favour of Kelly O'Dwyer, who became both Minister for Small Business and Assistant Treasurer. Turnbull had offered Billson the option of taking a junior portfolio of Minister for Cities, but it was not attractive to him.
In his public announcement of this decision to retire from parliament Billson noted that over a period of 20 years in Parliament including six years as a Shadow Minister and Minister he had spent his time:
"…fearlessly advocating the case for the small business, family enterprise, start-up and self-employed community."
However, he now felt that:
"It has become clear to us that while I love what I do, it is not possible for me to fully do what I love".
Australia's small business Minister over time
Bruce Billson was Australia's 15th Minister for Small Business. The first was Barry Jones who took office in 1988 during the the early years of the Hawke Labor Government. Jones held the role for two years and three months in which his duties were blended with those of Minister for Science and Customs.
David Beddall followed with a term that lasted nearly three years and spanned the Prime Ministerial careers of Bob Hawke and Paul Keating. As with Jones he had to share the small business portfolio with customs, science and construction. However, to his credit Beddall commissioned a review of Australia's small business sector and its challenges, problems and opportunities.This report was published in 1990 and remains today one of the more significant documents relating to small business policy and practice in Australia.
Chris Schacht came next and also served for nearly three years before the Keating government was ousted by John Howard's coalition victory in 1996. Howard appointed five Small Business Ministers: Geoff Prosser (March 1996 to July 1997), Peter Reith (July 1997 to January 2001), Ian Macfarlane (January to November 2001), Joe Hockey (November 2001 to October 2004) and Fran Bailey (October 2004 to December 2007). Most of these Ministers shared small business with other portfolios such as consumer affairs, tourism, employment and workplace relations.
When Kevin Rudd took office as Prime Minister in 2007 he appointed Craig Emerson as Minister for Small Business, Independent Contractors and the Service Economy. Emerson served until 2010 when following the election Prime Minister Julia Gillard replaced him with Nick Sherry.
Gillard saw the importance of having a dedicated Minister for Small Business within the cabinet. However, the turbulent years of the Gillard government saw the appointment of a quick succession of Ministers: Mark Arbib (December 2011 to March 2012), Brendan O'Connor (March 2012 to February 2013), Chris Bowen (February to March 2013), and Gary Gray (March to September 2013).
The Small Business area is therefore usually part of a larger portfolio for the Minister. Without its own dedicated department and legislative framework it can easily become an afterthought.
Billson's legacy
Billson, who had held the small business shadow portfolio, came to office as Minister following Tony Abbott's election victory of September 2013. His term lasted only 2 years and 3 days but he came to the role well prepared. Of all the many policy platforms promoted by the Liberal Party prior to the 2013 election, the policies relating to small business were probably the most well developed.
Encompassed in these policies were proposals to cut tax, reduce compliance costs, increase the growth of small business, review competition laws and extend unfair contract protection to small business owners. With a seat in the inner cabinet and a policy support team based in Treasury, Billson set out to implement this blue print for small business.
The 2014 federal budget was generally viewed as unfair and did little to enhance the reputation of the Treasurer Joe Hockey. However, it contained several key initiatives for small business. These included the cutting of the corporate tax rate for small businesses by 1.5% to 28.5%.
Other measures were the investment of $476 million (over four years) into an Industry Skills Fund designed to provide training support for small to medium enterprises (SMEs). A total of $484.2 million (over five years) was put into the "Entrepreneurs Infrastructure Program" designed to help boost innovation and commercialisation in SMEs.
Also announced was the decision to set up a Small Business and Family Enterprise Ombudsman's Office to provide a single entry point for SMEs seeking access to government assistance and dispute resolution. This required the passage of the Australian Small Business and Family Enterprise Ombudsman Act (2015).
A further $1.4 million (over four years) was allocated to the Australian Competition and Consumer Commission (ACCC) for a possible extension of the unfair contract provision from consumers to small businesses. There was also nearly $3 million allocated (over four years) to improve access by SMEs to government contracts.
These policies were generally well supported by the small business sector and were among the few provisions in the 2014 budget that did not attract criticism and threats of obstruction from the federal opposition.
In the 2015 budget small business became a centre piece with accelerated depreciation for small businesses that purchased assets costing less than $20,000, the introduction of the 1.5% tax cuts (announced the previous year), and exemptions from Fringe Benefits Tax (FBT) for electronic equipment such as laptops, tablets and smart phones. In many respects the 2015 federal budget was a "small business budget" and was showcased as such in the media.
The G20 SME Conference 2014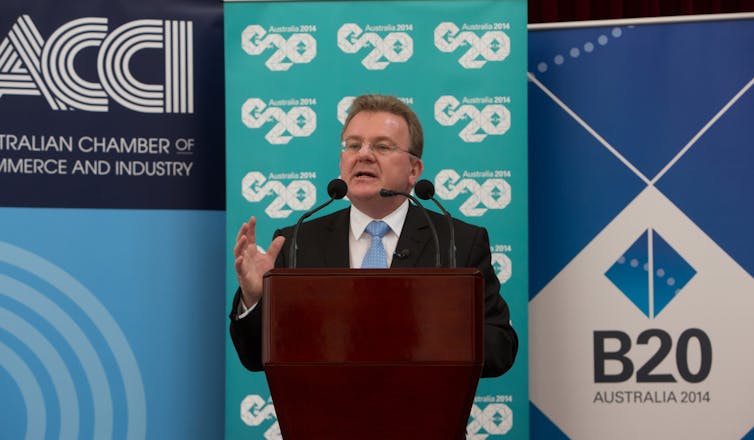 Another important contribution made by Billson was his organising, in conjunction with the Australian Chamber of Commerce and Industry (ACCI), of the G20 SME Conference. This took place on 20 June 2014 in Melbourne and was designed to make a contribution to the G20 Summit being hosted at the time by Australia.
The conference drew together representatives from across a wide range of communities. It focused on the role of SMEs in meeting the G20's target of 2% growth and the process of enabling SMEs to grow.
The communique issued from that conference made several recommendations. These included changes to government tendering and insurance requirements, reduction of unnecessary 'red tape', reform of labour markets, taxation and related regulation to provide more flexibility to SMEs. It also encouraged entrepreneurship education, e-government and the prompt payment of invoices by government agencies.
Other recommendations were the encouragement of SMEs to "embrace the digital economy" and to identify alternative sources of financing for such firms. There was also a call for more investment in programs targeted at "economic gardening" whereby existing SMEs were encouraged to grow modestly and hire additional workers.
In his press statement from the G20 SME Conference, Billson called for government policy to address three critical issues. The first was the need to build a business ecosystem that nurtures and supports SMEs. The second was to require governments to remove barriers to SME entry and growth. The third was to get governments to partner with SMEs to help them build their skills and capacities to grow, innovate and increase productivity.
These remain of fundamental importance to the development of a vibrant entrepreneurial ecosystem capable of fostering a strong and sustainable SME sector.
Unfinished business the "Effects Test"
One of the key areas of unfinished business for Bruce Billson was the introduction of an "Effects Test", recommended under the Harper Review of Competition Policy, and designed to make it easier for small businesses to demonstrate that they had been disadvantaged by the market power of their larger counterparts.
This controversial recommendation was embraced by the small business community and opposed by the big business lobby. Although it was "not rejected" by the government it drew the ire of the Business Council of Australia (BCA) who put significant pressure on politicians.
Billson was one of the few government Ministers who proved willing to stand up and defend the introduction of the "Effects Test". According to some sources the "Effects Test" was allowed to "slip off the agenda" because Tony Abbott, facing falling polls, did not wish to get entangled in a political brawl with the likes of major retailers on the one side and powerful trades unions on the other.
Since assuming the role of Prime Minister, Malcolm Turnbull has avoided taking action over the "Effects Test". He has announced that the matter is still under consideration but has deferred any decision until early in 2016.
This may buy the government some time to settle down the new ministry and shape an election ready budget. However, it does little but avoid the critical decision.
Either way the outcome of the "Effects Test" decision is likely to result in seriously disappointing some key groups. On the one side big business and their powerful BCA lobby. On the other side the 1.96 million SMEs and their advocates such as the Council for Small Business of Australia (COSBOA).
As a parting comment Billson warned Turnbull that to give into the big business lobby would essentially see the government capitulate to powerful vested interests, and encourage business behaviour that would have the "effect of substantially lessening competition".
The challenge facing Kelly O'Dwyer
With Bruce Billson's removal from cabinet and impending exit from federal politics, the onus will now be on the incumbent Small Business Minister Kelly O'Dwyer to decide where she stands on the "Effects Test". This is likely to define her time in the portfolio and her overall commitment to small business in Australia.
Already there are media reports suggesting that Minister O'Dwyer and the Prime Minister are not supporters of the "Effects Test". If this is true then the credibility of the Minister as a genuine champion of small business may be at stake.
For the sake of the nation's small businesses and the millions of people they employ it is hoped that the government makes the right decision over levelling the competitive playing field. It is also hoped that Minister O'Dwyer can inherit some of the fire and passion that her predecessor had for the more than 2 million small business operators and their 4.8 million employees.