Australia's art galleries are currently enthralled by fashion.
In Melbourne Jean Paul Gaultier: From the Sidewalk to the Catwalk and Express Yourself: Romance Was Born for Kids, are both at NGV; Adelaide's Fashion Icons: Masterpieces from the Musée des Arts Décoratifs is at the Art Gallery of South Australia and Brisbane's Future Beauty: 30 Years of Japanese Fashion, is showing at GOMA.
The fashion for fashion exhibitions is not confined to major state galleries. Bendigo Art Gallery has just closed Undressed: 350 years of Underwear in Fashion, after establishing a strong fashion exhibition niche by partnering with London's V&A Museum to show The Golden Age of Couture: Paris and London 1947-57 in 2009.
On the west coast, an exhibition created by Sydney's Museum of Applied Arts and Sciences, Frock Stars: inside Australian Fashion Week, has been showing at the Western Australian Museum.
Most of these result from carefully negotiated partnerships with international museums: the V&A; the Musée des Arts Décoratifs, Paris; the Montreal Museum of Fine Art; the Kyoto Costume Institute, and fashion houses such as Maison Jean Paul Gaultier.
They are part of a worldwide trend for fashion exhibitions in art museums.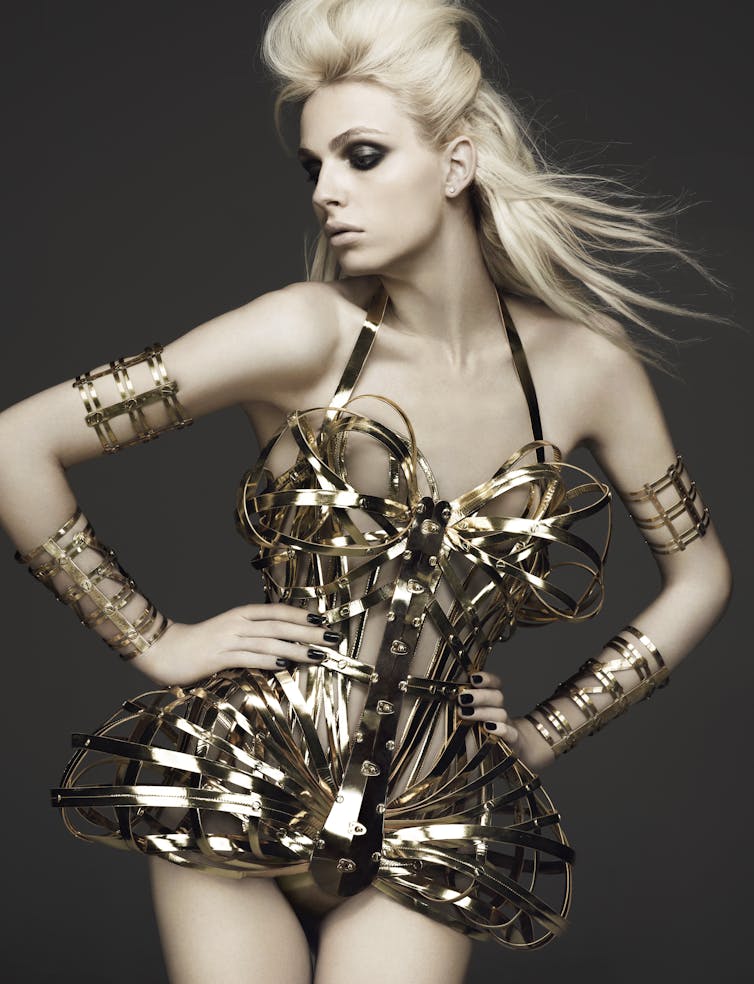 Some of this emerges from a longstanding commitment to collecting fashion and textiles. The critically acclaimed and spectacularly well-attended exhibition, Alexander McQueen: Savage Beauty, at the Costume Institute at the Metropolitan Museum of Art, New York, in 2011 was enriched by the museum's well established collecting and research focus.
Likewise, the NGV fashion exhibitions sit logically within its collection and research directions. But the fashion for fashion exhibitions is not confined to art or design museums with significant fashion collections. So what's going on?
We all have bodies, we all wear clothes; we all observe others wearing clothes. Whether people acknowledge an interest in fashion or not everyone is surrounded by it.
People interested in fashion no longer rely on magazines and image blogs to keep up; live streaming of couture and ready to wear collections gives instant access to what's being shown, who the celebrities are, which designers are doing what.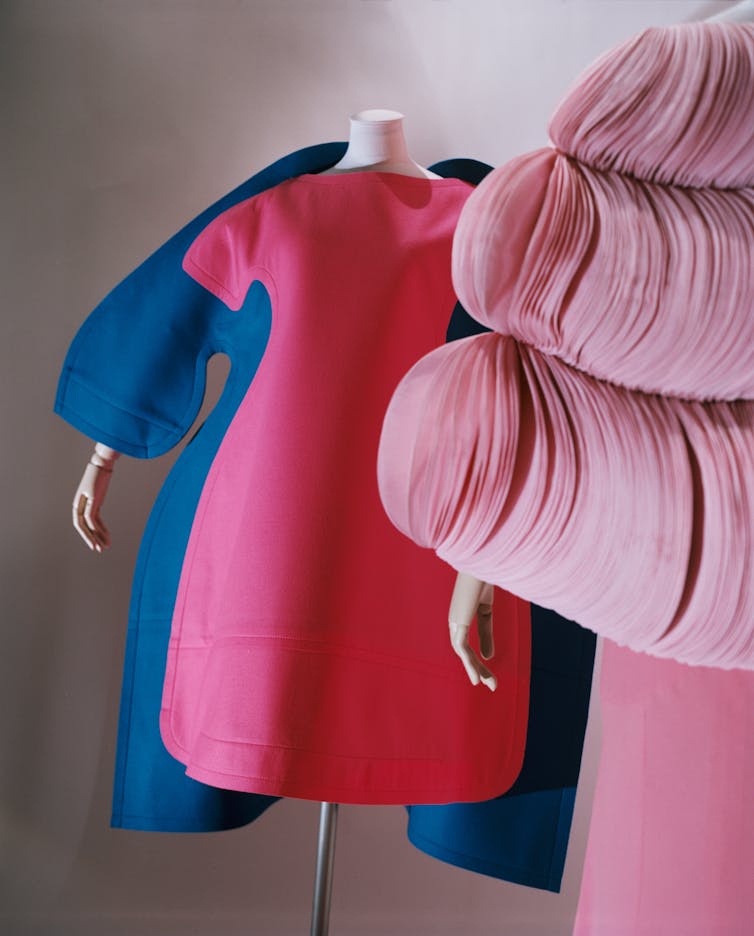 Looking at dress and adornment can be aesthetic, sensual and visceral; experienced and understood in different ways by people of all ages and genders. Museum fashion exhibitions amplify varieties of visual experience and give access to research-based fashion knowledge. They provide a rare glimpse into the materiality of high fashion objects; haute couture garments and textiles; volume and drape; colour, texture, surface; and details of inventive highly skilled artisanship.
Visitors to exhibitions such as Jean Paul Gaultier in Melbourne and Fashion Icons in Adelaide, where the garments are shown without the impediment of glass, can see close-up the allure and charisma of these material objects.
Museum audiences understand how fashion's periodic ruptures – in conception, style, materials – are linked to cultural history, music, street trends and other manifestations of zeitgeist. Audience interest in fashion objects, processes, history, technologies, internal systems, narratives and mythologies is parallelled by contemporary critical knowledge emerging from the burgeoning academic field of Fashion Studies.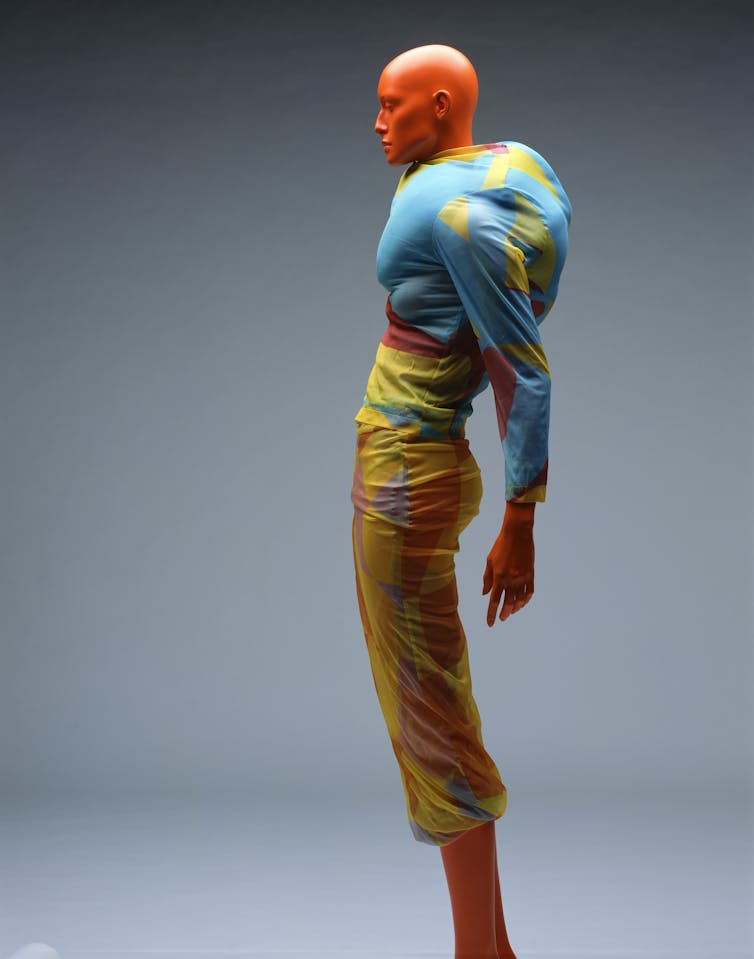 Fashion scholarship explores aesthetics, gender, sexuality, class, custom and culture, not to mention economic history, textile technology, film and popular culture, and any number of related questions. Why wouldn't people be fascinated by exhibitions which augment knowledge and pleasure in this field?
New course development, scholarly journals, and almost exponential rates of scholarly and popular publishing are occurring simultaneously with the growth of fashion exhibiting in museums. The exhibition phenomenon itself is critically contextualised in publications such as Fashion and Museums: Theory and Practice (2014) and Exhibiting Fashion: Before and After 1971 (2014).
All of this is occurring at a time when hierarchies – what is deemed worthy or unworthy of museum space, what is considered fine or applied art – are collapsing.
When Art Gallery of New South Wales curator, Jane de Teliga, presented her exhibition Art Clothes in 1980, she told me "a lot of noses were out of joint" about the idea of fashion in the gallery. Some of her colleagues thought it inappropriate for fashion to share museum space with art.
Some still roll their eyes, reiterating familiar themes of inanity, frivolity and superficiality that have accompanied fashion since its modern inception in the 19th century. Nonetheless Art Clothes was quickly followed at The Art Gallery of NSW by the ambitious Fabulous Fashion 1907-67 from the Costume Institute of the Metropolitan Museum of Art, New York (1981) and Yves Saint Laurent Retrospective (1987).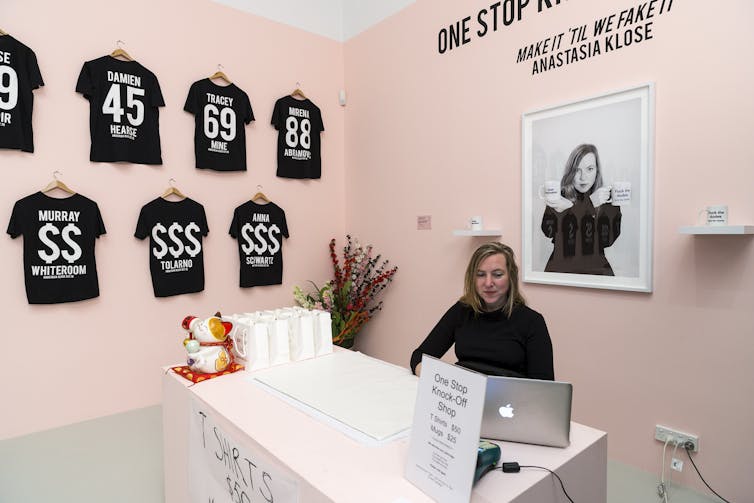 Contemporary artist Anastasia's Klose's One-Stop Knock-Off Shop installation , at the NGV's Melbourne Now (2013/14) placed art and fashion in their rightfully ambiguous context, in which the cultural interface and the cash nexus of art and fashion are playfully unmasked.
Today's museum directors have to generate exhibition ticket sales, partners, sponsors and, above all, positive publicity. They have to keep established audiences, attract new ones and seed the audiences of the future through programs for kids. They need to create an air of excitement and relevance around their institutions.
All of this while maintaining cultural integrity and supporting the original research which creates new knowledge.
Whether fashion is art; whether the art world is now all about fashion; whether fashion is commercialising the art museum are questions much less interesting than the immediacy, provocation, knowledge and pleasure we gain from the fashion for fashion.