Film buffs will have noted the recent death of the great scholar of Italian cinema, Peter Bondanella, whose work on Federico Fellini helped to define him as "one of cinema's greatest auteurs". Bondanella would have enjoyed the new digital restoration of La Strada, Fellini's fourth film, which has just been restored and released by Studiocanal/Independent Cinema Office.
Revisiting the film more than 60 years after it won the first Academy Award for Best Foreign Language Film in the breathtakingly clarity of its digital restoration reminds us why its tender simplicity stole the hearts of both critics and audiences. The unconventional love story between the brutal, emotionally illiterate strongman, Zampanò (Anthony Quinn) and simple, loving Gelsomina (Giulietta Masina) explores masculine and feminine archetypes in the dream-like, marginal world of travelling performers and the circus – one of Fellini's favourite tropes.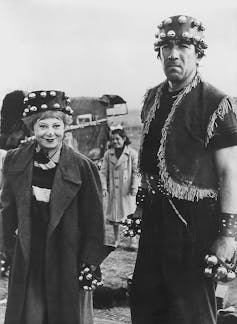 The film's honesty owes a lot, perhaps everything, to the fact that Gelsomina was played by Fellini's wife. This was not uncontroversial. At 33, Giulietta Masina was felt to be too old for the role and, by Italian standards of the time, not attractive enough.
At an initial screen test, the producer, Dino de Laurentiis, was hoping that Paramount would overrule Fellini's choice of female protagonist in favour of one of the more typical Italian female stars of that period. This was the time of the rise and rise of the so-called "maggiorate fisiche" or pin-ups, such as Sophia Loren or Gina Lollobrigida. Of course, seeing the film now, it is easy to understand why Paramount agreed that Masina's vulnerable, child-like, quirky performance perfectly fitted the story of maltreated femininity. Charlie Chaplin would later say she was one of the actresses he most admired.
This was the film that, for international audiences, marked a break with the incredibly influential Italian Neorealism that had produced films like Vittorio De Sica's Bicycle Thieves (1948). Such was the influence of that cinema's emphasis on real life that London audiences thought Masina actually was an impoverished street performer and donated clothing to her after the première.
Yet Fellini was more interested in a man's soul than his material well-being. There are more Zampanòs than bicycle thieves, he said – and perhaps as Italy headed towards its own economic miracle he already sensed a shift in values. He mingles Christian symbolism and fairy tale elements in this story of an indentured girl who attempts to convert her brutish "husband" to the world of feeling.
The film proved to be enormously popular with audiences in Britain, helping to encourage the embrace of Italian films by Anglo-Saxon audiences in the 1950s, which is illustrated by many of the fan magazines and ephemera from the period held by the Bill Douglas Cinema Museum at the University of Exeter.
Goosebump memories
A team from the Universities of Oxford Brookes, Bristol and Exeter has been collecting audience memories of cinemagoing in 1950s Italy. La Strada had an important role to play in their responses – unprompted, many of our respondents mentioned this film as their favourite, along with its striking female protagonist.
"Even at a distance of years, thinking about La Strada moves me," one 65-year-old woman from Sardinia told us. A 75-year-old woman from Milan recounts the immense pity she felt for the female protagonist and how she becomes sad and still gets goosebumps on hearing the film music.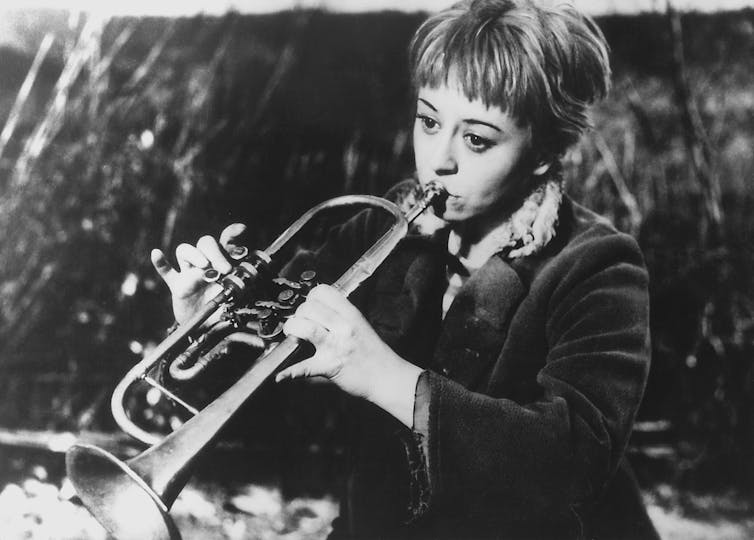 Of course, Fellini's collaboration with the composer Nino Rota was a signature feature of some of the director's best-known films and the story has recently made its way onto the UK stage as a sensitive piece of musical theatre (directed by Sally Cookson). Gelsomina's trumpet refrain is expressive of a longing for love she cannot see returned.
Asked which film of the 1950s made them cry, Italian respondents remember the tears shed in response to the closing scene of the film. Fellini's use of melodrama turns on the belated conversion of its strongman protagonist, Zampanò, which resonates with what Steve Neale has written about the "too lateness" of melodrama that triggers our tears.
Man's world
It is perhaps no surprise that it was our female contributors who gave these longer responses and engaged most deeply with the plot. They recognised Gelsomina's fragility in the face of Zampanò's womanising and commands, echoing all too closely Masina's subjugation to the whims of her own bulky husband, Fellini – he was notoriously harsh with her on set. Perhaps the film also reflected their own experiences of a society in which men still very much had the brutal upper hand.
Fellini himself said that an ill-defined feeling of guilt led him to make the film, and it is no secret that he did not make married life easy for Masina. His perspective on femininity has caused controversy, as his more self-conscious reflections on how men fantasise about women led us to the vision of Anita Ekberg in the Trevi fountain in the spectacular La dolce vita (1960) and Guido's fantasy harem in the much more complex Eight and a Half (1963). These films do not feature Masina – but perhaps what makes La Strada so engaging is its own profound echoes of the Fellini-Masina partnership.
What it surely presents is a 20th-century, sadomasochistic vision of masculinity and femininity as anything but complementary, one that still haunts us today.