Ontario Premier Doug Ford's plan to cut Toronto's city council from 47 to 25 wards, and to cancel regional elections outside of Toronto, has attracted strong opposition. It threatens to create what critics call a state of "civic chaos" because, if passed, The Better Local Government Act would take effect before the upcoming municipal election this October.
Most council candidates who have been campaigning since May 1 must now decide if they want to risk starting over and running in a different area. They would have until Sept. 14 to decide, but this new deadline gives the City Clerk precious little time to ensure an orderly election process before advance polls open on Oct. 6.
The severity and timing of the proposed changes cries out for a legal remedy.
Ford is invoking the province's broad powers over municipalities in a manner that tramples on fundamental principles of fairness, reasonable notice and the right to effective representation.
Province's powers not unlimited
Section 92(8) of the 1867 Constitution gives provinces jurisdiction over "municipal institutions in the province." Under this authority, Ontario has enacted the Municipal Act, the Municipal Elections Act and the City of Toronto Act regulating local governance, elections and ward structure.
It's often said that "municipalities are creatures of the province," so provincial control may seem unlimited. This point was emphasized in East York (Borough) v. Ontario, which upheld the amalgamation in 1997 of six cities into what is now Toronto.
Many still say that for better or worse, the province has total control over city processes and there is no point in fighting it. But the situation is very different today, and the amalgamation case was based on an extensive multi-year process.
Governments in Canada are subject to limits on what they can do, most notably as provided in the 1982 Charter of Rights and Freedoms. In the Charter era, provincial laws can be reviewed and invalidated if they violate Charter rights and aren't demonstrably justifiable in a free and democratic society.
The Charter and related principles act as a check on the power of governments to act. Even within their established areas of jurisdiction, Charter values can put the brakes to a government's ability to act in an unrestrained and unreasonable manner.
How are boundaries changed?
Ontario's Municipal Act and the City of Toronto Act establish how ward boundaries can be changed. A city council can initiate a change, which can then be appealed by an objector.
This occurred when Toronto council decided to go from 44 to 47 wards following a multi-year process supported by extensive background research and consultation.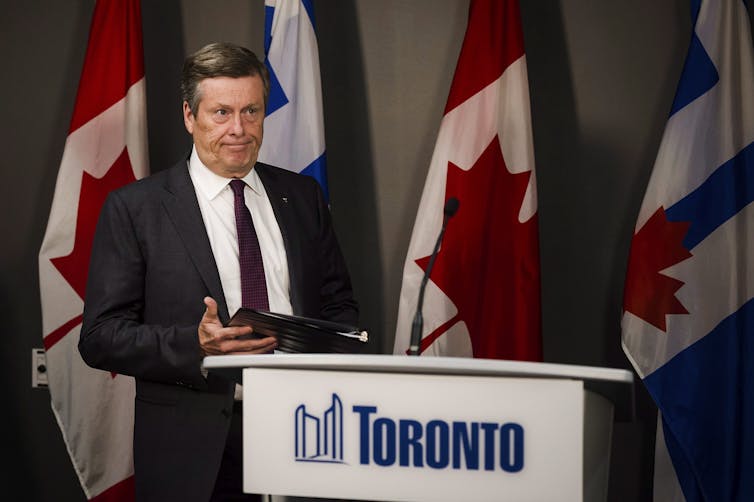 Council's intent was to promote "effective representation" by creating three new downtown wards in order to equalize the voting strength of downtown and suburban voters, which had become distorted because of existing and projected population growth.
An appeal was filed by objectors wanting to reduce the wards from 44 to 25. After reviewing extensive evidence, the Ontario Municipal Board (OMB) upheld the city's position. The objectors then sought leave to appeal to Divisional Court, but their motion was denied .
The board's decision was issued in December 2017, in time to take effect for the 2018 election, and the City Clerk began preparations based on the newly approved 47-ward map.
In upholding the additional three wards, the board applied the "Carter criteria" (established in a 1991 Supreme Court of Canada decision) and in doing so, it explicitly rejected the 25-ward map that Ford now proposes.
While a challenge to Ford's plan will not be bound by this OMB ruling, it would be persuasive, especially since the board relied on an extensive record. The OMB heard testimony from several expert witnesses over a seven-day hearing, and the city's evidence included several reports based on numerous public meetings and information sessions.
Do wards serve larger public interest?
In evaluating the effectiveness of representation, the "Carter criteria" looks at whether the wards respect identifiable communities of interest, and whether they serve the larger public interest of all affected residents rather than just a small group.
In applying these criteria to the 47-ward proposal, the OMB ruled: "Effective representation is the primary goal and the board finds that the 47-ward structure, reflected in the bylaws, does achieve that goal."
In a Toronto Star report, York University environmental studies Prof. Roger Keil stated:
"This is gerrymandering: Changing political boundaries in order to favour the party in power. It is a very blatant attempt to change the rules of the game so the opposition can't win … What's happening in Toronto right now … is an attempt to bring the old elites back into the seat of power and have them remain there."
McMaster political scientists Rachel Barnett and Karen Bird observe that "visible minorities tend to have reduced voting power at the municipal level," a point already being echoed by current Toronto council candidates.
Harmful to provincial-municipal relations
There have been steady improvements in provincial-municipal relations as local governments were granted broader powers and greater autonomy. The new Municipal Act of 2001 gave cities greater powers than they had under the old act and this trend continued with the 2006 City of Toronto Act.
Other amendments gave municipalities more powers over the environment, affordable housing, zoning appeals and council transparency and integrity.
Ford is reversing this trend, signalling the regression to centralized provincial control over municipalities. This is a setback to provincial-municipal cooperation, and it threatens to chill innovative local decision-making across the province.
---
Read more: Ford Nation rises again: What Doug Ford means for Ontario
---
This poorly timed interference with established evidence-based ward review mechanisms lacks any reasonable justification.
Coming midway through the election period, it penalizes candidates who started campaigning in adherence to the existing law, and it unreasonably burdens the City Clerk's office. It also deprives many residents of their right to effective representation, which they hold under well-established legal principles.
Despite the old maxim that "cities are a creature of the province," the government cannot act in such an arbitrary, discriminatory and unjustified manner in the post-Charter era.
Hopefully, elected provincial MPPs will think better of this ill-advised measure and withdraw or quickly defeat the bill. But if not, legal action needs to be launched to stop it. The challenge will face serious hurdles, but the stakes are too high not to try.