I lost the use of my legs at age four through illness. There are family photos of me walking around as a toddler, but it was so long ago I can't remember it now. So perhaps it is like the old saying that "you can't miss what you never had".
While I was examined by myriad health professionals, there was no clear explanation as to why I had lost the feeling and use of my lower limbs. Eventually the feeling returned but I have never gained any substantial muscle in my legs. A medical mystery in 1974! Since then I have required crutches or a wheelchair to get around.
Growing up I was lucky that I never felt any jealousy or resentment of my able-bodied friends but I did often feel very frustrated. Deep down I knew it wasn't my fault I couldn't walk or run, so I think I just accepted that fact and got on with my life.
I suppose at an early age I learnt two simple rules.
One is that life's not always easy. And the second, in the words of some great 20th century philosophers – The Rolling Stones – "you can't always get what you want, but if you try sometimes you just might find, you get what you need". I feel this has been very true for me.
Always a very active child, I would give everything a go, often against the requests and sometimes pleas of my parents and teachers. Sometimes I would fail, we all do. However, I'm sure by simply having a go I quickly earned the respect of my peers and have never been short of friends.
At age seven, my parents bought me a skateboard. For years I wore the prints off my fingertips, following my friends around the Canberra suburbs on that skateboard. I'd come home missing bark off my elbows and knees and plenty of times my parents must have asked themselves why they'd even bought it.
I loved my skateboard; it gave me independence. Skinned knees and elbows taught me valuable lessons: if you have a buster, you pick yourself up, dust yourself off and go again.
Origins
My sporting journey began in 1982 at age 12 in archery. Less than a year later, on the suggestion of a high school PE teacher, Max Green, I began training and competing in mainstream gymnastics.
I met gymnastics coach Chris Timpson at my first competition. That was a watershed moment in my life. Chris lit a spark in me, a love for sport that still burns today.
I trained, competed and eventually coached gymnastics for the next six years. I was competing against able-bodied athletes and I was forced to land on my knees. As this constitutes a "fall", my routines were always marked down accordingly.
Unfortunately, the better I became on the apparatus the less competitive I became overall, as the penalty for landing on my knees was far too much to give away. So my gymnastics career finished at age 18, at which point I was spending more time coaching than training.
During this period I reinforced my passion for sport and developed some physical and psychological attributes that laid the foundations for an elite sporting career.
I was nearly 24 when I finally found my way to disability-specific sport. My first sport was powerlifting. I was well suited to this, with very thin legs and a well developed upper body, which gave me a great power-to-weight ratio.
I made my Paralympic debut at Atlanta in 1996, but Sydney 2000 was the highlight. Weighing 58.1 kg, I bench-pressed 175kg. It was a personal best, a new national record for the 60kg division, and the first ever triple my bodyweight bench-press for an Australian. I was lucky enough to win the silver medal on that day.
Standing on the podium I wasn't actually thinking "wow! I'm number 2 in the world". I realised that this was just the culmination of many years of dedication, some compromise and, most of all, hard work. It justified all the decisions I had to make to get there.
In 2002, I competed in the Manchester Commonwealth Games where I also won a silver medal. Then a couple of months later I competed in my final international powerlifting competition at the World Championships in Malayasia.
I placed a very close fourth. At that time I felt that a number of athletes and countries were not "playing within the rules". So I decided to transfer sports to track and road racing in search of more opportunities to compete and a more level playing field. I was a sprinter at first, but slowly transitioned into more middle-distance events.
I also made this decision to change sports because I never want to stop challenging myself. Motivation for me is about putting your front wheel on the start line against the best in the world and giving it a red hot crack.
So if I didn't qualify for the 2004 Athens Paralympics for some reason, at least I would know I wasn't good enough and won't live my life wondering "what if?" I'll know 100% as a wheelchair racer I make a bloody great weightlifter!
As American football player Preston Pearson is reputed as saying, "anyone can stand tall on the high peaks. It is the people who survive the valleys between the peaks who will emerge the strongest".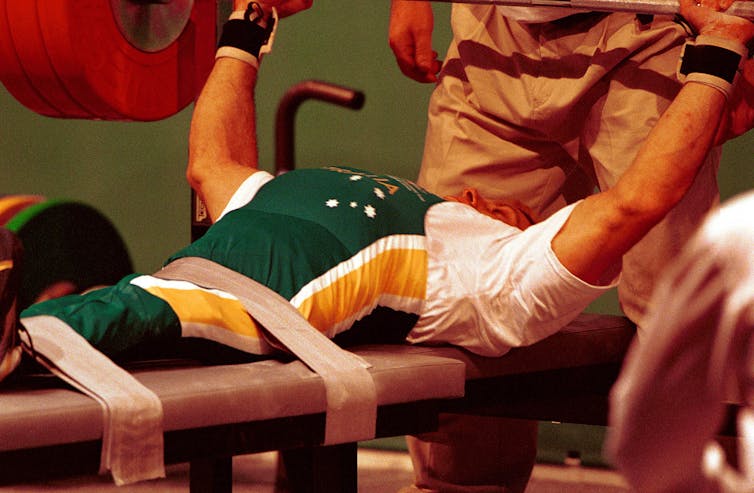 The Paralympic journey
My fist Paralympic games was in Atlanta in 1996. I was 26 years old, and I had some previous international competition experience in New Zealand, Noumea, Netherlands and Belgium national championships. But the Paralympics is another level altogether.
While driving into the Olympic/Paralympic village for the first time, my excitement quickly turned to dismay. There were workman everywhere literally dismantling large parts of the village; all the "good parts", as it were.
The 1996 Olympic Games were largely funded through commercial sponsors and many of these withdrew their support for the Paralympics. This left a significant hole in the budget to deliver the games. Last minute philanthropic donations literally saved the 1996 Paralympics.
Having just watched the Atlanta Olympic Games on TV (although plagued with their own logistical problems, especially transport issues) I felt the Paralympic Games were now seen as more of an obligation, something that had to be delivered, rather than a celebration of sporting excellence and human triumph.
The volunteers – the heart and soul of any games – were fantastic in spite of clear shortfalls, and made our stay and competition experiences the best they could be.
Logistical problems aside, the games finished with Australia placing second on the medal table behind the United States with (now Paralympic legend) Louise Sauvage's outstanding performances winning four golds including the 400m, 800m, 1,500m and 5,000m).
My competition in the 56kg division in the men's powerlifting was not quite so fruitful. I was successful in just one of my three lifts and finished with 145.0kg, 7.5 kg's below my (then) best and placing 8th on the day.
On reflection, this was probably a fair result. Physically I was well prepared but psychologically I was not in the elite athlete "ballpark". I could have placed 4th had I lifted at my previous best.
Luckily, I have found disappointing results to be highly motivating, and after returning from Atlanta, with the next games to be held in Sydney, I knew I had to a lot of work to do both in and out of the gym.
The luxury of being an athlete and having a home Games is something I feel very privileged to have experienced. Thinking about marching into the Olympic Stadium on the October 18, 2000 with my fellow team members (285 athletes and 148 officials) with Midnight Oil blaring from the speakers and 110,000-strong crowd cheering us on still gives me goose bumps.
The Sydney Games provided many highlights for me. This included winning my silver medal and sharing that experience with my family and friends, some of whom I had not seen in 15 years since high school, but who had somehow managed to be there on that day to see me compete!
An unexpected highlight came while I was walking through Olympic park during the games on my way to watch some athletics when a small boy holding his mum's hand and pointing at me with the other said "I wonder what sport that man plays".
This remains one of my most memorable moments from those Games, as for the previous 26 years inquisitive young minds would generally say "what's wrong with that man mummy" or "why does he have those" (pointing to my crutches). This very young man changed my understanding of sport for people with disability and my role within it.
No longer was my involvement in sport simply about results and challenging myself but my role was also to promote sport as a vehicle for greater social inclusion and understanding disability.
I realised sport has the ability to change the perception of the community about people with a disability and, more importantly, how people with a disability think and feel about themselves.
For individuals, sport can build self-belief, confidence, a feeling of success and achievement, and provide a sense of future and reengage those who are most isolated and disconnected from the community.
Sport can help reduce stigma and challenge communities' expectations of those with a disability. I have been lucky enough to be part of the Paralympic movement for more than 20 years now and seen not only the games evolve in size and prestige, but more importantly the attitude and acceptance of the athletes change over that time.
The Paralympics evolves
Sydney's successful delivery of the Olympic and Paralympic Games created a blueprint that has essentially been moulded to fit each new host city and culture. In some instances this blueprint has been significantly improved on at successive Games through to London, which was my last games.
The increase in media coverage at the Sydney Paralympics via 2 x 1 hour highlights packages per day by the ABC saw an almost meteoric rise in profile of Australia's Paralympic athletes during and after the Games.
Athletes' results and stories were featured in Australia's leading newspapers and the Australian public seemed to embrace the athletes and the stories behind their results.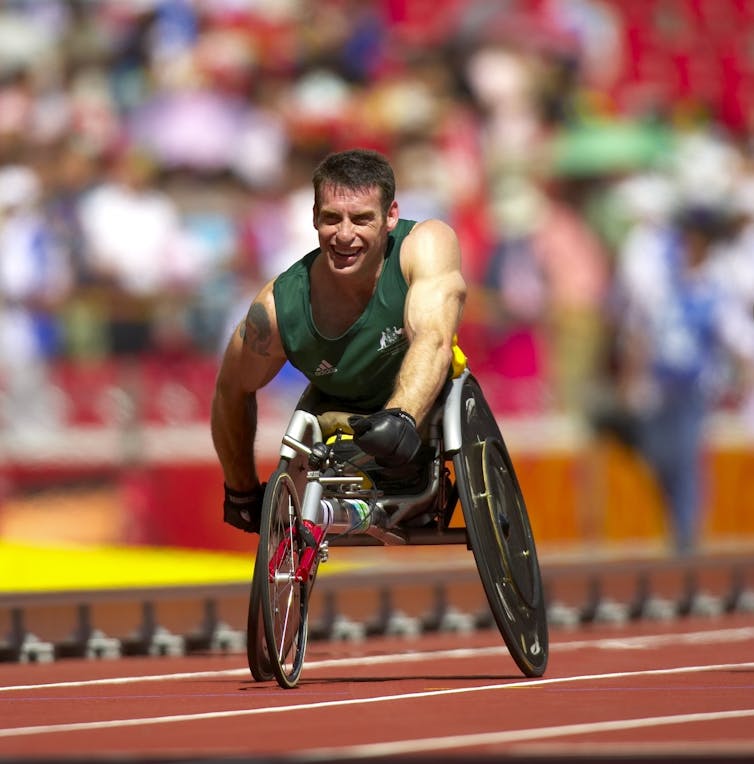 The 2004 Athens Paralympics was a great experience hosted in the spiritual home of the Olympic Games. Australia finished 5th on the medal table, with my contribution being a silver medal as part of the 4 x 100m relay team, finishing just behind Thailand in 0.12 of a second and inside the previous world record.
This Games heralded the emergence of Kurt Fearnley as the man to beat. He won the 5,000m, was a member of the 4 x 100m relay team and won the wheelchair marathon by over four minutes in a time of 1:25.37. With a determination to win that race so strong that he was grinding his teeth while climbing a steep hill and he cracked one of them!
By the 2008 Beijing Paralympic Games the funding and services provided to the Paralympic athletes via the Australian Sports Commission, Australian Institute of Sport and the State Institute and Academy network had significantly increased. This facilitated Australia's best Paralympic athletes to not only train alongside our able-bodied peers but receive funding to help with other living costs.
Outside of opening and closing ceremonies, the Beijing Paralympics was the first time I had experienced a full stadium for competition. The "Bird's Nest" stadium was at near capacity of 80,000 almost every session, morning and night, for the entirety of the Games.
When Chinese athletes were competing – or more likely winning – the sound in the stadium was almost deafening. I was a part of the 4 x 100m relay team that made the final. Unfortunately a team member crashed on the first bend putting paid to our medal hopes.
The Australian television coverage of the Beijing Paralympics was hosted by the ABC, which dedicated an entire channel to covering ten hours a day. The unprecedented crowds at all venues during the Beijing Games demonstrated that the Paralympic movement was still on a steady ascent in terms of its acceptance, popularity and value.
The professionalism of the athletes reached new levels in the intervening years between Sydney and London. Most developed countries were now funding their Paralympic programs at increasingly high levels, many at comparative levels to their able-bodied programs. The pursuit of wining world championships, world cups and other benchmark events took on increasing significance across the Paralympic sport spectrum.
Selected "para" events were now a fixture on the Commonwealth Games program. The prize money and support at the major marathons around the world had increased to a level that made it lucrative for wheelchair athletes to race four to eight-plus marathons a year.
There was now a strong belief among many of the elite level athletes that we were now building something much bigger than a sporting festival that happens only once every four years.
Becoming elite
Less than four weeks before the opening ceremony for the London 2012 Games I was training at a staging camp in Switzerland and was involved in a serious collision that left me hospitalised, requiring surgery and leaving me permanently scarred.
Fortunately for me, I chose to not let this accident deny me my opportunity to race against the best in the world and continued my journey to London.
The psychological scars from the accident were actually harder to deal with than my physical ones. At times, my preparation felt more like a daily test of my resilience than an elite athlete fine tuning before a major event. Maintaining a my enthusiasm and motivation around my team mates was my biggest concern.
The London Paralympics in 2012 provided me with numerous highlights and firsts. Before arriving in London I took note that anytime Lord Sebastian Coe, Chairman of the London Organising Committee, was speaking about the Olympics he never failed to mention the Paralympic Games in the same sentence. He promoted The Games as "one sporting festival with two events". This was a notable and positive change from the language used at previous games.
On the bus from Heathrow to the Paralympic village for the first time, I noticed Paralympic athletes' photos adorning large billboards, the entire side of a building, and on the back of buses or taxis. This level of promotion had not occurred in any host city I had previously been too.
Like Beijing, the venues and sessions across the Paralympic program were a near sell out. Inside the 80,000 main stadium athletics fans were lapping up the some of the most extraordinary athletic performances to date. Home town hero David Weir would finish the games with four gold medals including the 800m, 1,500m, 5,000m and the blue ribbon marathon event.
There was one particular night while I was spectating when something happened in the stadium that changed my perception of the Paralympics. In that moment I knew that the Paralympics had arrived.
It was the final of the T44 100m, a race for athletes with a below knee amputation. On the start line was the now infamous Oscar Pistorius from South Africa lining up against Jonnie Peacock from Great Britain among the rest of the field.
The 80,000 strong crowd started chanting "Peacock… Peacock… Peacock". It was akin to David Beckham taking a penalty for England in a World Cup match. I had no idea who Jonnie Peacock was. I knew he had not run at this level before, but 80,000 others in stadium knew who he was.
The sound was so loud the Peacock himself had to shush the crowd for the start. The atmosphere in the stadium was tangible. The silence before the gun, the eruption of the crowd after the gun, this was a crowd captivated by competition. Forgotten were the disabilities and carbon prosthesis, this was elite level sport, athlete vs. athlete, country vs. country and the bragging rights that go with it.
My individual results in London were a little disappointing for me. My confidence was quite low after the recent crash and it affected my top-end speed on the track. However, my London Games were salvaged on the last night when I won a bronze medal as part of the 4 x 400m relay team when we finished behind Thailand by just 0.14 seconds, again!
It is also with a measure of disappointment that I narrowly missed selection for this year's Games in Rio, falling short by just 0.3 seconds of the required sub 3.00 minute time for the men's wheelchair 1500m. But I now get to finally watch the Paralympics unfold with great television coverage and genuine interest from an appreciative Australian (and world) audience.
I can take considerable pride that I have played a small part to help build reputation of the games, the professionalism of the athletes and feel the legacy is in great hands with our current Australian team members.
Finally, I should stress that I owe everything to my parents for the way they handled my initial illness and limitless supply of love and support for me as a child growing up with disability. Without them I none of what I have achieved would have been possible.
Sporting record
Powerlifting
2002 Silver medal Commonwealth Games, 60.0kg division – Manchester, England
2000 Silver medal Paralympics, 60.0kg division – Sydney, Australia
1996 8th place Paralympics, 56.0kg division – Atlanta, USA
Athletics
2012 Bronze 4 x 400m relay London Paralympics
2008 Beijing Paralympic Team member
2004 Silver 4 x 100m relay Athens Paralympics