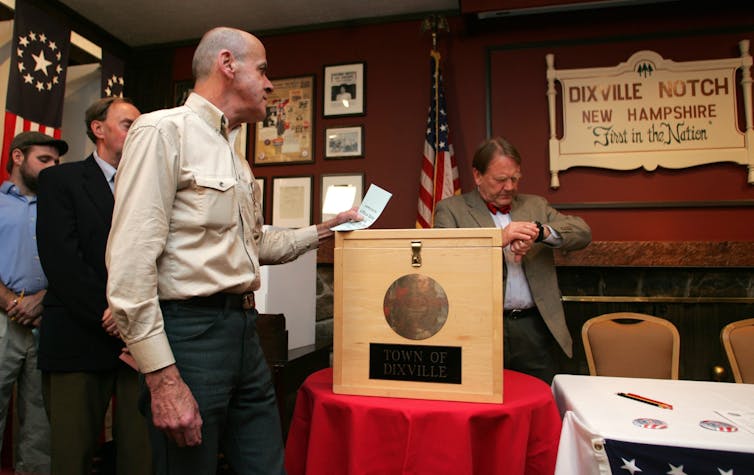 American politics is nothing if not quirky. We let corn growers and maple-syrup farmers set the course for the presidential primaries. Our federal elections are a byzantine maze of local and state voting rules, with results filtered through an electoral college before a victor can be declared. And every four years, a tiny town in New Hampshire opens its polls at midnight and closes them a few minutes later.
It doesn't take long to tally the votes. There are, after all, only ten residents of Dixville Notch, NH, participating in this year's election. The media dutifully cover the results, however, trying to deduce from that vanishingly small sample how the nation will vote later in the day.
Yet as far as predictive powers go, Dixville Notch is only as accurate as a coin toss. It has chosen the eventual winner in seven of the last thirteen races. But it was on something of a roll of late, having picked the winner in each of the last three elections.
With this year's presidential race too close to call, all eyes were on Dixville Notch when, twenty minutes ago, they opened their polls and the ten voters cast their ballots. And less than five minutes later, the results came in.
For the first time in its history, Dixville Notch came back a tie. Five for Governor Romney, five for President Obama.
If this tiny hamlet somehow reflects the rest of the electorate heading to the polls later today, we're in for a very long Election Night 2012.