Netflix has commissioned Julian Fellowes, the creator of the award-winning historical period drama Downton Abbey, to write a new TV series exploring the early development of modern football and how its creation "reached across the class divide" as Etonians and factory workers came together to create the world's most popular sport.
The origins and early history of association football is certainly full of prestigious names and colourful characters. People like Charles William Alcock, the Sunderland ship merchant who invented the FA Cup, and William McGregor, who ran a draper's shop and established the Football League in 1888 with his club Aston Villa. So Fellowes will have no shortage of potential content. But will he look to explore the stories of less renowned figures such as Arthur Wharton, Walter Tull and Frank Soo?
All three were early non-Caucasian pioneers in British football that had to face and overcome racial barriers, both on and off the pitch as "men of colour". Yet most people will never have heard of them. There is a danger that their stories, along with other less prominent players, will disappear from the collective memory of society, and their accomplishments, achievements and struggles will be forgotten if we don't give them the credit they deserve by remembering them.
The first professional
Arthur Wharton is widely accepted as the first professional non-Caucasian football player in the world after he appeared for Rotherham United in 1889. Born in Jamestown, Gold Coast (now Ghana), he was a talented all round athlete who was renowned for his "prodigious punch" when playing as a goalkeeper and for equalling the amateur world record of ten seconds for the 100-yard sprint. Wharton played for numerous clubs as both an amateur and professional, including Preston North End, Sheffield United and Darlington, prior to retiring in 1902.
The war hero
The second non-Caucasian to play in the Football League was Walter Tull. The inside forward signed for Tottenham Hotspur in 1909 and participated in the club's tour of South America prior to joining Northampton Town in 1911. But the outbreak of the First World War saw Tull enlist in the British army where he rose to the rank of second lieutenant in 1917, becoming the first officer of colour despite contemporary military regulations forbidding it, before being killed in northern France in 1918.
The Egyptian engineer
Hassan Hegazi became the first Egyptian to appear in the Football League when he made his debut for Fulham in 1911. He had arrived in London to study engineering but had gained a reputation for being a talented striker while playing for amateur side Dulwich Hamlet, attracting the interest of local professional clubs. However, despite scoring on his debut for Fulham (a 3-1 win against Stockport County) and being asked to play the following week, Hegazi opted to return to amateur football with Dulwich so that he could focus on his studies.
The barefoot winger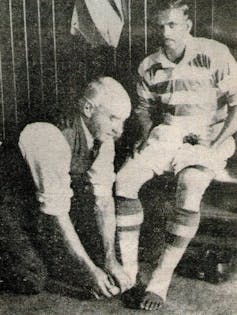 Mohammed Abdul Salim Bachi Khan, also known as Mohammed Salim, was an Indian winger who arrived in Britain in 1936 after winning five successive Calcutta Football League titles with Mohammedan SC in his homeland. Despite making only two official appearances for the Glasgow Celtic reserve team, his presence attracted a great amount of interest from the public as he would play in bare feet that were swathed in bandages rather than boots. He was given the nickname "The Indian Juggler" and impressed in his duo of performances but returned to India after he became homesick.
The English pioneer
Contrary to popular belief, the first non-Caucasian player to represent the English national team was Stoke City half-back Frank Soo in 1942 – as opposed to Viv Anderson who made his debut three decades later in 1978.
Soo was of mixed Chinese and English heritage – his father, Our Quong Soo, had migrated to Britain and married a local girl, Beatrice Whittam, in 1908. Soo became the first player of Chinese heritage to appear in the Football League when he made his debut for Stoke in 1933 and he quickly became a regular fixture in the first team, culminating in him being proclaimed one of the "finest half-backs in the country". Soo made nine appearances for the national team between 1942 and 1945 but this accomplishment is often overlooked as the Football Association do not class wartime internationals as "official" fixtures.
These players should play a prominent role in our understanding of the history of the game and wider society. Their achievements and accomplishments – in addition to the racial barriers and challenges that they faced – deserve to be recognised. The stories of the early non-Caucasian pioneers of British football should never be lost and, in my opinion, might even make a good Netflix series.