MILES FRANKLIN REVIEW: The winner of the 2012 Miles Franklin Award will be announced this week. In preparation, The Conversation brings you academic reviews of the five novels shortlisted for Australia's biggest literary prize.
When we first meet Jesse, the 13-year-old protagonist of Tony Birch's remarkable debut novel, he's trapped in a despairing predicament.
With an "ache in the guts", Jesse observes how a crack down the middle of a bathroom mirror splits his dishevelled face in two. It's a moment that quickly becomes symbolic of his harrowing journey. Blood is a story about characters caught between two worlds, stranded in the darkness of "real-life purgatory".
After the ambiguous prologue, Birch takes us back to where it all began.
The story's central focus is on the poignant relationship Jesse shares with his younger sister, Rachel, as they both struggle to navigate the treacherous waters their sleazy "born liar" mother, Gwen, constantly drags them into. Gwen has a nasty habit of jumping from one dangerous man or hostile situation to the next, and Jesse instantly realises that he is the one who will have to take care of Rachel.
Writing about the novel in Meanjin, Birch explains that the story grew from a Radio National program about incarcerated mothers and their children, noting how struck he was by the loyalty and "continued love these children expressed for their parents". This is delicately explored in the novel: Jesse repeatedly flirts with abandoning the family altogether, unable to contain his burning resentment towards a woman who doesn't even want to hear the word "Mum" uttered by her own children.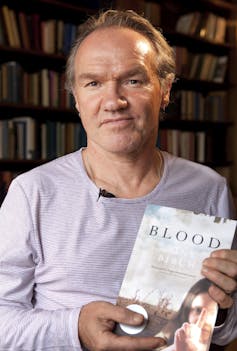 We are drawn to the siblings' plight not simply because of the unfortunate circumstances they are dealt, but because Birch's portrait of a young boy who has already experienced a lifetime of pain and destruction is nothing short of note perfect. Tender moments of naivety are seamlessly juxtaposed with a sense of all-knowing weariness, as Jesse struggles to protect his sister from the wickedness of a nightmarish world.
The setting, in particular, plays a contributing role to the characters' physical and psychological unease. Jesse and Rachel both literally and figuratively limp across a decaying Australian countryside, which is "flat as an iron and bone dry". Birch forces his characters to confront the harsh and bitter decline of society. Gwen incessantly reminds Rachel just how bad the world is, warning her "how something terrible could turn up out of nowhere".
Even when they reach Melbourne, Jesse realises they would "become invisible", lost in the bright lights of the cityscape, and left to aimlessly wander the desolate streets. Around halfway through the story, a character ominously tells Jesse that "the world's full of sadness" – Birch's novel is as much about the enduring bond between a brother and sister as it is cheering for their survival.
The consistency and brutal honesty of Jesse's voice throughout the story acquires a deeper layer of resonance with Birch's sparse, minimalistic prose style, which is at times reminiscent of Tim Winton or Cormac McCarthy.
Despite not quite reaching those poetic heights, Blood is a deceptively complex novel. Beyond Birch's unassuming language and predominantly linear structure lies a web of complicated characters and curious incidents that are often, rewardingly, left open to our interpretation.