While there has been no definitive announcement, the latest reports suggest that both London and Washington believe the recent Metrojet 9268 crash was the work of the Islamic State's affiliate in the Egyptian Sinai, known as Wilayat Sinai or Sinai Province.
As investigators piece together physical evidence from the disaster, analysts are examining an audio statement titled: "We Downed It, So Die in Your Rage" from the man identified as the group's leader, Abu Osama al-Masri which claimed responsibility for the attack. A Twitter account used by Sinai Province also claimed that the aircraft was brought down by a bomb.
This has prompted international interest in a relatively unknown group and regional conflict. Reports from US and British officials suggest that intercepted communications from the Islamic State (IS) and its Sinai affiliate suggest that a bomb was likely to blame for the crash. If these reports are true it would indicate an evolution both for Wilayat Sinai and ISIS.
Emerging threat
During the past two years, Wilayat Sinai has emerged as one of the most capable affiliate organisations of the Islamic State. Estimates put the group's numbers at 1,000 to 1,500 members. Since 2013, the organisation has perpetuated numerous terrorist attacks that have been increasing in frequency and violence, including the bombing of the Italian Embassy in Cairo and a missile attack on an Egyptian naval vessel, both in July 2015.
The organisation was originally known as Ansar Beit Al-Maqdis (ABM), which translates to "Supporters of Jerusalem", until it pledged allegiance to ISIS in November 2014 and formally changed its name to Wilayat Sinai. ABM was initially focused on Israel and used the Sinai as a staging ground for attacks on Israeli territory due to its proximity to Gaza, but the instability that accompanied the fall of the Egyptian president, Hosni Mubarak, in 2011 allowed the group to flourish. ABM then began to target the Egyptian military and security services after the Egyptian army removed the elected president, the Muslim Brotherhood-affiliated Mohamed Morsi, from power in July 2013.
It is unclear how much connection Wilayat Sinai has to IS in Syria and Iraq. IS claims to have more than 30 affiliate organisations around the world, but many of these affiliations are thought to be little more than a rebranding of existing groups who have limited contact with the larger IS.
But the connection between Wilayat Sinai and IS appears to be more substantive. As indicated by the US and British intelligence reports about the crash, there is evidence of communication between Wilayat Sinai and the central ISIS organisation. There is also concern that IS is sending money and emissaries from its pool of skilled members to Wilayat Sinai in order to strengthen ties with the group.
If this is true the strengthened links being made with IS could greatly increase Wilayat Sinai's operational capacity, as the group is already well armed as a result of the influx of weapons into the area after the fall of Muammar Gaddafi's regime in Libya in 2011.
Wilayat Sinai has started to exhibit tactics associated with IS. In July the group launched coordinated attacks in North Sinai, including in the towns of Arish and Sheikh Zuweid. The scale, duration, geographic size and level of coordination of the attacks were unprecedented for the group and suggest some influence from IS. During the assault Wilayat Sinai was able to gain control of Sheikh Zuweid, a city of more than 60,000 people for nearly 12 hours, marking the first time it had tried to hold territory – an IS trademark.
Wilayat Sinai has also started to show signs of ISIS influence in its visual media. In August the organisation claimed to have executed Croation engineer Tomislav Salopek who was abducted while working on a highway west of Cairo, demonstrating that the group has operational reach beyond the Sinai.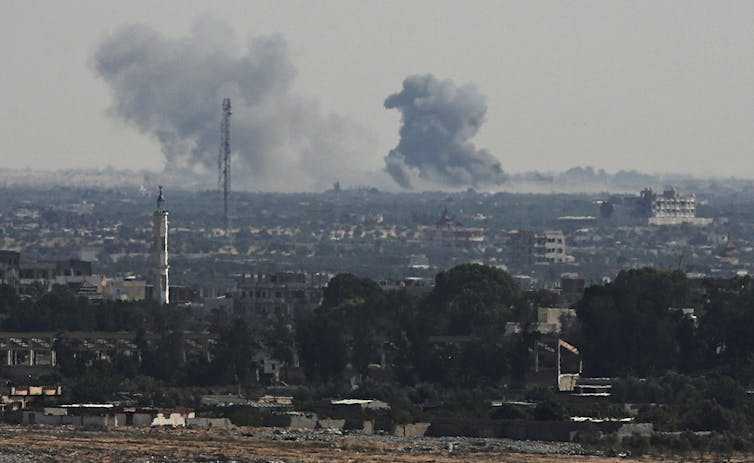 Evolving terror
If Wilayat Sinai did in fact cause the Metrojet crash, it would suggest a further evolution for the group and for its parent organisation. Until now IS and Wilayat Sinai have largely been focused on making gaining territorial gains in their respective theatres. Lone wolf attacks inspired by IS have targeted Western interests, but thus far there have been no IS-coordinated attacks against states outside the region. The targeting of an international flight would represent a clear shift.
Though worrying, such as shift is not entirely unexpected. In jihadist circles, ISIS has overtaken al-Qaeda in notoriety, largely due to its apparent ability to capture and hold large swaths of territory under the banner of establishing a caliphate.
This success has bolstered the group's ability to recruit members, including foreign fighters, and supporters. But increased pressure from Western airstrikes has limited the group's ability to gain new territory, so to maintain its current level of acclaim and support within jihadist circles, it must continue to demonstrate its relevance over competitors like al-Qaeda. Expanding its focus to include international targets would do just that.
It is too early to say whether the Metrojet crash is the beginning of a new era in the development of Wilayat Sinai and IS, but – in addition to the havoc it has wreaked with Egypt's tourism-focused economy – it is of broader concern that IS and its affiliates may be shifting their focus from the so-called "near" to the "far" enemy.