If global aviation was a country, its emissions would be ranked about seventh in the world, between Germany and South Korea on CO2 emissions alone. Yet despite flying being a growing global contributor to climate change, those emissions are still poorly accounted for and almost entirely unregulated.
Aviation's contribution to worldwide annual emissions could be as high as 8%. And the United Nations' special aviation body – the International Civil Aviation Organization (ICAO) – forecasts significant further emissions growth: against a 2006 baseline, an increase of 63% to 88% by 2020, and 290% to 667% by 2050 (without accounting for the impact of alternative fuels).
So what are we doing about it globally? At ICAO's triennial assembly last month, an agreement was reached to proceed with a roadmap towards a decision to be taken in 2016 for implementation in 2020.
If everything goes to plan, then from 2020 we might see a global "market-based mechanism" (basically, an emissions trading scheme) covering global aviation.
But that outcome is far from guaranteed. So in effect, those international delegates made an agreement to agree, and to keep talking at their next major meeting in three years – and nothing more.
Unsurprisingly, perhaps, it mirrors the slow, non-binding progress made in global climate talks generally, which have just wrapped up in Warsaw. Both developed and developing states agree to reach agreement in Paris in late 2015 on a treaty to commence in 2020.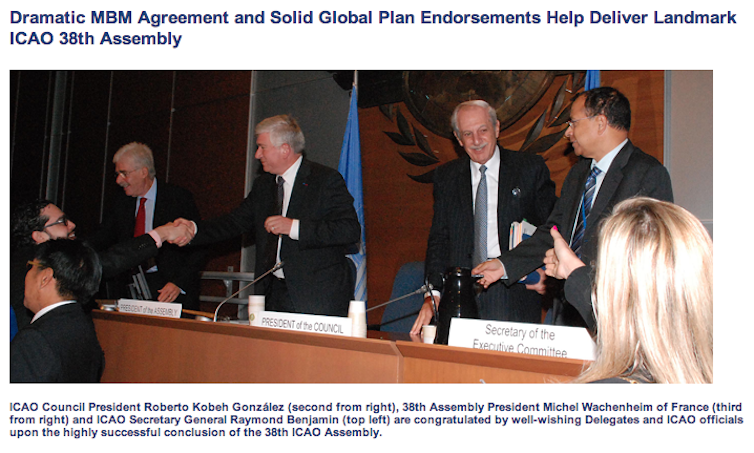 A resolution for inaction
Aviation emissions have not been included in the UN's international climate change regime, the United Nations Framework Convention on Climate Change and its Kyoto Protocol.
Instead, the UN leaves the aviation emissions problem up to ICAO.
The idea is that developed countries like Australia will work on coming up with a global plan for aviation emissions under the ICAO umbrella. But as we've seen from the latest ICAO meeting, the UN's aviation body is not exactly making rapid progress on cutting emissions from flying.
ICAO resolved to make a recommendation on a global scheme, including a means to take into account the "special circumstances and respective capabilities" of different nations, and the mechanisms for the implementation of such a scheme from 2020 as part of a basket of measures. These include operational improvements and development of sustainable alternative fuels.
The ICAO resolution reflected demands from developing countries on a range of provisions as to their special circumstances, which would put more of the onus on industrialised countries overall when designing and implementing a global market-based scheme to reduce aviation emissions.
But just as the UN climate negotiations in Warsaw concluded over the weekend with a compromise to ask countries to make non-binding "contributions" to cut emissions, rather than clear "commitments", the language in the ICAO resolution is similarly vague.
For instance, when talking about how to achieve a global average fuel efficiency improvement of 2% a year until 2020, and an aspirational global fuel efficiency improvement rate of 2% per annum from 2021 to 2050, the ICAO delegates agreed that those goals:
would not attribute specific obligations to individual States, and the different circumstances, respective capabilities and contribution of developing and developed States to the concentration of aviation GHG emissions in the atmosphere will determine how each State may voluntarily contribute to achieving the global aspirational goals…
And just to make it clear how ineffectual the meeting was, the ICAO meeting also noted that the agreed "aspirational goals" on fuel efficiency were:
unlikely to deliver the level of reduction necessary to stabilize and then reduce aviation's absolute emissions contribution to climate change, and that goals of more ambition will need to be considered to deliver a sustainable path for aviation.
A European solution
In 2008, the European Union determined that from the beginning of 2012, all flights landing at or taking off from any airport within an EU country must surrender emissions allowances equal to the emissions created from the entire flight. It applied to all flights, including those coming from or going to other parts of the world.
The EU included international aviation in its emissions trading scheme. But after China and the US prohibited their airlines from participating in that scheme, the EU "stopped the clock" on the international aspects of its emissions trading scheme - pending action at ICAO.
Following last month's ICAO meeting, the EU was reported as having been "outflanked and outnumbered" by other countries.
The EU is now considering taking action again. With the next ICAO assembly not due until 2016, in the meantime the EU is proposing that from next year it will include aviation emissions over European airspace from international flights to and from the EU.
The EU backed down once - but perhaps is unlikely to back down again.
Getting off the ground
As I have previously argued in The Conversation, bottom-up climate change action at a city, regional and national level is significant. And it probably holds out more hope than a top-down UN deal.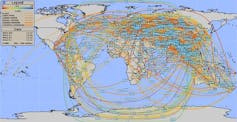 Taking action from ground up could be the better way to reduce international aviation emissions.
For example, international flights are already regulated by over 3000 bilateral air services agreements between countries or groups of nations, like the EU, as shown in the map on the right.
Having to strike so many deals to cover what is a global industry is not a perfect solution. But as Chris Lyle, a former employee of ICAO and British Airways, now chief executive of Canadian-based Air Transport Economics, said in September: "such a patchwork, while by no means ideal, is not unworkable".