After the Group of 7's (G7) annual meeting in Germany – and with the world ready to adopt a new development agenda – it is crucial to ask whether the type of global leadership that has dominated the 20th century is fit for the challenges of the 21st.
The G7 is a very outdated club of countries. Established in the mid-1970s as an informal grouping of the largest economies in terms of gross domestic product (GDP), it has since become a "government" for the world. In this capacity it dictates the global agenda in areas as diverse as economic policy, development co-operation, security, climate change and good governance.
By and large the international community has accepted this de facto leadership, at least for as long as the conventional approach to progress was intimately connected with a certain type of industrialisation and economic growth.
Traditionally, the G7 countries enjoyed more than economic power. They were perceived as the most successful societies in the world – this gave them considerable soft power too. But this perception has shifted a great deal in the past decade.
China and other emerging economies have outpaced the G7 in terms of economic scale. China became the world's largest economy in 2014 when its GDP in purchasing power parity overtook that of the US. In addition, the international community has come to recognise that genuine progress and success are very different from a country's economic size.
In particular, the Sustainable Development Goals (SDGs), which will be approved by the United Nations in September, present a totally different agenda for the world's future economic governance.
Unlike previous initiatives, these goals put emphasis on well-being – both human and ecosystemic – as the precondition to achieve durable and just prosperity. Despite their limitations, the goals will become the benchmarks against which all countries will have to gauge their progress over the next few decades.
As admitted by the UN Secretary General Ban Ki-Moon:
We need a new economic paradigm that recognises the parity between the three pillars of sustainable development. Social, economic and environmental well-being are indivisible.
The adoption of the SDGs calls into question the type of informal global leadership that has dominated the 20th century as well as the one that has been emerging in the past few years with the rise of new powers such as China and India.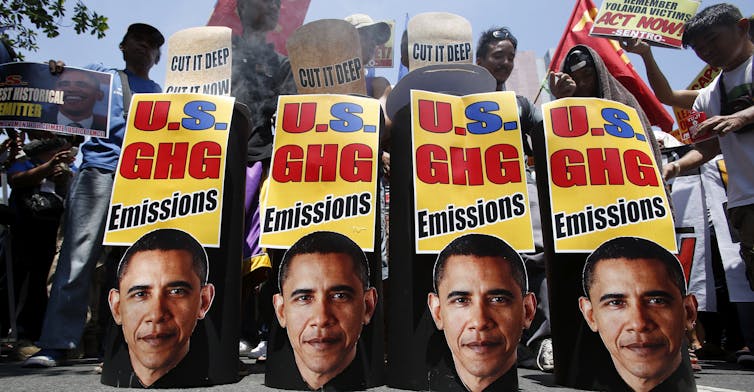 Measuring well-being paints a different picture
When we measure the performance in terms of well-being both in the West and in the East, the results are sobering at best.
The US, for example, fares very poorly. It is only 36th according to the Social Progress Index and at the very bottom in sustainable development due to its massive ecological footprint.
Other G7 members are also seriously underperforming. This is mostly due to their levels of greenhouse gases emissions and timid policies in environmental governance. The only current G7 members to maintain a generally acceptable level of performance are Germany and Canada. Germany performs relatively high in its capacity to address basic needs and promote welfare.
Canada does well mostly thanks to its education and social capital as factors of prosperity. But its recent moves in climate change negotiations seriously undermine its capacity to exert any credible leadership in the SDG-inspired global agenda.
New powers fare even worse in most dimensions of well-being. China is 92nd due to a shaky recognition of personal rights and 51st in terms of overall prosperity mainly due to limited individual freedom and security. It sits at the very bottom in environmental performance.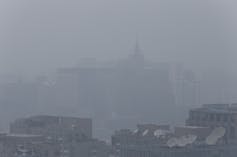 India is the world's laggard in environmental performance. Brazil and South Africa lead in inequality, while Russia experiences a collapse in good governance, social cohesion and management of natural resources.
There is little hope for change if leadership in global well-being is to be expected by any of these countries.
There is good news
There are several nations that have been able marry high levels of economic progress with human and ecological well-being. They include dynamic economies with a high quality of life such as New Zealand and South Korea, which have outpaced their neighbours in terms of sustainable development, welfare, innovation and good governance.
There is also Costa Rica. According to the Social Progress Index, it is the biggest aggregate over-performer, showing strength across all the dimensions and strong education, health and welfare systems.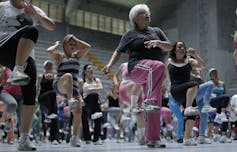 For the Happy Planet Index, which gauges how countries can achieve long, happy and sustainable lives, Costa Rica is an undisputed leader. It produces 99% of its energy from renewable sources, has reversed deforestation trends and has committed to becoming carbon neutral by 2021. Costa Rica has a per capita ecological footprint one third of America's while enjoying a much higher life expectancy.
Leading the rankings of well-being are also established social democracies such as Sweden and Denmark, on par with Norway and Switzerland, but undoubtedly more credible as leaders of sustainable change.
In other continents we also find good performers, such as Botswana in Africa and Uruguay in South America. These countries have achieved comparatively higher standards of living in regions marked by deprivation, corruption and exploitation.
Time for a courageous shift
If the international community is serious about the SDG agenda, then leadership must change accordingly. We cannot expect the worst polluting countries to tackle climate change successfully.
Not only do they lack the political will, they also lack the capacity to innovate, imagine and build a better world. The same can be said about inequality, good governance and democratic accountability. With the convergence of economic, social and environmental crises, business-as-usual approaches are endangering the survival of our civilisation. The time is ripe for a courageous shift.
It hard to imagine that the G7 countries would voluntarily relinquish their influence. It is therefore the responsibility of the most progressive countries in each continent to emerge out of their current irrelevance and take the lead.
These nations have an unprecedented window of opportunity to present themselves as beacons of sustainable development as the world gears up for a new round of negotiations on a global agreement on climate change.
We need an alliance of the world's leading well-being economies, a WE7, to lead us successfully and prosperously in the 21st century. This would be a first step towards the establishment of a global network of countries, companies and civil society movements seriously committed to building a better world.