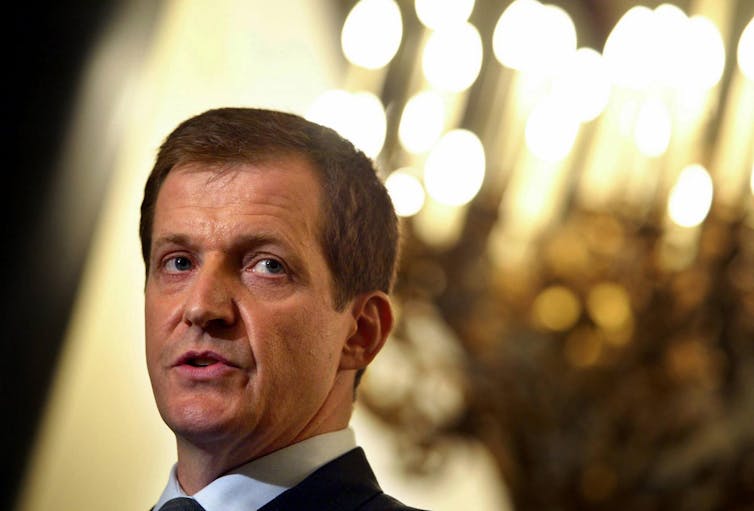 As the caucus counts down to what many Labor MPs anticipate could be a high noon later this week, it seemed perfectly appropriate that Alastair Campbell, former spin doctor to Tony Blair, should turn up for a meeting with Julia Gillard, and then start spinning.
Campbell is the loose model for Malcolm Tucker in the British political satire The Thick Of It. What's happening in Canberra would do credit to the show, without altering a line.
After his discussions with Gillard, and her Scottish adviser John McTernan (the subject of opposition questions because he's on a 457 visa) who also worked for Blair, Campbell fired off a quick tweet.
"Good meeting with Oz PM Julia Gillard. One tough and impressive lady. Given economic success she'd be in with a shout if division could stop".
Later Campbell, who has speaking engagements in Melbourne this week, told The Conversation: "It's a very weird experience to come from Britain, where the economy isn't doing terribly well and lots of things the government has done have gone wrong, to here, where the economy is doing well, but people are saying the election is a foregone conclusion. It's baffling".
Labor's internal division has meant another narrative has taken over – "the public saying that this lot is a bit of a rabble".
Campbell served as Blair's press secretary in opposition and government and later his director of communications and strategy and was a highly controversial figure in his own right, especially during the Iraq war.
He lived through the intense Blair-Gordon Brown tensions (he later advised Brown in the 2010 election) but, he says, when push comes to shove politicians usually put differences aside when they are close to an election.
"The idea that 12 weeks from an election the narrative is that a former prime minister is trying to oust the current prime minister – how is that going to have a happy ending?"
The Gillard-Rudd struggle has to be brought to a head, Campbell says. "Kevin Rudd has got to decide to do something – or decide not to do something. At the moment it's the worst of all worlds - and no action." (Rudd has to decide "whether to piss or get off the pot", as he put it on Lateline.)
"It's not really in Gillard's hands", he says, "it's very hard to know what she should do".
He has no idea who'll win this tussle but raises uncertainties about what would happen if there were a change. "Let's say he goes for it and Julia Gillard has to go. What's to stop the Governor-General saying 'You, Kevin Rudd, don't have deals with the Greens and the independents, maybe I should go for the other guy [Tony Abbott]'".
A government can get through "a lot of bad stuff – it's not impossible – but it's very difficult if the dominant narrative is one of division that goes on and on and on".
Campbell says it is hard to assess how Rudd would go if he was in the job. "People seem to like him but you can never tell. When Gordon took over from Tony, a lot of people said 'we have a new dog to kick now'. So they were calling for him to be there and turned on him the moment he was".
Campbell told Gillard that, with the economic numbers as they are, it ought to be possible to turn the situation around – if the tap of division was turned off.
Labor had the makings of a very good campaign – a very good record, a strong economy, a policy program for the future.
"But eventually you run out of time".
Regardless of that self-evident point, the Rudd and Gillard camps continued today to face off and snipe.
Minister Greg Combet, a Gillard backer, said Rudd needed to decide what he was going to do. But Gillard herself said (repeatedly) it had all been decided in March.
Rudd supporter Stephen Jones said the best thing would be a ballot, although Rudd's spokesman said the former PM's position was as it had been in March – that he would not challenge.
Another Rudd backer, Darren Cheeseman, accused ministers – three years to the day from the leadership change - of attacking Rudd while "some of us are still fighting to win our seats".
And presumably are alarmed by the polls, except for Graham Perrett who declared he didn't "give a rat's" about them.
Former speaker Harry Jenkins was the one person who made a dignified contribution.
In his valedictory speech to parliament, Jenkins resisted the temptation to unload over how badly treated he was when the government installed Peter Slipper in his place.
"Do not mourn for me about anything that happened to me earlier in the parliament. I have been around politics long enough. I knew that some other possibilities were inevitable. l accept responsibility. I signed the resignation as Speaker. I attended the meeting with the Governor-General to hand it in."
And he had this advice to his party: "When we talk about leadership we – especially those of us on this side of the place - owe it to the people we represent to remember that we are here collectively. There is an onus on us to show collective leadership, to be proud of those things we have achieved, to take ownership of those things we have achieved and to ensure that they are explained - because we are one. United we stand; divided we fall. That is clear."
Not as clear as it should be to many in Labor, it seems.
PS Happy anniversary PM.