The Philippine government's decision to bury former president-turned dictator Ferdinand Marcos at the Cemetery for Heroes (Libingan ng Mga Bayani) marks the climax of over half a century of the Marcos family's presence in national politics.
Protests over Rodrigo Duterte administration's decision and a Philippine Supreme Court challenge by anti-Marcos activists, human rights lawyers, and victims of the dictatorship illustrate the contested nature of Ferdinand Marcos' legacy.
Slide into autocracy
Elected to government in 1965, Marcos was the only president of the Philippine Republic to be elected to a second term in office when he ran again in 1969. On September 21 1972, he declared martial law, citing street protests by student activists and a rising Communist insurgency. It would last until 1981.
Congress was padlocked. Opposition leaders, student activists, and media personalities who opposed Marcos were arrested by the military and detained in military camps. Newspaper offices, and television and radio stations were closed down. And a nationwide curfew was imposed.
Marcos' one-man rule was marked by kleptocracy, and human rights abuses that included warrantless arrests, disappearances, torture, and the murder of political opponents. Civil liberties were suspended; the media was effectively controlled; and corruption was rampant, with the regime's cronies getting juicy contracts for government projects.
Marcos was finally brought down by the Phililpines' first People Power Revolution in February 1986. He and his family fled to Hawaii but nothing has come of the numerous investigations of their kleptocracy, which is thought to have amounted to billions of dollars.
All this might suggest that the idea of moving his remains to Libingan ng Mga Bayani would be met with widespread condemnation, but some Filipinos are supportive of the suggestion. Some analysts say Filipinos easily forgive and forget; others called it historical amnesia.
Ongoing involvement
Imelda Marcos and her children came back to the Philippines from Hawaii in 1991, bringing with them the embalmed body of the late president, who had died in 1989. Marcos' body remains in public view in a mausoleum in his home province in northern Philippines.
Since then, Imelda and two of her children, Ferdinand Jr (nicknamed Bongbong) and his elder sister, Imee, have been elected as representatives to the Philippine Congress for their province. Two other children, Irene and Aimee, remained out of politics, concentrating instead on local arts and culture.
Bongbong later took the big step of running in the national elections, winning a seat in the Philippine Senate in 2010. Observers started predicting a Marcos return to power when he stood for vice president in this year's election but he came – a close – second.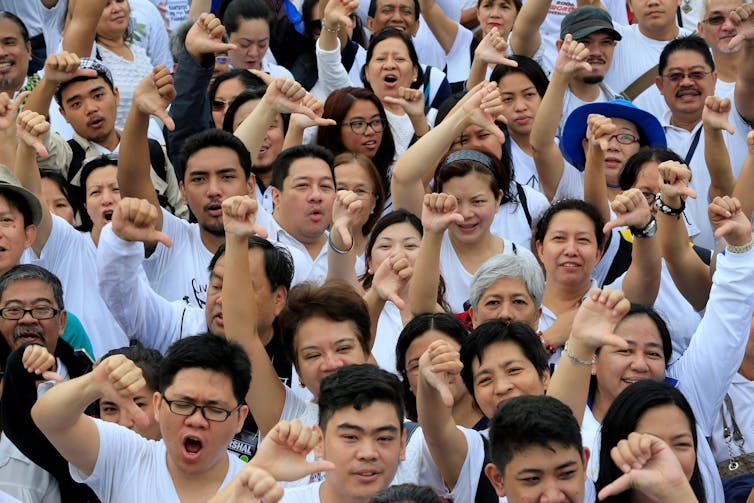 Then, barely a month into President Duterte's term, the new president announced plans to move Marcos' remains to the national cemetery for distinguished military officers, former presidents and state-honored artists.
The makings of amnesia
How can the idea of moving Marcos to the Libingan ng Mga Bayani arise in light of his crimes against his nation?
It seems that despite technology opening up the world of information, many young Filipinos are unaware of what happened under the dictatorship. They don't seem to see the difference between the corruption and human rights abuses under Marcos and what took place under administrations that followed. Indeed, they appear to see governments in broad general terms – good or bad.
Leaders are no longer elected because of their capability to rule but because of populism among the electorate. Presidents as well as national and local leaders are elected as the better alternative to their predecessors, rather than as successors for their country's development.
The fact is that few lessons learned about the dictatorship were handed down to the next generation. No government truth commission or any other investigating body was formed to look into the cases of Marcos's victims.
In 2013, a Human Rights Victims' Claims Board was set up to recognise and provide reparations for violations during Marcos's 1972-1986 rule. But, to date, out of the 75,000 claimants who have come forward, only 11,000 have been compensated.
Nothing was done to punish those who were liable for the crimes committed during martial law. A government office - the Presidential Commission on Good Government - was formed in 1986 to go after the ill-gotten wealth of Marcos (estimated to be US$5 to US$10 billion) and his cronies. But, after 30 years, it has reportedly recovered US$3.6 billion.
Missing memories
The dark side of Marcos's rule has also been absent from history books. A book providing a balanced account that addresses both victims and enforcers of the martial law years was finally published this year.
Filipinos celebrated the democracy that was returned with the ouster of the dictator and his family in 1986. But they didn't ensure its capacity to withstand the amnesia that followed the trauma of 22 years of Marcos rule.
And when the celebrations finally ended in 1991 with the return of the dictator's family, those Filipinos who, six years before had stood before tanks and faced the guns of the military in a peaceful revolution were left looking askance.
The lessons of the martial law era are still being learned. Meanwhile, indifference to the darkest days of the Philippines continues among some of the nation's citizens.