The second season of the French-Canadian TV series Versailles will soon be upon us, as will the fourth of the US series Reign. The former charts the intertwined development of the 17th-century French monarch Louis XIV and his best-known palace, while the latter revolves around the adventures of an adolescent Mary Queen of Scots (played by Australian Adelaide Kane) at the mid-16th century French court.
Sex, lies and rock'n'roll
Both have attracted considerable commentary for their pop culture feel and prominent sexual content.
The pilot of Reign, for example, includes a much discussed female masturbation scene that follows the young queen, accompanied by her ladies-in-waiting (no longer the famous four Maries, but now Greer, Lola, Aylee, and Kenna), furtively witnessing the consummation of a courtly marriage. And as David Wolstencroft, one of the writers for Versailles, explains: "We wanted it to be rock'n'roll. If you were in Versailles at that time you were at the centre of the world."
Historical scholars have been quick to point out the loose way in which "history" is applied in such dramas. These televised counterparts of well-documented historical figures at times seem to bear little resemblance beyond sharing the same name.
Reign's Catherine de Medici, for example, has a deformed, illegitimate daughter who wanders the palace with a bag on her head (yes, really).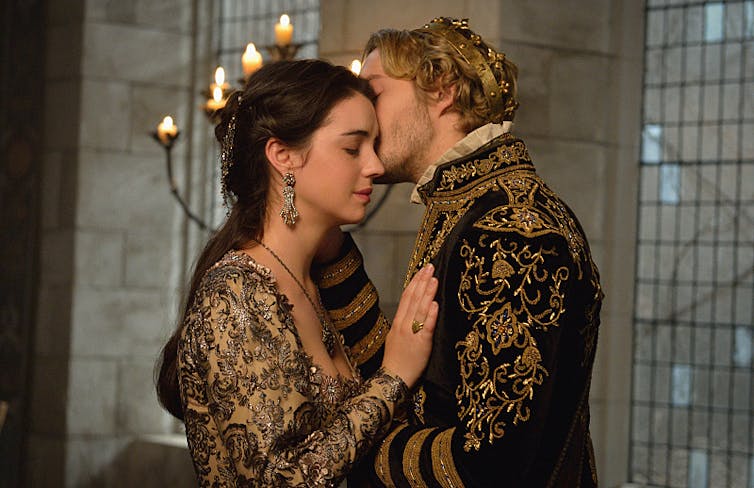 Others, though, have corroborated the sexual narratives presented in Versailles, a series that the BBC2 has chosen to frame with the concurrent Inside Versailles, bite-sized discussions after each episode, presented by academic and professional historians.
How do these popular interpretations of the past relate to historical scholarship? Reign's creator Laurie McCarthy suggests: "I don't feel bound by [history], I feel liberated by it." Wolstencroft argues for Versailles that "when it comes to history there isn't one singular truth — we can't know, it's all speculation."
Historians regularly seek multiple perspectives on past events. But this does not make interpretations drawing upon varied, even divergent, viewpoints simply speculation.
Exactly how we determine historical truth is clearly a matter that demands ongoing attention.
But there is one, perhaps unexpected, way in which both series engage with a historically verifiable experience of the past: our preoccupation with the most intimate moments of courtly life, right down to the bodily emissions of its most powerful members (and I use that word quite deliberately).
The gilded birdcage
Life within the gilded birdcage of court was mostly not the glittering, elegant experience that remaining artefacts tend to suggest. In fact, the reality of living there could often be quite dull, rather more crowded, and a lot less sweetly perfumed. But these same features meant that opportunities to observe royal bodies in various states abounded. And since the future of the dynasty and kingdom depended upon lineage, royal bodies provided vital information about the political world.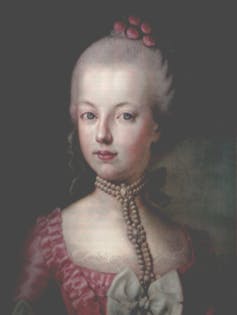 What are to us among the most intimate moments of our lives were for France's monarchs, public and political affairs. Marie Antoinette reported to her mother, the Empress Maria Theresia, soon after her arrival at Versailles in 1770, that her chamber was opened at midday and she did her toilette; that is, put on her rouge and washed her hands, before an audience of courtiers.
Menstrual fluxes of princesses and queens — their regularity, consistency and quality — were all the subject of widespread discussion. Marie Antoinette kept her mother in Vienna well informed of the details of la générale's appearance. Two centuries earlier, Catherine de Medici likewise engaged a wide network of correspondents, including her male ambassadors, to document the menstrual cycle of her daughter, Elisabeth, consort of Philip II of Spain.
Seminal statecraft
The sex lives of the royal family formed a topic of discussion across Europe. After seven years of marriage and no pregnancies, a perplexed Joseph II decided to have a chat with his brother-in-law Louis XVI while visiting Versailles. The exasperated Emperor then shared with his brother Leopold frank details about the sexual activities of the rather clueless couple:
He has strong erections, he puts his member in, stays there without stirring, for two minutes perhaps, and then withdraws without ejaculating, still with an erection and wishes her goodnight.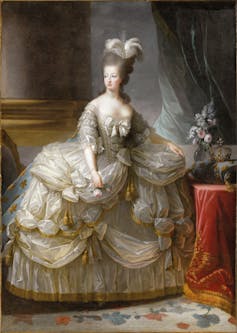 Childbirth was yet another public spectacle of state. At the delivery of her first child in December 1778 (whatever Joseph advised had evidently worked), Marie Antoinette shared her inner chambers not only with her medical support and the King, but also the extended royal family, prince and princesses of the blood, and those who enjoyed particular honours at court.
The queen's chambermaid, Madame de Campan, recalled in her memoirs how "the stream of curious people who had rushed into the chamber was so numerous and tumultuous that it was feared that the queen would perish." Before they were forcibly ejected, two men had even climbed up on the furniture for a better view of the royal nether regions.
When another dauphine Catherine de Medici delivered her first child in 1544, the king François I not only wanted to know the exact time of day the boy was born, but demanded to see "all that came out with the child," presumably the placenta and/or umbilical cord.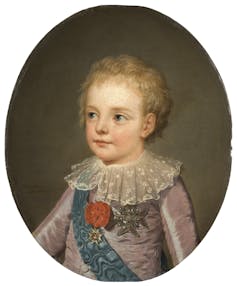 He discussed with the Italian ambassador the portents that might be read from these emissions — all of which conveniently pointed to a strong, healthy future king (which François II was decidedly not).
Even baby poo was not immune to becoming courtly business; indeed it could even be fashionable. The birth of the dauphin Louis-Joseph in 1781 set a sartorial trend with a startling new shade of brown, caca-dauphin, the colour of the child's soiled nappies.
Intimate emissions have long been the stuff of gossip, fashion and serious political debate. Tuning in may only marginally improve your historical knowledge, but the fact that you are watching is certainly historically accurate.