For me the most exciting way to negotiate the ample program of the Sydney Film Festival (SFF) is to focus on its retrospectives, and this year the lens is on the American film directors Robert Altman and James Benning.
Of the eight films by the late Altman on offer, the two I'd like to focus on here are McCabe and Mrs Miller (1971) and 3 Women (1977).
Only a minority of the audience would have ever seen the core films in the Altman retrospective in a cinema. It's impossible to overstate the way this kind of viewing makes his ouevre newly accessible, not just because he made popular, serious and memorable films but equally because his films engaged each other in ways that can only be experienced when watching them as a collection.
Those who were lucky enough to see McCabe and Mrs Miller and 3 Women as a double at the Art Gallery of New South Wales (AGNSW) on Saturday were probably startled, as I was, by a moment where these two quite different films addressed one other.
A line of dialogue passed between Mrs Miller (Julie Christie) and Ida Coyle (Shelley Duvall) in the first film is repeated exactly in the second, only this time it passes from Millie Lammoreaux (Shelley Duvall) to Pinky Rose (Sissy Spacek). There are precious few ways in which to see these films in dialogue with one another except, precisely, through dialogue.
McCabe and Mrs Miller sees John McCabe (Warren Beatty) arriving in the town of Presbyterian Church as a suspicious stranger, card shark and potential gunfighter. As it turns out, McCabe is an indifferent businessman whose failures in the art of the deal are matched by the acumen of Mrs Miller, a prostitute and brothel keeper who partners with him in the establishment of McCabe's House of Fortune.
Their pairing is tentative and always circumscribed by the business they are in, prostitution. The various renditions of Beautiful Dreamer that play over scenes of grimy sexual commerce epitomise the irony with which Altman presents a romantic view of their liaison, always on the border of, but outside, a love affair.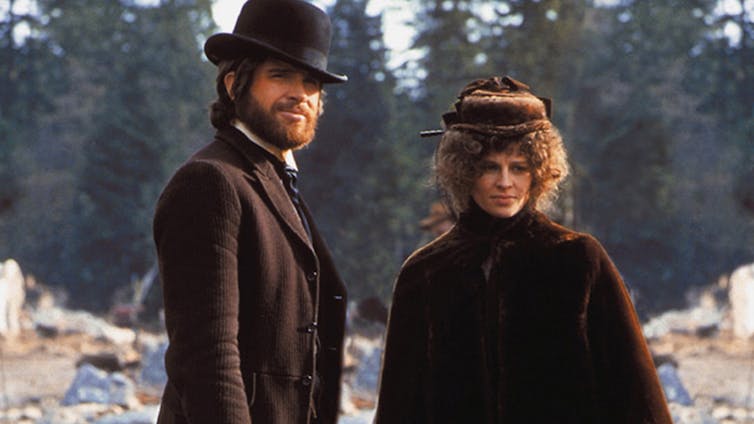 How their business unravels is the action of the story, and in it Altman revises the myth of the entrepreneurial spirit in favour of a simpler story of monopolies, violence, and chance as determining factors in the circulation and accumulation of capital.
This brutal story is matched by scenes of eerie poetic splendour, but not by a vision of the sublime as such: Altman's camera is distracted by the beautiful everyday, as with his long, steady shots of makeshift buildings, snow drifting across the landscape, and the putting on and taking off of winter coats, massive furry articles that hide and hinder movement.
A long scene of a clumsy dance on the ice, where it's not clear if the dancer's movements are missteps or casually elegant, captures the way the film itself tips any notion of destiny into a more casual arrangement of circumstances.
Dismantling truths
American writer Terri Jentz's book Strange Piece of Paradise centres on a horrific incident: not long after setting off on a cycling tour across the continental United States, and settled for the night in a tent Jentz and her Yale roomate were run over and then attacked in their tent by an axeman.
Jentz notes that the same night of the attack, June 22, 1977, McCabe and Mrs Miller was making its debut on American network television, unraveling, Jentz suggests, "the romantic myth of the West".
Jentz's evocation reminds us how important McCabe and Mrs Miller was in the long project of dismantling some core "truths" in the romance of American expansion, and key among those was the idea that the accumulation of wealth could be tied to anything virtuous.
In fact, the trade in women and the potential for exploitation of mineral resources, organised as sequential but comparable ways to make money, are the preconditions, historically, for the parched setting and the lush melodrama of Altman's 1977 film, 3 Women.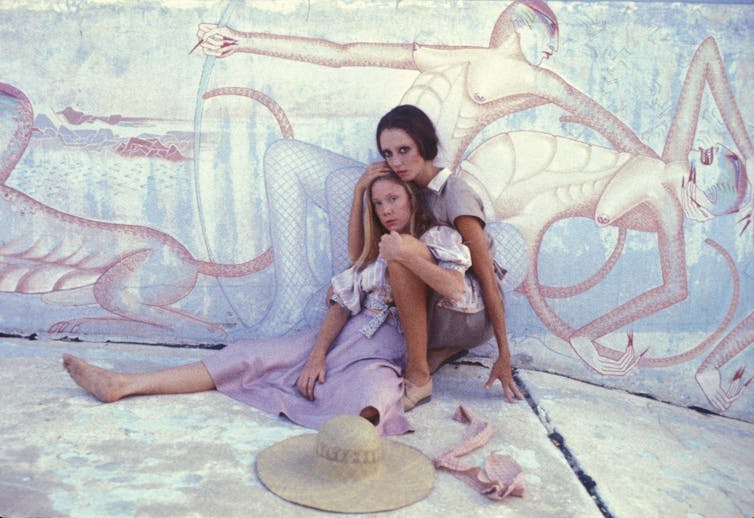 3 Women seems to share little with McCabe and Mrs Miller save for Shelley Duvall, a minor player in the first film but the anchor of the second as it careens across an environment equal parts realist and surreal. The bleached tones of a shabby Californian spa town suggest a place of vapid tranquillity as Millie Lammoreaux (Duvall) inducts Pinky Rose (Sissy Spacek) into rehab work at the spa.
Pinky moves in with Millie at the Purple Sage Apartments, where the conventional organisation of accommodation around a pool is knocked off-centre by the surreal images painted on the pool's surface.
In fact, Millie's life is structured around her seemingly impervious reception of the uniform contempt of her workmates and the other denizens of the Purple Sage, who freeze, mock, or ignore her.
By contrast, Pinky's interest in Millie is fixed and hypnotic: Pinky's fascination is matched by the camera's mesmerised regard for Duvall's face as is registers, or not, the aggression that surrounds her.
Willie Hart (Janice Rule) is the third woman of the title, the artist responsible for the surreal paintings. This triangulation seems overshadowed by a more traditional one, between Pinky, Millie, and a dissolute character named Edgar, married to Willie.
But no: the film works its way past the structural misogyny of social life experienced as work and at play through an increasingly threatening storyline and modulates into a cinematic experimentalism that takes up the everyday objects and mise-en-scène and bends reality with them.
The feeling of dread the film inspires reminded me of feelings I had watching Lars von Trier's Dogville (2003) – the same feeling of claustrophobic, organised and fated judgement, and of the inevitability of a damaging, violent outcome.
But, as in McCabe and Mrs Miller, Altman abjures easy fatalism by introducing elements of the random or chance, here produced not so much by storyline, as in the earlier film, by by the camera.
Both McCabe and Mrs Miller and 3 Women exhibit mute but pressing anxiety over the demarcation between person and property. Prostitution is an obvious way to frame the intrusion of capital into the intimate lives of subjects, but Mrs Miller's desire for seclusion is revealed to be more driving and particular, and in the film's closing credits collapses into a beautifully out-of-focus shot of an opium pipe-bowl which offers a kind of solace in certainty.
Following this hallucigenic clue, similar distortions of perception lead rather to the eradication of differences between people and their things in 3 Women, as when Pinky takes over writing Millie's diary for her, a diary carefully locked with a key displayed with equal care by Millie on a noticeboard, hanging from a yellow ribbon.
Yellow and purple are her favourite colours, and the purple detailing of the Purple Sage Apartments pushes interior decor outward, where precisely as everything becomes home, nothing is homely.
The Altman retrospective offers an opportunity to spend time with an unfamiliar ouevre, or to re-watch films formerly seen in different venues, such as the reperatory cinemas that used to ring the city.
Films are introduced by Altman's son Michael, who presents each film with personal and historical anecdotes that enliven and deepen the films. Altman is lucky to have him as an ambassador.
The centrepiece of the retrospective, quite rightly, is the masterpiece Nashville + Altman Live (1975), which was shown on Friday, and whose sublime soundtrack was dimly evoked by the mellifluous Ronee Blakeley and other country singers playing intermittently on the radio in Millie's apartment.
The final film in the series is Altman's last, A Prairie Home Companion (2006), screening Sunday June 15 at AGNSW, which revisits some of the aesthetic territory of Nashville and features a wonderful performance by Lindsay Lohan as well as, of course, the other two women of its three women, Lily Tomlin and Meryl Streep.

The Sydney Film Festival runs until June 15.