The first court case I ever observed belonged to a woman guilty of murder. She had deliberately run over a young man with her car. I had followed news reports of the trial, for the story seemed so strange, and had seen grainy CCTV footage: the vehicle lunging at the 21-year-old who darts out of its way; the car reversing and charging once more, striking him, thrusting him underneath.
Anyone can attend court. You scan the court lists, locate the case you are looking for. You can also slip into hearings about which you know nothing. The public is allowed to be there, but it never feels that way, and you keep expecting someone to ask you to leave. The criminal courts are open secrets. Raw lives, with all their calamitous mistakes and misfortunes, are laid bare.
The façade of the New South Wales Supreme Court building was what I'd expected – sandstone arches and high tradition – but its foyer was in want of repair. The walls had cavities where the plaster had come away, as if bitten into by an animal, and on the sweeping staircase, a structure fit for the arrival of a princess, masking tape held a banister knob steady. The security machine at the courtroom entrance looked like space-age gear in a Victorian relic.
People gathered outside Courtroom 3 for the sentencing proceedings. Mostly they were dressed in jeans and t-shirts, law students freed from classrooms and sent to study real life. Among them was a pinched-looking woman in her late fifties with peroxided hair in the style of a firework that reminded me of David Bowie. She was the offender's mother. Her 39-year-old daughter was somewhere below us in the bowels of this place, waiting to walk up the stairs into court and natural light.
We filed in. I took a seat at the back and listened to the reverberating procession as the crowd filled the room.
A student near me didn't know what this case concerned. "What is this case?" she asked someone next to her.
"This is a very serious case," the onlooker replied. "A woman has been convicted of murder. Today is her sentencing hearing."
"Oh."
"Go up to someone afterwards and ask about it. Speak to the prosecutor. She's lovely. You won't understand anything today unless you ask."
The prosecutor did look lovely: a slender brunette with the high-wattage smile of a party host. During the trial, she had won over the 12 most important people in the room and they'd returned a finding in her favour. Today the prosecution and defence would present evidence to the judge that would help determine the length and nature of the offender's sentence. The woman would be sentenced for murder, that was a given, but precisely how many years she would serve, and what her non-parole period would be, was for the judge to decide.
The sentencing itself wouldn't happen for another fortnight. I hadn't been at the trial. It wasn't the defendant's guilt or innocence that interested me so much as what was to be done with her once her guilt was established. Even at that early point I knew that jury trials aren't what the criminal justice system is about. They are rare in Australia. Mostly people plead guilty.
A man and a woman shuffled into a row behind the prosecutor. I recognised them from the news as the victim's father and mother: him thin and shrunken, her with the ghostly pallor of a person not quite there. Then the brother arrived. I heard him before I saw him, the thud thud thud of weighty feet on the old floor. Tall and wide, he squeezed between his parents. The row was designed for three, however he had the bulk of two people, and rolled his shoulders to fit. I waited for the offender to emerge, but she already had.
Unaccustomed to the staging of court proceedings, I'd missed her unceremonious entrance not through a door but from a staircase below that coughed her up from nowhere. It took me minutes to register that the lonely figure who'd materialised at a bench to my left was the woman herself. She could have been a court reporter, anyone, were it not for her form. She was terribly contracted. Head bowed and sobbing softly, blonde hair drooped around her face, she wrapped her arms and hands tightly around her stomach. Dabbing her eyes with a screwed-up tissue, she slid glances at her mother with the firework hair.
The elderly judge entered, dressed in scarlet, looking like Christmas. He spent 15 minutes silently reading the submissions from the lawyers while the rest of us tried not to fidget. Then the prosecutor made mention of documents or legislation, the substance of which I couldn't catch. This sentencing hearing was similar to most others I would come to sit in on: preliminary to the offender being formally sentenced, it comprised muted, heady conversations between legal counsel and the judge. But this one was to include testimony from the victim's family.
The young man's mother was called to the witness box to deliver the family's victim impact statement. She approached the front without the usual agency of a conscious individual, as if something else was guiding her there. She began reading the statement and I couldn't make sense of its genre, it being both a celebration of her son's life and a meditation on agony.
As this mother spoke – "Our dear younger son has been murdered", "The day of his funeral was the most harrowing day of our lives", "The first shovel of dirt hit the coffin with a loud crack: we reeled in horror" – people in the room wept, including the woman in the dock who kept tugging the edges of her black suit jacket towards her middle as if the fabric alone was preventing her insides from spilling out.
A different order of misery
Weeks earlier, a jury had reached its verdict. It had accepted the Crown's version of events: that early on a June morning in 2008 outside a 7-Eleven store on Sydney's north shore, the woman got into a trivial argument with the 21-year-old boy, his brother and some friends during which time the boy had thrown cheeseballs at her car; that she was drunk, on drugs and driving without a licence; and that, enraged and humiliated, she stalked him with her car and used it as a weapon as she crashed down a set of steps with the young man trapped underneath.
The woman always accepted responsibility for his death but she had pleaded guilty to the lesser charge of manslaughter, insisting that she had not intended to drive at him, that her passenger (who was never charged) had taken control of the wheel and that it had been a tragic accident.
That day at the sentencing hearing, I could not know the woman's exact feeling but I was certain of her pain. Like the boy's family – the father and brother trembling with grief in the front row as the mother spoke of their trauma – she appeared to be distressed. It was, however, a different order of misery. The victim's family was wild with it. There was a palpable, bursting rage to their grief. So when the woman's lawyer engaged the judge in a detached debate as to the "objective seriousness" of the murder – was the murder at the more serious or less serious end of the scale? – it was not unexpected that the boy's father rushed from the courtroom white with shock, while the brother, that colossal front-rower of a man, jumped to his feet yelling "Fuck you! Fuck you!" to the lawyer and roared out behind his father.
The family was so thick with despair that the outburst felt inevitable. Compared to them, the woman's ache looked smaller. There was no fury in it. Hers seemed ashamed, fearful, a tight sort of a thing.
Assessing contrition
Afterwards I kept thinking about that woman. It was as if her buckled body was a theatrical gestus, a pure, physical manifestation of a plagued psyche. Her lawyer had argued that she was remorseful and that this should be taken into account. It now fell to the judge to determine whether or not she really was.
To me, it seemed a puzzle of theatre and the law. The question of bodies and emotion – how we furnish ourselves with feeling and how others recognise it on us – had long preoccupied me, and perhaps performance was somewhere at its core. As an undergraduate at the University of Sydney, I studied Philosophy and English Literature and learnt something of the nature of being and of Shakespeare's stage, and I performed in student productions including Electra. I loved reciting scripts, listening to other people's voices cut in and out, but I was no good at acting. I couldn't consciously coordinate my body with how I felt or tried to feel.
At university I also wrote a doctoral thesis in Performance Studies, which was a discipline born of a marriage in the 1960s between theatre and anthropology, and one not only interested in opera, theatre, dance, but in other categories of performance too. I read about rituals and spectacles, about weddings and funeral rites, and about ceremonial displays of mourning. I learnt how satirists in ancient Rome saw humans as role-players and social existence as a performance, and I read the work of 20th-century sociologists and anthropologists who analysed how we perform social roles in everyday life. For them, the metaphor of "performance" was not meant to suggest our conduct is contrived – although sometimes it may be – but rather to examine customs and expressive behaviour. I read how the 18th-century neo-classicists attached the term "theatre" to the act of gazing: how, for them, the word encompassed a looking out at, or into, the world.
I also learnt that, for at least 500 years, people have used the language of theatre to describe trial courts. Audiences recognised theatrical features – costuming, staging, ritualised actions – but mostly the two things have been linked pejoratively: the trial is about solemn truth; the theatre is artifice and entertainment. In court we study people and discredit those thought to be performing. And yet at the same time, courtroom processes involve, and in some cases demand, enactments from people.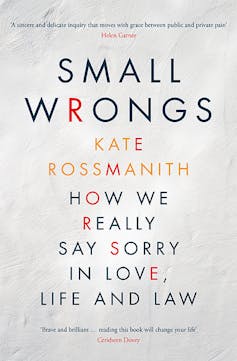 The courts are, or can be, theatres of remorse. That woman in the dock, for instance, seemed riddled with it, although it would be many more weeks before I would learn for certain what the judge thought.
In the years after that woman's case, I became a spectator, examining how people comport themselves. Then I spoke with them, asking them what they thought remorse was and what they wanted it to do. I visited offices and homes and interviewed lawyers, forensic physicians, caseworkers, victims; and I met with offenders and with the people whose job it was to judge them. I watched and took notes, collecting stories of courtroom sorrow and punishment, forgiveness and atonement.
The university where I worked was pleased. I was doing something called "original research" that would yield "new knowledge". This was my job as an academic: to be curious about the world, to study new things, or old things in new ways, and to disseminate findings. I had learnt of an anomaly in the criminal law. In many legal jurisdictions of the world, including in the USA, England, Canada and Australia, an offender's remorse is a mitigating factor at sentence, with judges legally obliged to take it into account. And yet how judges evaluated such expressions was unclear. My study would help society better understand the ways in which the courts assessed contrition.
They say that researchers are driven by curiosity. I pretended I was. I pretended I could examine remorse as if it were a plant or a dead mouse, probing it under a microscope, listing its properties and potential for reparation. Curiosity is aloof, cerebral. Curiosity can be quelled with explanation. To be curious about a thing is to be detached from it, as if you – the human researcher – and it – the object of inquiry – were unjoined.
This is an edited extract from Small Wrongs by Kate Rossmanith published by Hardie Grant Books.