Kanye West's new album Waves is due out next week, and there's a palpable excitement building in the media. Kanye recently tweeted it would not be "the album of the year, but the album of the life", only to later clarify that it would in fact only be "ONE of the greatest, not the greatest". Meanwhile Rolling Stone is speculating it could be a dud at the same time as producer Swizz Beatz declares it one of the best West albums he's heard.
If anybody can casually ignite this kind of mini-media-firestorm, Kanye can. Like the late David Bowie through the 70s and 80s, Kanye functions as a mirror for the most visible and occasionally garish social and cultural values of his time.
Unlike the intensely private Bowie, though, Kanye's performance extends beyond the stage, into his personal life, and every tic of his outsized personality is reflected back to us via his own twitter feed and an insatiable celebrity-obsessed media.
This ubiquity makes Kanye a tough act to swallow for some. Coupled with a history of more or less zany attention bidding, he is all too often written off as no more than a cocky, albeit talented, egomaniac.
I suspect detractors are doing a disservice both to Kanye and themselves – separating musician from music has long been a necessary part of enjoying the art form (think of the murderous Gesualdo, the actively anti-Semitic Wagner).
At the heart of any story like this is the creative impulse writ large. Really large. So large in Kanye's case that it threatens to engulf the man it inhabits at every turn. The combination of explosive creativity with megalomaniacal personality quirks leads to a kind of publicly delivered life-as-performance-art.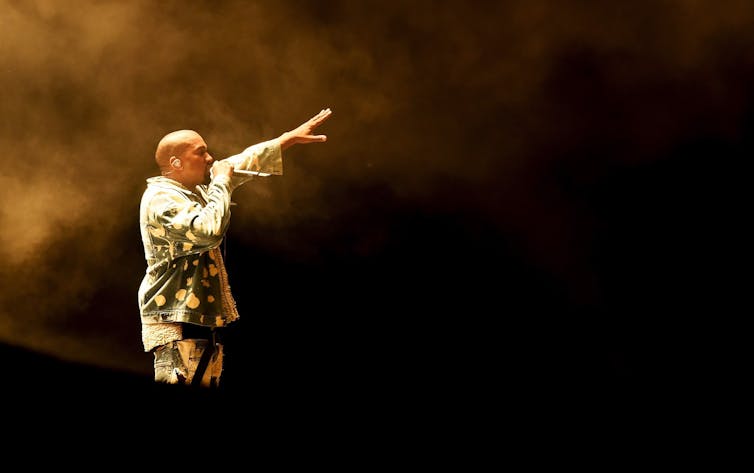 If Kanye West's entire life is available for consumption as a single artistic package – where music is only the foundation of a lyrical, fashion-oriented, reality-TV inspired, visual and conceptual performance structure – it might seem futile to talk about his music separately.
Unfortunately, the noise pollution around Kanye somewhat obscures what is one of the 21st century's most vibrant musical phenomena.
Many have long forgotten the simple fact that Kanye West is one of the greatest producers of hip-hop in its 40-plus year history. His success is undeniable. A decade-long six-album streak of critically-acclaimed albums rivals the greatest icons of pop. Over and over again, Kanye has an ability to push popular music's boundaries, via hip-hop, while remaining commercially viable.
It's curious that the sonic aspect of hip-hop is so often under-contemplated. The lyrics of rap and hip-hop receive the lion's share of critical attention, for obvious reasons. The music videos are also the subject of reams of commentary.
But the foundation of any musical object, to state the obvious, is its sound. Underneath all the posturing and showmanship, Kanye is an utterly professional artist and the material he most loves to work with is sound.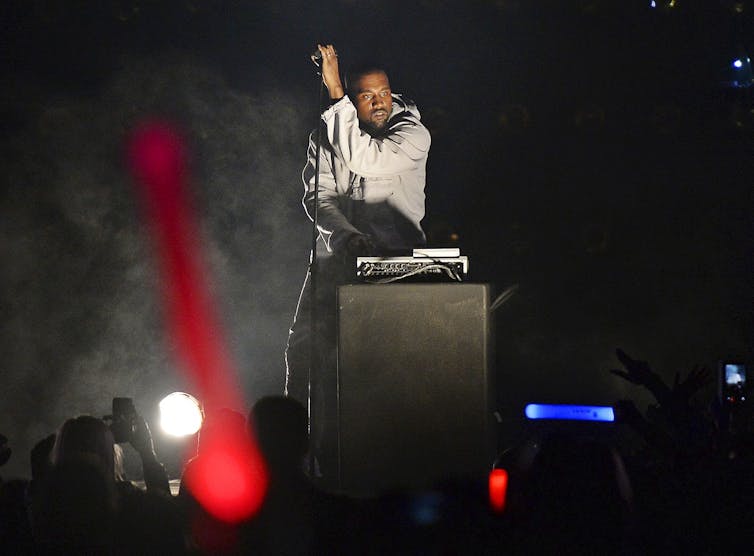 His gift for sampling, in particular, is at the core of his artistic integrity. A thoroughly postmodern aesthetic practice, sampling is the heart of the art of hip-hop. The skill with which a DJ (or producer) selects, edits, processes, and combines any number of musical chunks from existing recordings is the measure of the DJ.
Transcending pastiche or collage, the finished product is usually intended to be a new creation, with its own sound and feel.
Chicago-based Soul and Funk from the 60s and 70s form the basis of Kanye's sampling DNA. Chicago was also the birthplace of House, and exposure to that genre gave Kanye an openness and willingness to be experimental. With deep roots in a living, breathing and thriving musical tradition, it's little wonder that Kanye's musical foundation is strong.
By going back in time, and looking at some of the basic attributes of Kanye West's music, we're reminded that a deeply authentic artistic and creative impulse lies at the heart of all things Kanye. What emerges is a picture of a young person driven almost to distraction by a desire to be creative, to be expressive, and to communicate ever more impactful art, ever more grandly.
Origins
Kanye enjoyed an intellectually stimulating and middle-class upbringing as the only child of an English Literature professor mother, and an award-winning photojournalist/ erstwhile Black Panther member father.
In a VH1 special, West's parents talk about Kanye's youthful obsession with visual art giving way to music. The gift of an electronic keyboard at age 12 eventually robbed his father of summer visits and his friends of social time as Kanye spent every waking minute creating beats.
The next ten years were spent honing his craft as a crate digger. What West lacks in genuine street cred he easily gains back through those years of gathering, dissecting and constructing beats; an almost sacred rite of passage for hip-hop producers.
West soon developed a reputation as a producer, scoring a breakthrough when he joined Roc-A-Fella Records in 2000. West's success on Jay Z's career-rejuvenating The Blueprint (2001) would probably have guaranteed West a career as a producer. But Kanye's ambition has always been of the vaulting variety; he wanted to rap.
Kanye's bid for rapper stardom was thwarted for several years, the main obstacle being his clean-cut personality. He was too soft for the thug-mire that was commodified gangsta rap in the late 90s and early 2000s.
As it turns out, when West's turn came, the innate contrast between West and the general environment of commercial rap came as a relief. Setting himself just beyond his contemporaries became the pattern that has defined his career.
Trial by Wire
It was 3:00am, October 23, 2002, and West was driving home from a late-night studio session when a car accident almost took his life. With his jaw smashed deep into his face, re-constituted through a mesh of wire, West saw and seized an opportunity.
In a stunning display of creativity's relationship to opportunism, not to mention West's determination to achieve success at any cost, he was in the recording studio only two weeks later. Finally he had a form of cred. Something he could rap about, something painful that could be transformed into expressive force.
The result was Through the Wire (below), a song that has ascended to a kind of creation story in the Kanye mythology. More than anything else, it's a beautiful piece of music.
In an enormous creative risk, given the finished product's contrast to commercial rap in that era, Through the Wire tells the story of the accident and recovery. It was recorded while his jaw was still essentially wired shut. The painful metal scaffolding audibly impairs his ability to speak, giving a tragi-comic flavour to lyrics that talk about resurrection and the defeat of death.
His tightly clenched delivery includes slurred jokes about metal detectors going off at airports. Not so much humorous as poignant, there's a peculiar touching quality. The trauma is too real, too recent, and too audible.
Underpinning all this is the sounding heart of the song. West sampled a long chunk of iconic Chicago singer Chaka Khan's Through the Fire (punned on with Through the Wire). The first sampled section comes from the soaring final iteration of the chorus, starting here at 3:15.
Khan's Through the Fire undeniably flirts with 80s-style musical syrup. But part of West's sampling process involved speeding up the entire section of music, which in turn has the effect of raising the pitch of both vocal and instrumental tracks.
This process is something of a Kanye signature, and is known as the chipmunk effect for obvious reasons. At the faster tempo, the original song's sentimentality is semi-banished. At the same time a transformation occurs whereby the emotional content of the song seems to acquire a modern sensibility.
West further hip-hop-ifies the sound by substantially juicing up the bass, and sampling entirely new drums to provide the groove. He uses an extended remix of Outkast's 1993 Players Ball. He slightly slows this sample down, possibly for a more relaxed feel, but more likely to match the fastest reasonable speed for the Khan sample.
The effect here is one of relaxed hipness, irresistible when combined with the funk beat and Snoop-tinged spoken word delivery.
The last thing to say about Through the Wire is one of the most important. It works so well thanks to a feature of music that is not often highlighted in hip hop: harmony.
Kanye cuts in right at the moment when a series of descending syncopated chords (starting at about 21 seconds) suggests a certain key is about emerge as the "home" key. It does this by setting up an expectation of this particular key, which should arrive in the form of a particular chord after a few bars – it happens that this chord would likely be a brightish, "happy" major chord.
Instead, at the 27th second, a harmonic bait and switch occurs and we get instead a more emotionally poignant "minor" chord. Kanye sensitively lets this moment play out without speaking, allowing Khan's chorus to take off unimpeded.
What follows is chord progression that gives the whole song a kind of smiling quality; it happens to be a sequence of chords that's been used by musicians for a couple of hundred years: the circle of fifths.
As the name implies, it's a progression that can be conceived as moving around a harmonic circle, with all the patterning and reassuring inevitability that implies. It conveys movement through the large intervals between chords, yet stasis through the cyclic nature of the progression.
It's this progression, perhaps more than anything, that gives Through the Wire its long-range looped groove, somehow connecting with a sense of emotional reassurance.
Through the Wire is the beginning of Kanye West as creator of visionary song artefacts. Nothing in commercial rap until that point had managed to combine such vulnerable text, non-violently visceral real-life experience, and unabashedly expressive sampling. West here has seamlessly introduced new elements to both rapping and hip-hop sound production.
Expansion
From his roots in the music of Chicago, and Soul and Funk broadly, Kanye has always been eager to globalise his musical palette.
After the success of his first album, The College Dropout (2004), of which Through the Wire was the lead single, Kanye stretched his legs with Late Registration (2005), which included the cinematically-conceived and human rights-oriented Diamonds of Sierra Leone.
Casting his net widely, he drew on the lush string sounds of English group Portishead as one of the ways to re-imagine what hip-hop could sound like.
Even more groundbreaking, Graduation (2007), the third album in Kanye's first-period trilogy, explored electronic dance music in a hip-hop context long before it seemed like a good idea to other artists.
Omnivorously appropriating ever more geographically distant influences into his hip-hop aesthetic, West seems especially interested in European styles such as the electronica of Daft Punk (or Good Morning's beautiful sample of Elton John).
In the case of Stronger, West not so much samples as explodes Daft Punk's Harder Better Faster in service of a then-innovative techno-rap-futurist vision.
There's a certain expansive majesty to West's treatment of Harder Better Faster. If we hadn't already sensed it, a solid seam of grandiose expressive ambition runs through Kanye's musical vision. That grandiosity reflects his desire for cultural size, to out-express both his contemporaries and the confining normative dimensions of hip-hop itself.
A descending bass line is one of the radically simple techniques West uses to achieve this magisterial, epic quality. A technique that also has strong harmonic implications, descending bass lines have been used to convey any number of serious or important themes and emotions throughout musical history.
Henry Purcell, for example, used a descending bass line to reflect the gradual descent into death of Dido (Queen of Carthage variety) well over 300 years ago, heard here at the 57 second mark:
Apart from Stronger, another striking descending bass line underpins the much-discussed Runaway. The ominous and broad synthetic bass provides the perfect counterpoint to the icy un-nuanced stabbing of the high piano pitches (at the 55 second mark):
Sticking with Graduation for one more song, it's hard to go past Flashing Lights. Like Stronger and Champion from the same album, Flashing Lights is kitted out with 80s-style synthesizer hooks. Filtered through Kanye's own production techniques, they still represent a sound that no-one else was into at the time.
Flashing Lights is a special song. Somehow classical in proportion, modern in its sleekness, it conveys an air of unrelenting but soft-edged melancholy. It gets this effect partly from the contrast of the opening string sounds alternating with the rhythmically propulsive synth.
Both string and synth parts are notable for their highest pitches; they are always dissonant with the chords beneath them. Even in their drooping, arching moments of resolution, these pitches remain outsiders – slightly alien to the fundamental chords below them. This permanently unresolved condition could be what keeps me coming back to this song over and over.
Transition
2007 saw the death of Donda West, Kanye's mother and spiritual and intellectual mentor. Out of that personal heartbreak and loss was born another radical departure from the stylistic norms of hip-hop.
An eerily introspective album, 808s and Heartbreak (2008) alienated some of Kanye's fans but has achieved a positive critical re-evaluation in the years since. Moving even further away from the conventions of hip-hop, West embraced the generally execrable auto-tune device, employed it as serious artistic tool rather than a cosmetic façade, and spent most of the album singing instead of rapping.
Heartless typifies the album's feel with the gloomily-deployed auto-tune and bass drops characteristic of the Roland TR-808 Bass machine used throughout. Also notable is the odd pipe-organ sample from English progressive rock band The Alan Parsons Project's 1984 song Ammonia Avenue.
Recent years
Astonishingly, Kanye's next three major albums continued to innovate in sound. In what he describes as a "back-handed apology" for alienating fans with 808s and Heartbreak, My Beautiful Dark Twisted Fantasy (2010) is something of a return-to-earlier form. Considered by some to be Kanye's most exhilarating album, at a densely packed 70 minutes, MBDTF is full of layers, textures, compelling collaborations and dazzling inventiveness.
POWER is probably the most acclaimed track (apart from Runaway, mentioned earlier) in a very competitive field, representing a blazing return to hip-hop fundamentals. Described by West as "superhero theme music", POWER is exultant, super-charged, and urgent.
Kanye's messianic self-prophesies begin to manifest, girded by samples from more European sources: 21st Century Schizoid Man by English progressive rock band King Crimson, and Afromerica by French disco act Continent Number 6.
West followed MBDTF with a Jay Z collaboration, Watch the Throne (2011), and Yeezus (2013).
Niggas in Paris was one of the most acclaimed tracks from Watch the Throne, with a literal and geographic European locus in addition to the sparse musical influence.
Watch the Throne, taken together with the electro-punk, minimalist and somehow angry-sounding Yeezus, possibly completes the scene for Waves' arrival next week.
Both albums are full of new ideas and sounds, just as inventive as West's earlier work. If anything, these albums suffer from being too good, and too close to each other (especially when grouped with 2010's MBDTF). It's getting hard to distinguish the newness among all the newness. This raises questions.
Is this a function of an overcrowded market? Or have the years of Kanye's non-musical distractions taken too heavy a toll?
Whatever the reason, it's hard to imagine what unexplored direction there is left for Kanye to take.
If he does manage to innovate yet again, it will probably be a team effort. One of hip-hop's most powerful tools is the creative sparks that fly when rappers compete and collaborate, whether sharpening their skills against each other through rap battles, or coming together to share a single.
Given that the already-released No More Parties in LA has Kanye teaming up with the hottest young talent currently on the scene, Kendrick Lamar, there's every chance Waves will be something special.

Liam Viney will be taking part in an Author Q&A from 2–3pm AEDT today. If you have any questions about Kanye's career, music or, yes, his public image, you can leave them in the comments section, below.