The real-life story of French navigator Nicolas Baudin's sea voyage to map the unknown coasts of Australia is more gripping than any fictionalised account. In the wake of the French Revolution in 1789, the French were experiencing a maelstrom of political, social and cultural change. By the turn of the century Napoléon Bonaparte's rise to power had begun. He had declared: "Citizens, the Revolution … is over." The Enlightenment and Revolutionary ideals were being replaced by what was broadly termed "science".
In 1800, Captain Nicolas Baudin, in command of the corvette Le Géographe, with Captain Jacques Félix Emmanuel Hamelin captaining its sister ship Le Naturaliste, set off from Le Havre en route to what is now called "Australia". On the way home, Baudin, the expedition's leader, was to die in 1803 at L'Île-de-France (now Mauritius).
This "voyage of discovery" started with 23 men of science, including botanists, zoologists, astronomers and geographers selected by the National Institute. More than half of these men were to leave the expedition in L'Île-de-France, owing to illness or conflict with Baudin. Among those who left were the expedition's official artists, Lebrun, Milbert and Garnier.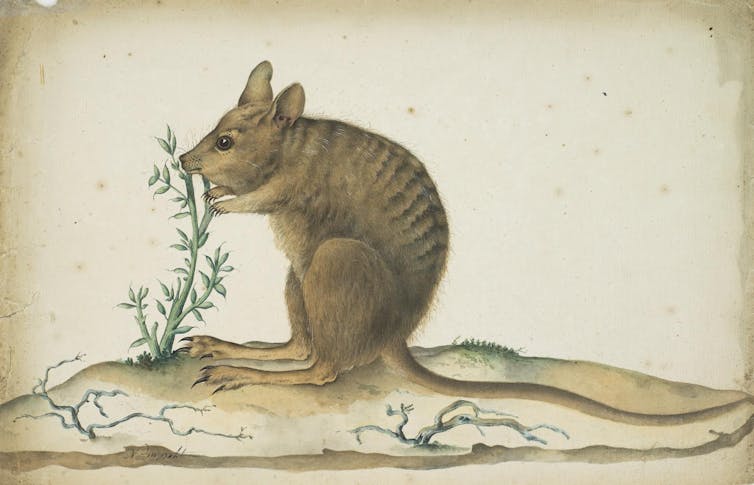 The exhibition The Art of Science: Baudin's Voyagers 1800-1804, which has opened at Port Adelaide's Maritime Museum, offers a solid and complex picture of the voyage to Australia, albeit a selective one – there are relatively few botanical works in the Adelaide exhibition.
The objects, artefacts and artworks on show in this exhibition, on loan primarily from Le Havre's Natural History Museum and from archives and collections of other French national institutions, have temporarily returned to Australia after a very long absence.
Encounter
While Baudin's voyage was taking place, France and Great Britain were locked in the conflict of the Napoleonic wars. Later, the short-lived Treaty of Amiens allowed Baudin and his crew to enjoy a long stopover at Port Jackson. This broader context affected every aspect of Baudin's expedition.
Baudin's captaincy was a troubled one, dogged not only by illnesses common on long sea journeys including dysentery and scurvy, resulting from contaminated water and lack of fresh food, but also on account of the fact that a number of very young down-on-their-heels young officers – several still in their teens – who had signed up for this voyage, tended to despise Baudin.
These young nobles' relationship with Baudin was tense. Baudin was a product of the merchant navy, rather than of the more prestigious Royal Navy, and before the French Revolution he'd served the Austrian House of Habsburg. The premature deaths during the voyage of Baudin's three staunchest (and virtually only) friends and allies on board – the naturalist Maugé, the gardener Riedlé and the zoologist Levillain – further isolated Baudin.
On top of these issues, in July 1801 the Englishman Matthew Flinders, captaining The Investigator, was sent to Terra Australis on a "hydrographical" mission. Flinders' expedition was also one of scientific discovery: Joseph Banks was his patron, and the botanist Robert Brown and five other scientists were on board.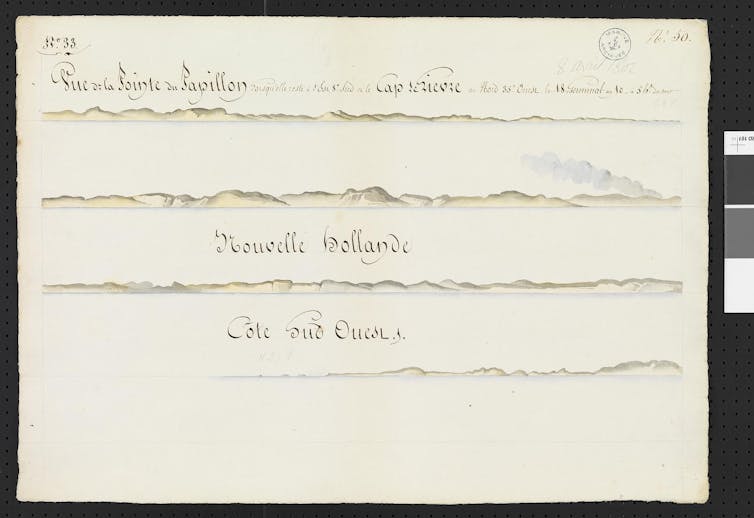 Flinders was hot on Baudin's tail, hoping to map the as-yet-uncharted parts of the island-continent. In 1802 the pair would meet at a place now called "Encounter Bay", in South Australia.
The expeditions of both the British and the French were ideologically underpinned by what would later become known as the "doctrine of discovery". This quasi-legal theological doctrine licensed Christian countries to take possession of non-Christian lands. However, in practice there were differences in how the two expedition leaders interpreted this.
In the case of Flinders, "discovery" was, in general terms, conceptualised as physical conquest; thus paving the way for Britain to continue to appropriate land without regard to Indigenous property rights, as Cook and later Governor Arthur Phillip, had done. Nonetheless scientific enquiry also played an important part in the Flinders voyage.
In contrast, Baudin's approach was, to a greater degree, founded on a desire for scientific discovery.
Floating laboratories
Also on board the ships, which have been described as "floating laboratories", were measuring instruments, including two chronometers per ship and a dynamometer, which viewed from the present-day perspective is a bizarre contraption.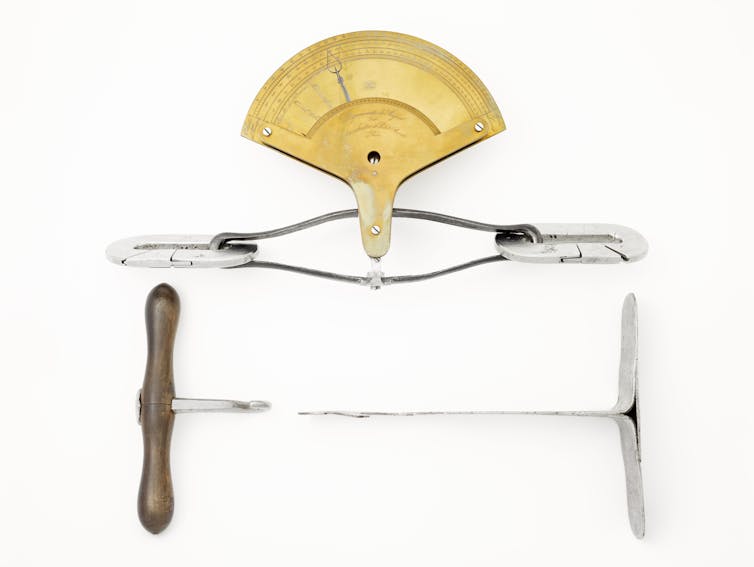 Originally created by French engineer Edmé Régnier to measure the muscular strength of humans and animals, it was repurposed by the naturalist François Peron to calculate the relative hand and loin strength of adult humans belonging to different racial and ethnic groups (in practice, what Peron termed in the narrative of the voyage as "savage" and "civilised" populations). As Australian academic Miranda Hughes has written, "[t]he dynamometer became the lever to overturn the cherished Enlightenment doctrine of the Noble Savage".
Baudin's artists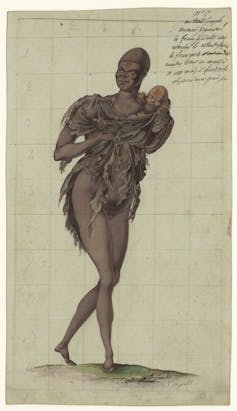 Both the Flinders and Baudin expeditions aimed to record geographical data and map coastal profiles: to capture information for posterity by whatever means possible, while "on the hop". On Baudin's voyage, this record keeping took the form of – among other things – written notes, measurements, drawings and paintings, portraiture of Indigenous people, and musical notation of the Indigenous ceremonies they had observed in the course of their voyage.
As a result of the earlier defection of the expedition's three official artists, two assistant gunners, the young Charles-Alexandre Lesueur and Nicolas-Martin Petit, were elevated to the position of ship's artists, thereby granting them an immortality that would otherwise have almost certainly eluded them.
It so happened that both young men were sublimely talented artists. It's their artwork, including depictions of what was regarded as the rare, exotic fauna of southern Australia, including seals, kangaroos, wombats and the now-extinct dwarf emus of Kangaroo and King Islands, that lie at the heart of this exhibition.
The French were not only recorders but also avid collectors. Various live "Antipodean" species, including a number of dwarf emus, were captured with a view to transportation back to France.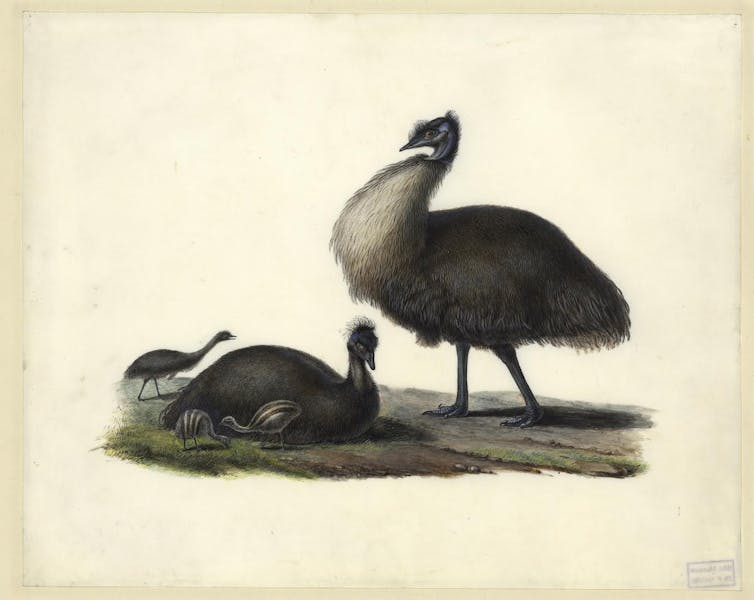 Even though Baudin ordered some scientists and officers to give up their cabins to house the emus, some died on the journey, with only two still living by the end of the trip. To this day, a lone, taxidermied dwarf emu remains in the basement of the Musée d'Histoire Naturelle in Paris.
Charles-Alexandre Lesueur's depiction of a small group of elephant seals basking on the King Island beach is a work of considerable tenderness. The elephant seals as depicted by Lesueur, with dark, alert eyes, long lashes, wispy moustaches, little beards, as well as their captivating corkscrew proboscises, lying basking on King Island beach, are testament to the artist's acute observational skills, and also to his humanity. At that time British sealers were actively engaged in clubbing this species to death and these seals were on the brink of extinction, although that has been avoided.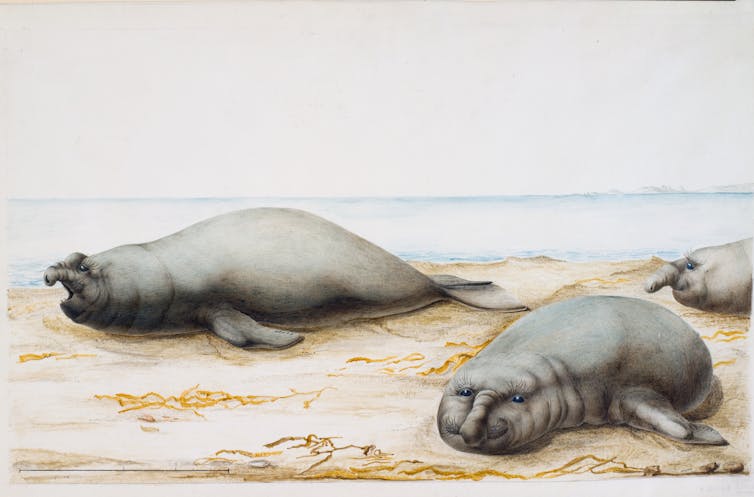 Petit and Lesueur's coastal profiles, including their transcendent imagery of the contours of Aboriginal "country" in southern Australia that are visible from the shoreline, exude a sense of immediacy and elegance underpinned by stylistic economy. A solitary plume of smoke billowing from one of these parallel strips, freighted with symbolism, is indicative of the human habitation of the Coorong area by the Ngarrindjeri people. It tells a powerful story, both historically and in its contemporary setting.
The drawings and watercolours of marine life made by Lesueur, including his bridled leatherjacket (a new species "discovered" during Baudin's journey), are also imbued with the breath of life. His works Molluscs and Zoophytes, and Brown Flecked Jellyfish possess formal qualities that seem to charge - and to illuminate - his subject matter.
Lesueur's "divas of the deep" and the other artworks on display in this exhibition collectively present a strong case for "aesthetic cognition" – when artistic interpretation creates a unique form of scientific and cultural knowledge. This is truly an art in service to science.
The lives of objects
It's now broadly accepted that – like people – objects, artefacts and artworks have their own biographies. As the British curator and archaeologist Jody Joy writes:
The biography of an object should not be restricted to an historical reconstruction of its birth, life and death. Biography is relational and an object biography is comprised of the sum of the relationships that constitute it.
Scheduled to tour Australia for two years plus, related objects and artworks are to be added to each new venue in all stages.
This touring exhibition ensures that new chapters will be added to the already lengthy and continuing lives of these remarkable artworks and objects – which have long outlived the lives of their creators and, in the case of the dwarf emu, its extinct congeners.
---
The Art of Science: Baudin's Voyagers 1800-1804 will be on display at the South Australian Maritime Museum until December 11, 2016.
Note that a handsome book, Nicolas Baudin's Voyagers 1800-1804, edited by Jean Fornaserio, Lindl Lawton and John West-Sooby and published by Adelaide's Wakefield Press accompanies this major touring exhibition.