Imagine you are a sixth grader.
Each of your classmates is going to the computer lab for a math lesson on ratios and proportions. They sit down at their computers, launch the tutoring program and get to work.
Everyone but you – because you can't see the screen: you're blind.
You've tried screen reading software but it hasn't worked very well. Your teacher has tried to help but no one in the school really knows how to set up, maintain and trouble-shoot assistive technologies.
The program isn't available in braille, so you end up doing some basic worksheets instead of participating with your classmates.
The growth of online learning has thrown up new challenges for those with visual impairment as the learning tools are often not available. It's also been a challenge for those working on making websites accessible to the visually impaired. It takes extra work and testing.
Now, the Animal Watch Vi Suite (AWViS) project based at The University of Arizona, is developing a math tutoring program for middle school students who have mild, moderate or severe visual impairments.
I am part of a group of researchers combining the software program with more traditional resources such as large print or braille books, to enable visually impaired students access new technology.
A new app for visually impaired
We have developed an iPad app that is supplemented with print and braille materials. We decided on an iPad app when we realized that tablet devices were starting to become a potential alternative to the desktop computers that are typically found in schools.
Students who are blind can touch the left side of the iPad screen to hear the math problem, or the right side to hear a description of the picture illustrating the problem.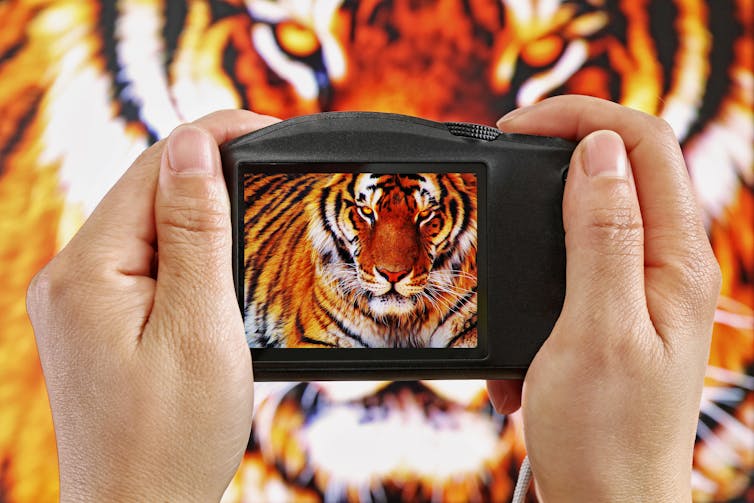 The good thing is that most students with visual impairment have some vision.
Students with low vision can double-tap to enlarge the print to the size that is right for them.
The app provides students with support for their math problem solving. Students get three attempts on each word problem. Those with some vision can use an integrated Scratch Pad for working out the solution.
If a student is unable to solve a problem, he or she can watch a screen-capture, fully-narrated video showing the solution, turning a failure point into a learning opportunity. The narrator describes each step so that the explanation can be understood by a student who is blind.
Students always have the option to "give up" on a problem if it is too difficult, but they rarely do.
Why an animal app works well
Problem sets involving endangered or invasive species, such as the Snow Leopard, California Condor, Poison Frog and Burmese Python, among others, are used to cover different math topics. The reason we used animals to create word problems is to provide additional science learning.
For example, the module on unit conversion focuses on the Burmese Python. Students learn that these snakes are endangered in their native Asia but are becoming an invasive pest in Florida.
People who bought the snakes as pets because of their beautiful patterned skin often did not realize that the snakes could grow to be the size of telephone poles. When released illegally into the Everglades, the massive snakes thrived, and are displacing native species.
In this unit, students solve word problems about the length and girth of the snakes, the distance that they can travel and the value of their skin for leather goods.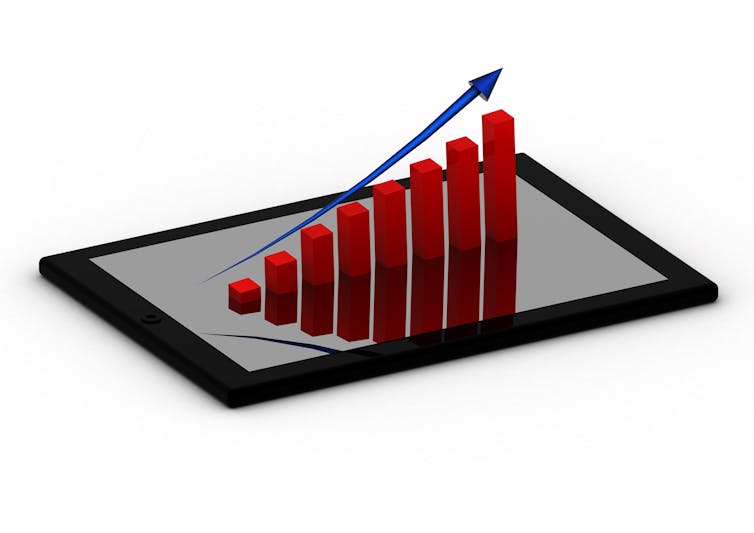 Providing this background information is especially important for students who do not always have the opportunity to learn about the world through pictures. The animal sounds have proved to be especially popular.
Because math problems with graphics often appear on math achievement tests, we designed 20% of the word problems to involve maps, charts or graphs that contain information the student needs to find in order to solve the problem.
For example, on one problem in the Polar Bear unit, the student must use a line graph to identify the change in sea ice in the summer from 40 years ago to today. Students can view the graphics on the iPad and listen to an audio description by touching the tablet surface, or they can refer to hard copies with embossed lines, textures and print or braille labels.
Many students do find it hard to view the graphics on the tablet screen. Most rely on the hard copies while listening to the audio on the iPad.
Elsewhere too, researchers are developing new tools to fill this emerging need. Ed Summers, who is himself blind, is leading a team of developers at the SAS Institute in North Carolina to make software more accessible for the visually impaired.
Derrick Smith at the University of Alabama in Huntsville is leading a project to develop online professional development training to help math teachers understand the needs of students with visual impairment.
Susan Osterhaus at the Texas School for the Blind and Visually Impaired, serves as a national resource for best practices in math instruction for students with visual impairments.
Students have found the app useful
Such apps are finding a wide reach. This year, 65 students with visual impairment are using the AWViS materials in their schools in 22 states. Feedback from both students and teachers has been very positive.
One theme is that the technology seems to promote students' independence. One said,
"When [I worked on paper] my teacher had to help me once in awhile. When I used the app she didn't help me as much. With the app I didn't really have to ask for her to help me."
Teachers said students seemed more engaged with the app and less likely to ask for help or reassurance.
Almost every student reported preferring the app to his or her typical learning medium.
"I liked the app better. I was able to use the hints which you don't get in the print. It was easy once I figured it out."
The scratch pad was really helpful." "I used the hints and solution videos. They helped me understand it better." "I liked knowing if I got the answer right with the app."
With the growth of new technologies, there is an increasing demand for knowledge. Just recently, the online education provider edX settled with the US Justice Department, agreeing to make its Massive Open Online Courses (MOOCs) accessible to students with disabilities.
There is an urgent need to work on more technologies to ensure that everyone has a way of accessing knowledge.