We all want to spoil the children in our lives at Christmas time. Some of us like to sneak in a bit of learning too.
From an educational perspective, toys are an excellent way to engage all ages in STEM (science, technology, engineering and mathematics).
Here we've put together some tips for those of you looking for yuletide shopping inspiration beyond just the typical array of toys marked "science and technology" on the shelf.
---
Read more: Why we're building a climate change game for 12-year-olds
---
But first, a quick wrap of key terms.
Science is about exploring the nature of things, and involves skills such as predicting (hypothesising), observing, collecting data, fair testing, explaining and communicating.
Technology is a process that builds over time, and involves meeting a need or solving a problem. It includes both design technologies and digital technologies.
Engineering, very simply put, involves how systems can be put together to produce the desired outcome. For young children this is almost the same as technological skills.
Mathematics should go beyond just measuring and counting, and incorporate problem-solving skills such as those involved in coding.
Under the STEM umbrella, it's also important to consider what are termed "21st-century skills", such as critical thinking, problem-solving, creativity, innovation, communication and collaboration.
I want a robot
Many of us have access to smart phones and portable computing, and apps – including those that feature augmented reality such as Pokémon GO – are incredibly popular and accessible.
But moving beyond just regular use of digital technology, coding and robotic products are available that teach children how coding works, where it can be applied, and what its limitations are. These include programmable toys that can be operated by simply pressing buttons or sequencing physical tokens to produce movement.
Devices such as Beebots and Cubettos allow children to use their imaginations to create scenarios – for example, tunnels, roads or bridges – that their robot can negotiate. Kids learn planning, algorithmic thinking, and mathematical reasoning.
More sophisticated robots such as Spheros or Edisons connect toys to tablets or computers. Children must negotiate the constraints and opportunities of the real world – for example, slopes, different surfaces, and wind – and test their code under different situations. These toys encourage children to think creatively when coming up with their solutions.
In the future we will see more toys building in augmented reality, with many companies now investing in the interactivity between physical and virtual worlds. The goal is to build products that allow children to use physical objects and real-world locations (via GPS) in conjunction with computational devices, not only on their own, but also in competitive and collaborative environments.
Old-fashioned fun
Even with the rise of digital technology, board and card games and building toys are still very popular. Chosen carefully, these too allow players to learn about important aspects of science.
Popular collaborative board games such as Pandemic are praised for their accurate depiction of how health workers respond to disease outbreaks. Children see the real impact of disease, how it can spread across the world, and the role of science in bringing outbreaks to a resolution. Children also learn collaborative problem-solving skills, computational thinking, and the benefits of planning and sequencing.
Science literacy can also improve by playing board games. Card games like Organ Attack! give children the opportunity to learn about real diseases and the organs that they affect – for example, hepatosplenomegaly, a disease that affects the spleen and the liver. Amusing drawings – the game is based on the comic series The Awkward Yeti – depict the organs in an engaging and entertaining way, which adds to children's understanding of their own body parts.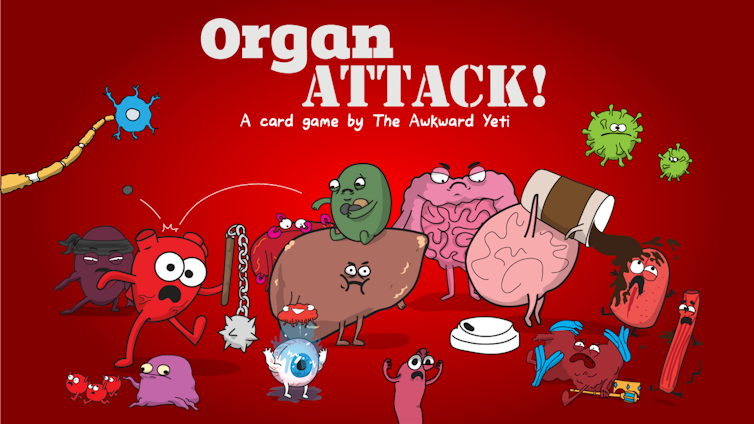 Construction sets are also useful for developing a range of STEM skills.
At a basic level, simple wooden blocks have been shown to bring many benefits to children's development, including spatial reasoning and language.
---
Read more: Blocks are still the best present you can buy children for Christmas
---
More complex building sets can involve digital aspects such as designing, making and programming robotic toys.
Consider toys that give children the scope to go beyond simply putting the pieces together according to the instructions, but also encourage them to use their imaginations to turn the pieces into something unexpected.
Tips to get it right
It is worth noting that when children engage with toys and games with a STEM focus, they will not necessarily be aware of the knowledge and skills involved. Parents can support their children's scientific thinking, elaborate on scientific information, and help them structure meaning from their observations, using the following tips:
question children about their ideas
gently highlight inconsistencies in their thinking that contradict the evidence in front of them
support them in not focusing on only one piece of evidence, at the cost of other relevant information.
It can be difficult to get the balance right between digital technologies that involve individual use (and can isolate children) and those that focus on collaboration and conversation. To address this concern,
look at how you may tap into the skills and knowledge that are learned
focus on apps that encourage multiple players, turn taking and collaboration.
Toys and games that involve friends and family members are more than just fun: they can foster new skills, challenge children to work in a team and encourage thinking and idea development.