There is one question that Tony Windsor, the high-profile former crossbencher from the Gillard years who is attempting a comeback in New England, is unwilling to answer.
That is: in the (admittedly unlikely) event of a hung parliament, which side would he support to form government?
Windsor, who represented the regional New South Wales seat as an independent from 2001 to 2013 when he retired at the election, is proud of what he achieved in the hung parliament. He signed a deal with Julia Gillard and his seat did well out of it.
But if he was elected on July 2 and history repeated itself, he's adamant that he wouldn't put his name to an agreement.
Beyond that, he won't be drawn on where his support would go – a question some voters might like answered given they were surprised by his decision in 2010.
All he will say is: "The government should be formed on the floor of the house."
Windsor has gone from top dog when he was the member to being, as challenger, the underdog in the seat, which was won in 2013 by the Nationals' Barnaby Joyce, now deputy prime minister. These days it is Joyce who has the capacity to deliver largesse, a point he makes in campaigning.
Joyce plans to move the Australian Pesticides and Veterinary Medicines Authority, part of his Agriculture Department, from Canberra to Armidale, involving 195 jobs. The Canberra public servants don't like the idea, but Joyce says he believes in decentralisation.
In other circumstances New England might be neglected at this election. But the fact Windsor is standing and it is a tough contest means it gets another round of special attention.
New England's major centre is Tamworth, Australia's country music capital. Both Joyce and Windsor live close by. The electorate includes Armidale, home of the University of New England, and also Tenterfield, famous for its links to the federation movement.
Former Nationals leader Ian Sinclair held what was traditionally a Country Party stronghold, but his successor, Stuart St Clair, lost it to Windsor.
At the start of this long campaign Joyce is regarded as favourite, although he was not doing so well in polling done earlier on. He describes himself as "confident but not cocky".
Windsor says the seat is "winnable". His supporters are committed and vocal and, thanks to his national profile, include people from outside the electorate. It is said that older female voters are particularly loyal but there is hostility among male voters about his support of the Labor government.
This is surely one of the most personally charged contests in the nation. Windsor, a one-time member of the Nationals, has a long-held hatred of them, based on old grievances. The Nationals reciprocate the bad feeling.
A second high-profile independent, Rob Taber, who is from Armidale and owns a solar business, is bitter about Windsor. Taber ran at the last election and scored a primary vote of nearly 14% and a two-candidate vote of 35.5% against Joyce. This encouraged him to have his eye on this election because he believed he would have an effective monopoly on the independent vote. He says that Windsor had told him twice that he would not contest. Now Taber is the also-ran candidate.
Windsor names as high on his long list of issues Gonski school funding – there are Gonski billboards around the electorate courtesy of the teachers' union – and the proposed Shenhua coal mine which is now, after the electoral redistribution, just outside the seat.
When The Conversation visited New England at the weekend Windsor drove us to the Liverpool Plains where Shenhua has bought up 43 farms. He talks passionately about the rich black soil and the water system that is under potential threat from mining, if the plan goes ahead.
Windsor, who previously sold land to a mining project, insists he's "not against mining". Rather, he believes the proper studies, which he says would take years, have not been done for the Shenhua or a BHP mine that is also in the pipeline.
Joyce says he's totally against both proposed projects. "Neither mine should go ahead. It's some of the best agricultural land in Australia. There's coal under Sydney – I don't think there should be a mine there either," he says.
Joyce's hard line is despite the fact that the federal government has given approval for Shenhua, although Environment Minister Greg Hunt subsequently agreed to a further consideration of water issues, which is not yet complete.
A ReachTEL poll done for the Australia Institute in March of 662 people in the electorate found 62% opposed to the "proposed Shenhua coal mine on the Liverpool plains", with 26% in favour.
The future of the Shenhua Watermark project is uncertain. It still has to get state government approval, and low coal prices have thrown an economic cloud over it.
Windsor says that gearing up for another run at the seat hasn't been difficult. "It took me about a day to adjust – then it was like I never left, in terms of the work." He has ten people working full time in his office and says he has done more than 20 public meetings.
He plays down the blowback for supporting Labor, suggesting many of those people had never backed him. And after Tony Abbott was dumped by the Liberals, people said to him they now understood his decision, he says.
Nevertheless, among some in the electorate memories of his deal are strong and negative.
Windsor will get Labor and Green preferences; Taber is running an open ticket. Windsor argues that given the likely preference flow, Joyce needs a primary vote in the high 40s to win. ABC election analyst Antony Green agrees, pointing out that Liberal MP Sophie Mirabella was defeated in Indi in 2013 on 44.7% primary vote.
The March ReachTEL poll had Joyce on 43.1% primary vote and Windsor on 38.0%, with Labor on 7.1% and the Greens at 3.4%. The Conversation's poll analyst, Adrian Beaumont, wrote at the time that, while no two-candidate vote was given, it was "likely that Windsor would lead on this poll given strong preference flows from Labor and the Greens".
Joyce is juggling national and local campaigning, spending three days in his seat some weeks and four in other weeks. He will be in Indi and Murray in Victoria this week, and talking with dairy farmers about the current squeeze on their prices.
When we joined Joyce at the Armidale farmers' market on Sunday, he was in some of the hardest territory for him. Armidale, with its university-town feel, is the sort of place that is sympathetic to independents – last election Taber beat Joyce there.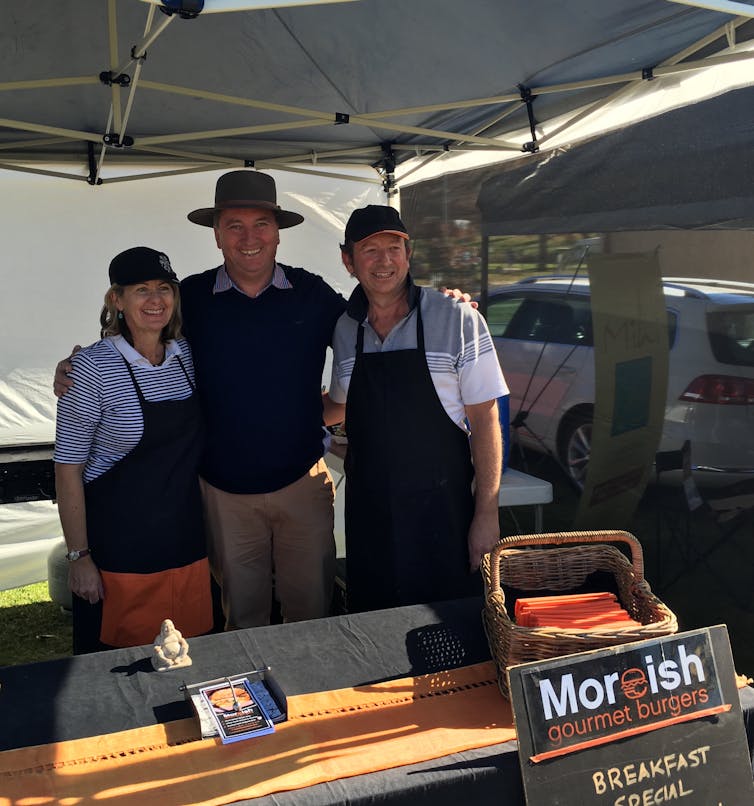 On the drive back to Tamworth, Joyce stops at Bendemeer. He hopes to catch his parents, who have a property nearby, at the coffee shop where they drop in after attending mass. He misses them by minutes, but sits down with a local farmer he knows who's clutching a big "I'm backing Barnaby" sign, which he said was handed out at the church – though not by the priest, he adds hastily.
The farmer proves to be very across some ins and outs of Canberra gossip. An amused if slightly startled Joyce reminds the man he's just been to mass.
Joyce says he gets a lot of support from such small towns.
One of the ironies of Joyce's campaign revolves around wind power. He used to be a critic but the other day he opened a A$400 million wind farm project being constructed near Glen Innes. It will be bigger than any wind farm presently operating in NSW, according to a statement last month from Hunt.
"These are the cards I'm dealt," Joyce says. "I will play them to the best of my ability for the best outcome for the people I represent."
He says that some years on the New England electorate will be a net exporter of renewable energy.
So, is he a convert to wind power or just a pragmatic realist? He opts for the latter description.
Postscript
Greens candidate Mercurius Goldstein has pointed out that the party's preferences will be determined by the local membership after nominations close. In 2010 the Greens preferenced Windsor; in 2013, Taber.