It's only been a week since the London Olympics drew to a close and already athletes are starting to focus on Rio 2016. Of course, for the International Olympic Committee (IOC), it's not four years until the next Olympics – the Winter Olympics in Sochi, Russia, is less than 18 months away.
A major goal of the IOC is to encourage "knowledge transfer" from one games to the next. As such, representatives from Sochi and Rio were asked to participate in the IOC's Observer Programme in London.
More than 100 volunteers from both the Sochi Olympic Games and Paralympics Games visited London and were involved in diverse fields from transportation to linguistic services. The Rio 2016 team brought 152 staff from their organising committee and another 52 government representatives were involved in the Observer Programme.
We built this (Olympic) city
With Sochi less than two years away, there is a frantic push to finish sport venues so that "test events" can occur before the Games take place. Similarly with Rio, even though the Games is four years off, one of its facility challenges has been the creation of a top-level golf course in Brazil – a nation with little current interest in golf.
Golf was recently added as an Olympic sport and 2016 will mark its first appearance since the 1904 Olympics in St. Louis. Rugby 7s will also be added to the Rio program and it too will need appropriate playing fields.
Many of the venues in London will be taken down and used elsewhere. There's even a chance of Rio taking on some of these large transportable structures. The London basketball venue is one case in point. The stadium's modular and temporary construction means it could be deconstructed and shipped to Rio for the 2016 Games.
Home-town advantage
In terms of getting top results as a host nation in 2014, Russia has undergone an administrative restructuring of its Olympic sports. Results in Vancouver in 2010 (including a failure to get a men's ice hockey medal) were seen as unacceptable.
As a result they have employed a significant number of Canadians with Olympic expertise following their successful "Own the Podium" results in Vancouver. The Russians are trying to do everything to get a similar positive result to the one the Canadians managed in Vancouver and similar to Team Great Britain's outstanding results in London.
Word is also out that the Brazilians were not very happy with their overall London results. They now have four years to improve and no doubt they too will pull out all stops to climb up the medal list in a home Olympics.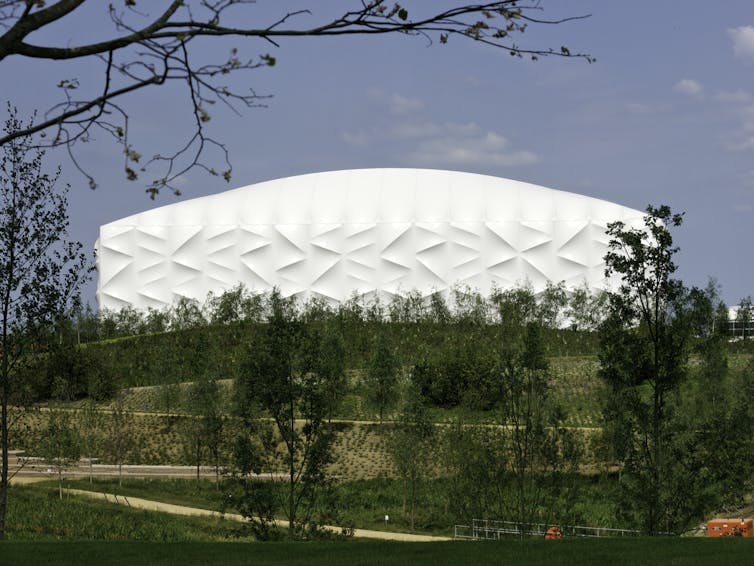 Talking points
As Australia prepares for both Sochi and Rio here are some suggested areas in need of review and attention:
In the Winter Olympics we are actually performing quite well, and our small Olympic team of less than 50 athletes will not be under as much scrutiny. Besides, two years isn't long enough to do much.

We could trial an Australian Olympics Committee-backed Olympic House – a home-away-from-home that most other major Olympic nations have but Australia doesn't.

Before Rio there will be a hard look at funding of high-performance sport. Was the $10m cost per medal acceptable? Do we need to increase the expenditure? Should we even try to keep up?

Should we consider an Olympic and sport lottery as has been done in the UK?
(The British buy tickets in their national lottery which supports various sport and arts "funders", including UK Sport. This body receives some profits from the lottery, money which is then used to fund British Olympic sports.)
A lottery would take some of the heat and criticism off ever-increasing public funds being used to maintain our Olympic reputation.
We should take another look at the Crawford Report into government expenditure on sport and explore how to get the correct balance between support for physical activity, recreational sport and high-performance sport.
The idea of having successful athletes who end up earning a substantial sport income paying back government financial aid may not be a bad idea.
More emphasis on sport in schools is part of a bigger challenge we face with sport and allied areas of physical education, physical activity and healthy lifestyles. We have to get the formula for curriculum in this field right in light of the obesity and other health issues faced by a large number or Australians.
Whether this translates into more medals is not the major concern. We need a fitter and healthier population.
So while many of us will now forget about the Olympics for a year or so (the Paralympics nonwithstanding), the countdown is well and truly on for the Sochi Olympic Games.
Before you know it the calendar will read February 2014 and we will be gearing up to watch a sporting spectacle of major interest to millions (if not billions) around the world.
As one of only two nations (the second being Greece) to have competed in every summer Games, Olympic sport is well and truly in our blood.