Just over half a million 16-year-olds in the UK will collect their eagerly awaited GCSE results today – just as they have done for the last quarter of a century.
The difference this year is that for pupils in England, those results will take some explaining. There will be a mixture of familiar letter grades (A*-G), unfamiliar numbers (one-nine), and entirely new labels: good pass, standard pass and strong pass. And some experts are warning that statistically the new system is more likely to throw up incorrect results.
That's because this year's students are the first to experience Michael Gove's "more challenging, more ambitious and more rigorous" GCSEs. And they will have to spend the rest of their lives explaining the complicated mixture of grades on their CVs.
Plans for the changes were first announced back in 2003, when the coalition government confirmed its intention to reform GCSEs. This included changing the content as well as the grading system – beginning with English and maths – in a bid to eliminate differences between exam boards. It was hoped the changes would also help to remove tiered exam papers which potentially cap the achievements of some students.
Another aim of the reforms was to remove coursework from the syllabus, in favour of end of course exams. But it seemed these changes also meant harder exams with more challenging content in the courses – introduced to eliminate what Michael Gove called "the pernicious damage caused by grade inflation and dumbing down", even though the evidence for this is still contentious.
The new system
For the first time since the introduction of GCSEs in 1986, the grading system for the new qualifications will be numerical, ranging from nine (the highest) to one, with the poorest performing students still receiving a U grade.
It is immediately apparent that there cannot be a direct equivalence between the eight old A* to G grades and the nine new grades. This is why The Office of Qualifications and Examinations Regulation (Ofqual) issued schools with so-called "postcards" to illustrate how the new grades would align with the old ones. These show that a "strong" GCSE pass is now identified as the new grade five – equivalent to the top half of the current C grade. This is the government's benchmark for a good pass.
So far, so good, but unfortunately for students there's an added complication, because the new GCSEs are being introduced in three waves. So this year, English language, English literature and mathematics results will be graded under the new system, while the main bulk of curriculum subjects will be marked this way next year – and most of the remaining subjects the year after that.
Grade confusion
This means students finishing their GCSEs in 2017, 2018 and 2019 will have a mixture of numbers and letters on their certificates. And to add to the potential confusion, education secretary Justine Greening, announced earlier this year that the accepted understanding of a good pass (currently grade C or above) would die out, to be replaced instead with a "standard pass" (grade four) and a "strong pass" (grade five).
Schools will be measured on the number of children who manage to achieve grade five or better. While for students, grade four should be enough to secure them a place with a college, university or employer.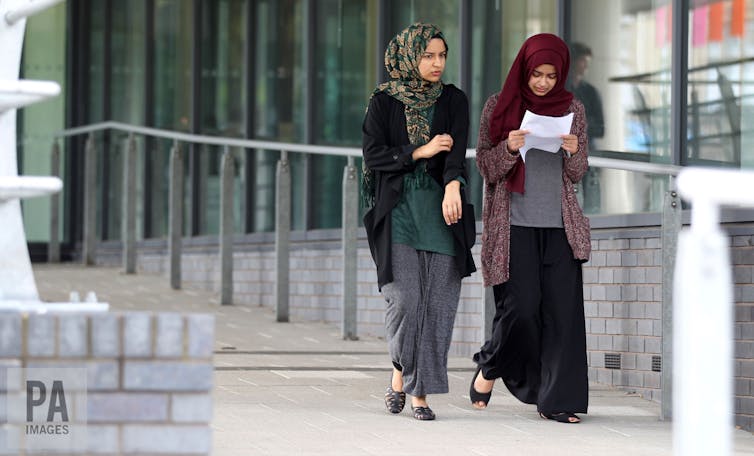 Conversations I've had with employers and parents suggest that most people who work outside of the world of education are unaware of any changes to GCSE grades. For the few who are, it seems there is confusion over the way the scale works – leading some parents to question if a nine is the top grade or a one? This is despite the minister for education Nick Gibb's admission in July that over half a million pounds has been spent educating the public about the new qualifications.
So irrespective of the ongoing debate that GCSEs have now become harder, who would envy this week's 16-year-olds trying to explain to grandma that they've got half a dozen good passes, two standard passes and a strong pass? It's a conversation they'll have to rehearse for the next few years until the new system has bedded in. But until then, it seems the muddle of grades and numbers and passes will be something many will have to become familiar with.