We're celebrating International Women's Day for the 107th time. It has a longer history than is often supposed and, as reflected in its still occasionally used Leninist title – International Working Women's Day – a more socialist one.
There were exceptions, but the West as a whole didn't really latch on until 1975, when March 8 was proclaimed the UN Day for Women's Rights and International Peace. Since then, the UN has badged and orchestrated the commemoration, most notably with its 1995 Beijing Declaration and Platform for Action. This set the agenda for realising women's rights, and the theme of this year's Beijing + 20 campaign.
The UK may have been among the later arrivals, but this year, of the 1,000+ events listed on the International Women's Day website, it contributes virtually twice the number of any other country. These include awards ceremonies for women in business, exhibitions and talks, as well as a "Gathering of Goddesses, celebrating ourselves, all women and Mother Earth" at The Hurlers stone circles in Cornwall.
Sadly, one thing the goddesses won't be celebrating is their country's narrowing gender gap — because narrowing it isn't.
According to the World Economic Forum's Global Gender Gap Index, the UK's gender gap hasn't closed at all over the past decade in absolute terms. Judged alongside more than 140 other countries, the relative gap on the overall index has widened, as it has in all four of its sub-categories. For some of these sub-categories – most notably political empowerment – it has widened absolutely.
On each index, the highest possible score is 1 (equality) and the lowest is 0 (inequality). Expressed in percentages, the UK had closed 74% of a potential 100% gender gap by 2006 – placing it 9th in global rankings. That might seem respectable, but in 2014 it remained stuck at 74% and its ranking had dropped to 26th. The UK had failed to make any progress on closing the gender gap in nearly a decade.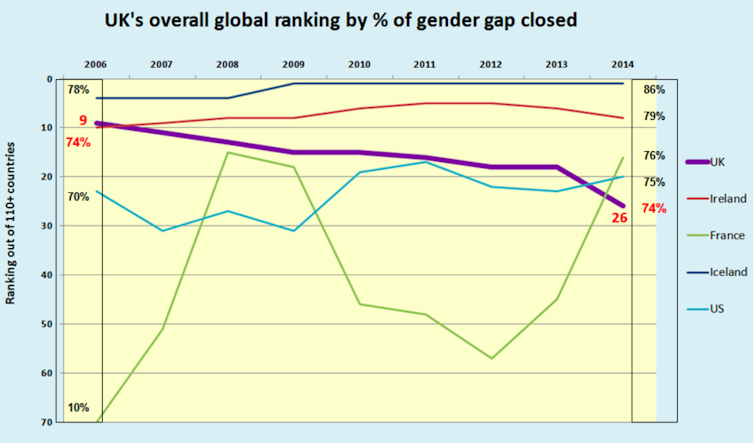 Countries that overtook the UK in the meantime included not just the US and France, but others from parts of the world one wouldn't necessarily expect. Nicaragua had climbed to 6th, Rwanda to 7th and the Philippines to 9th. Latvia is in 15th place, Burundi 17th and Bulgaria 22nd.
Damning detail
The four sub-categories of the gender gap index paint a pretty sorry picture too. They measure economic participation and opportunity by labour-force participation rates, remuneration, and career advancement; health and survival by factors such as healthy life expectancy; educational access and attainment; and political empowerment by comparing ratios of men and women in political office.
The figures underpinning the economic participation sub-index show that the UK fails to rank even as high as 45th place on any measure. For estimated earned income, based on UN Development Programme methodology, the unclosed gender gap remains 38% – meaning women earn on average 38% less than men.
The findings on educational attainment are slightly less embarrassing. In fact, for enrolment in tertiary education, based this time on UNESCO statistics, there is a 36% female-to-male gap – more women than men – although this is somewhat counterbalanced by a more standard 6% male-to-female gap for primary education enrolment.
UK rankings of 63rd for women MPs (148 of 650) and 75th for women ministers (30 of 121), seem, by international standards, lamentable. Other countries are closing their gender gaps, some completely – like Finland's ministers and Rwanda's MPs – while the UK's, from a very much lower base, have actually widened.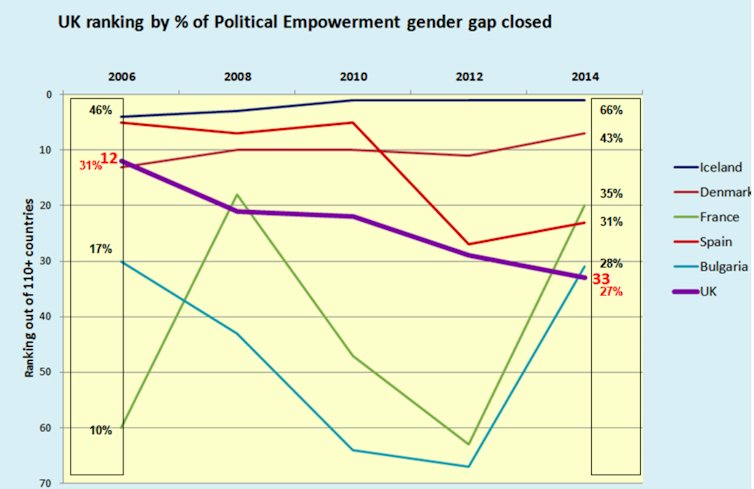 About the best that can be said is that at least the bar for the next parliamentary hopefuls to try to jump is set pretty low.
So happy International Women's Day. Women in the UK have hundreds of events to choose from to mark the occasion. What they don't have is equality in the parameters that many feel matter most. Perhaps next year, we can look forward to some meaningful progress on this front.