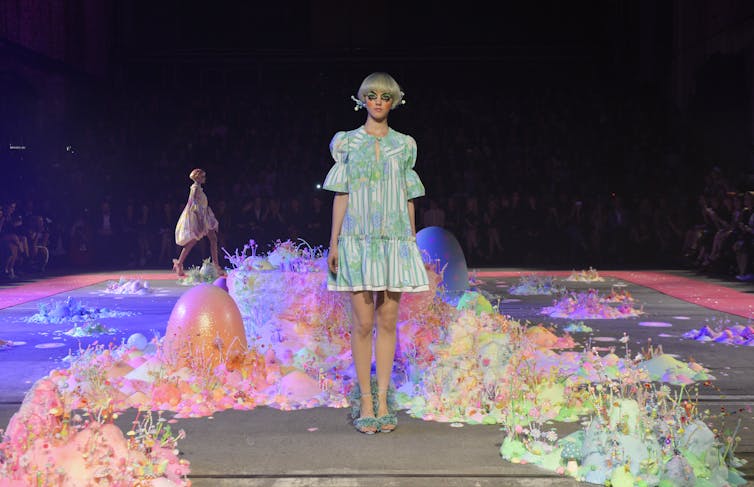 I've always found fashion shows intriguing. Maybe it's my natural curiosity, which is only heightened by the fact that people not in the industry are excluded from attending these events, or maybe it's just my indefatigable interest in fashion, but I always want to know more.
A well-written piece of fashion criticism can illuminate and contextualise a collection, indicating its relation to contemporary ideas about being in the world, or the bigger ideas that fashion can literally make material. Fashion criticism can critique the success of design or execution of vision, comment on innovation (or lack thereof), and generally communicate the central ideas organising a fashion house's new range.
But what fashion criticism does not usually make available is a sense of what it is like to be there at a show. Fashion shows are not just events at which clothes are put on models and walked down a runway, they're not just for the display of the new. They are live performances with all of the attendant characteristics: an audience observing live performers, a stage, lighting, music, costumes. They are one-off events, bound by the place and time at which they occur, never to be repeated and, often, not filmed.
Photographs on websites such as Style.com show the clothes look by look, but also don't offer a full picture of the event. Social media has, in some sense, stepped into this information-void as show-goers rapidly document the view of the set from their seat (such as at Marc Jacobs' recent show in New York, where the set-piece clouds caused quite the stir on Instagram. See also: the Chanel Supermarket).
Fashion shows are partially recorded by all of these media, and yet there is little reflection on how all of the performative elements worked together, and why, to complement or take further the message of the collection shown.
Of course, we can speculate: the elaborate realisation of the shows of Australian labels such as Romance Was Born or Camilla take us into the world of the label, as a spectacular and immersive show can give a different kind of imaginative life to the clothes. Or perhaps we might cynically observe that the more visually arresting a show, the more people will talk about it and, hopefully, as a corollary, the clothes.
Shows help labels get on the radar of their potential customers. They are a way of physically saying "here is my work, here is my label." And yet this speculation still brings us no closer to understanding the role of the live performance in this process – especially as they are performed for industry only, and so rely on attendant media to circulate "the message."
As a way of examining the dynamic series of live fashion performances that is Mercedes-Benz Fashion Week Australia (MBFWA), April 6–10, I will attend a number of shows at Eveleigh Carriageworks in Sydney next week to report back on what it's like to be there.
How I propose to do that is to follow an ethnographic methodology proposed by anthropologist Clifford Geertz. Good ethnography (that is, research drawn from immersion in the field amongst the people you're studying, with the aim of scientifically recording their customs and culture) tries to reflect what people think they're doing. In Geetz's words "understanding a people's culture exposes their normalness without reducing their particularity. It renders them accessible […] and dissolves their opacity".
In other words, to understand what people think they're doing, our research should be grounded in observing them. These observations lay out what people do, while at the same time offering enough information for the reader to interpret what is going on.
Geertz calls this kind of anthropological writing "thick description", an interpretive, descriptive passage that lays bare all of the stuff of a culture – or, in my case, all of the stuff of a fashion show, which itself reflects the culture of both the showing label and the Australian fashion industry. Such writing is imaginative but based in fact, "fictions" in the sense that they are fashioned or made, but without the connotation of falsity.
So what you will find on Material Visions from Monday through Thursday next week is a series of columns describing in close detail the fashion shows I've attended. I will render for your eyes what it is like to be there, both at the shows and at MBFWA. I will try to recreate each show as a live event in detail, from the impatient queueing outside the venue to the beats shaking the floor, and in this way, to clarify what has gone on.
This will reduce the puzzlement and mystification that can arise for the rest of us curious onlookers observing the spectacle from a distance.