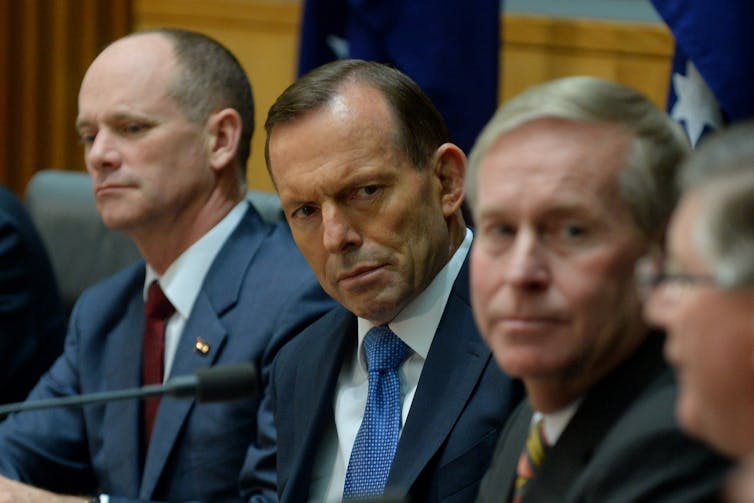 As the government hosed down both expectations and alarm over the Audit Commission's more radical recommendations, Treasurer Joe Hockey announced that on the pension age, the budget will be bolder than the commission.
The much anticipated increase to age 70 would take effect from July 2035, well before the commission's suggested 2053, but still providing people with plenty of time to prepare. "Anyone who is entitled to the pension now is certainly not going to be affected," the Treasurer said.
Hockey recalled that the Coalition gave Labor backing to raise the pension age to 67 by 2023 and said the government also expected to get bipartisan support.
But many of the proposals in the audit report, released on Thursday, are on what Hockey calls the "courageous" side and Tony Abbott had to deal with some at his news conference with state and territory leaders after their Council of Australian Governments meeting.
When premiers were asked – in relation to the Commonwealth's review of federalism - whether they favoured the commission's idea of states having a dedicated slice of income tax and taking sole responsibility for health and education, Abbott jumped in before they replied.
He said it should not be assumed this was "some kind of a necessary blueprint for our nation". Yet that is how the commission's report comes across.
The federalism white paper would be looking to how things could be made better, but "we're not going to turn the world on its head here". It was a matter of "sensible incremental change, where it can ensure that services are delivered better in an accountable and transparent way".
The commission had had something to say on the subject, a useful contribution but "no one should assume that just because it was contained in the Commission of Audit, that it is necessarily likely to happen", or that it was the government's favoured position.
There was a diverting stoush between premiers over the commission's recommendation for sharing all GST revenue on an equal per capita basis (with the Commonwealth topping up current recipient states to ensure no state was worse off compared with the existing equalisation process).
Western Australia's Colin Barnett and Victoria's Denis Napthine were in favour. Labor's Jay Weatherill, from South Australia, let loose on WA. Melbourne and Sydney had bankrolled the creation of this nation, he said; WA had earlier been a net receiver of resources and had only recently struck it rich. "They have decided they want to essentially cut themselves adrift from the rest of the federation, which I think is intellectually bankrupt and also morally bankrupt. If they want to take this to its logical extreme, all the dough should stay in the Pilbara, it shouldn't flow to Perth."
The vexed issue of the GST distribution will be something for the government's taxation white paper.
Asked whether he'd like that paper to examine the commission's suggestion that the states should be able to raise a portion of income tax, Abbott said a discussion was fine but "I don't think anyone should assume that is a likely outcome and the last thing I want to see is any idea of double taxation."
He stressed that if there were to be any substantial change "obviously it has to be something which is supported by the Commonwealth government and obviously it would go to an election".
Despite his one-time centralist tendencies the now federalist-minded Abbott reiterated that "in principle I would like to see each level of government more sovereign in its own sphere".
Meanwhile commission head, businessman Tony Shepherd, endured a grilling at a parliamentary committee.
Shepherd has come across in the past couple of days as a zealot for his tough changes, and not fazed about the politics. Despite the government enthusiasm for an audit, that now makes him a somewhat awkward fit with those who have to keep the voters in mind.
Listen to the new Politics with Michelle Grattan podcast with shadow assistant treasurer Andrew Leigh here.