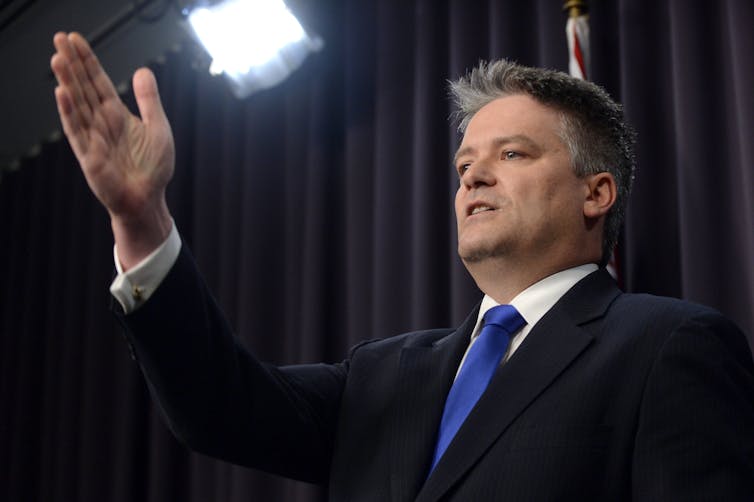 About to break trust with the voters, the government has brazenly decided to appeal to the public to "trust" it.
Is someone trying to channel John Howard from the 2004 election when, accused of being untrustworthy by Labor, the then PM turned the tables and successfully made the election about who was to be trusted to run the economy?
Whatever the thinking, it looks to be adding insult to the injury suffered by those who thought Tony Abbott meant what he said at election time about not putting up tax.
With Wednesday's cabinet dealing with the highly controversial debt tax, Finance Minister Mathias Cormann met the media to essentially confirm the rise for high-income earners. Some sources suggested a 1% hike for those over $150,000 and 2% over $180,000 while others indicated the numbers were not firm out of the cabinet discussion.
Cormann said he understood the concern about the speculated increase; the Coalition certainly wanted lower taxes. But there was a need for "an immediate special effort" and it had to be spread fairly, with the only way to include higher-income earners being through the tax system.
"What we would ask people across Australia to do is to trust us. We have reviewed all of the information on coming into government, we have worked very carefully through all that was in front of us and we have made the judgements that we think are necessary … in order to build a stronger, more prosperous economy."
Cormann delivered his "trust" appeal twice so no one could miss it.
But the message is hard to get over when Liberal backbenchers – Teresa Gambaro, Warren Entsch, Cory Bernardi – are declaring the levy would breach trust, given Tony Abbott's unequivocal commitment.
Even more potent for future use by the opposition was former treasurer Peter Costello's contribution to the debate earlier this week. Costello argued against the levy on economic grounds but most importantly he pointed out that "attacks over tax promises can be devastatingly effective. Just ask Julia (There will be no carbon tax under a government I lead) Gillard, or Paul (L-A-W tax cuts) Keating."
Abbott and Treasurer Joe Hockey might hope that the current situation is different because this tax will hit relatively few people, who are well off. But that's a gamble, when the government is already unpopular.
Nor is there much sign that the public is too galvanised by the budget emergency that's being used as justification for so much of what we will see on Tuesday. This week's Essential poll reported that when asked what economic issue worried them most, 56% said cost of living, 6% said the budget deficit and 5% said national debt (though the Liberals can take some heart from outpolling Labor as the best party to handle the economy overall – 40-26%).
Cormann attempted something of a slide when he declared that in the budget "we are delivering on all of the policy commitments that we took to the last election". He said that twice, too. The undertaking of no tax hike is presumably not defined as a "policy commitment".
Never has the concept of "trust" been so sullied by politicians as in recent years, and they don't show any inclination to give up the practice, inevitably reinforcing voter cynicism.