Julia Gillard should have stuck to her stated intention of "governing" rather than "campaigning" this far from the election. Despite her claims, there is no way her western Sydney barnstorming could be described as going about her business of running the country. It has been an unashamed pitch for votes, and at times not a pretty one.
In a mix of inducements and fear mongering, Gillard held out the prospect of big dollars for the western Sydney motorway, but only with conditions; stoked feelings against foreign workers in the guise of protecting the jobs of Aussies, and pushed hard on the law and order button.
The roads debate just became a row with the NSW Liberal government. Business and some within Labor were horrified at the tone of the debate about 457 visas. And Gillard's call for national laws to deal with gangs and guns promised to further overload an already too full COAG agenda.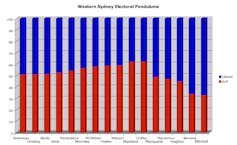 The style and content of Gillard's campaigning dealt further blows to her credibility. However desperate Labor might be, it is irresponsible to attack a program to bring in workers from overseas that (despite some misuse) is adding to Australia's skills and economic capacity.
Australian National University demographer Peter McDonald, a member of the ministerial advisory council on skilled migration, contested Gillard's claim that Labor had inherited an out-of-control system. McDonald also highlighted the value of the scheme in grooming migrants, saying it had become "pretty much the centrepiece of the Australian migration system. People come to Australia on a temporary basis… They establish themselves in Australia, they establish themselves in jobs and from there they move onto permanent residents often".
Then there was Gillard's apparent cavalier use of statistics. She was publicly tackled by the director of the NSW Bureau of Crime Statistics and Research Don Weatherburn after she said the bureau's figures showed that over the past 15 years "shootings in public places have soared."
Weatherburn in a statement bluntly described the PM's claim as "incorrect". Essentially, the picture was not as black as she had suggested; Gillard defended herself yesterday by saying she was referring to a subset of the numbers (shooting at premises) although even that didn't entirely support her case.
Leaders stage-manage most of what they do, so it was not surprising that the PM's office attempted to carefully choreograph her days in the west. But this was overdone. If this was supposed to be about "listening", she needed to have been more willing to run the gauntlet of her critics out in the streets.
Sources close to Gillard say she feels good about the week; they argue it has been a net plus, helped by the low expectations generated by the media. But while some in caucus believe she needed to be highly visable in this Labor heartland, others winced at the TV footage.
Labor generally was thankful for the distraction of the extraordinary Victorian Liberal shenanigans that on Wednesday saw Ted Baillieu more decisive in leaving the premiership than he ever seemed to be while in it.
Baillieu's failure to get out a positive message and now the circumstances of his demise are bad for the Liberal brand. Aware that the exit of Baillieu in his first term undercuts the Liberal lines about the slaying of Rudd, Tony Abbott (back in western Sydney yesterday for his 51st visit since the election) insisted there was "a world of difference" between the fates of Rudd and Baillieu.
This was an "orderly transition", involving "no challenge" and "no ultimatum", he said. It's unlikely to look so "orderly" to startled Victorian voters. The quick-as-a-flash leadership switch wasn't bloody like the coup against Rudd. But it came across as nearly as confusing to Mr and Mrs Average. Baillieu's departure hasn't been fully explained, just as Rudd's overthrow was not convincingly accounted for at the time.
Nielsen federal polling since late last year has consistently shown Labor doing better in Victoria than elsewhere. In the most recent Nielsen poll taken in mid-February Labor was ahead on a two-party preferred basis.
But while Victoria has been Labor's best state, it is coming off an exceptional Labor performance there in 2010 (55.3 per cent two party vote). The average federal swing in Victoria since late last year has been around 4-5%.
Labor has three Victorian seats under 2 per cent (Corangamite, Deakin, La Trobe). Whether the dramatic upheaval in the state Liberals might help the ALP defend them could depend on the early performance of new premier Denis Napthine, who inherits a government poised on a knife edge.
The week has thrown up a notable contrast in how leaders respond when they have become millstones for their parties. Gillard is fighting tenaciously to hold onto her position at all costs. Baillieu chose to opt for the handover. As they prepare to return for two rugged parliamentary weeks, with new polls and the Western Australian election to come, some of Gillard's marginal seat holders will be wishing they could see a federal leadership change done in the Victorian fashion.