One of the largest LAN party videogame conventions, Quakecon returns for its 19th meet since 1996, with more than 9,000 people attending to "frag" each other playing the renowned first person shooter. Recently, an estimated 130,000 fans attended Comicon in San Diego. For the month of October 2015 alone, there are 22 conventions worldwide, and this excludes commercial conventions.
Observers of fan conventions often express surprise that people who met online might want to meet IRL – "in real life", or in person. This is often and entirely incorrectly held true of gamers, particularly, who are conceived of being unsociable, solitary creatures. This perception has been compounded by the #gamergate controversy, in which many prominent members of the gaming community were harassed – most notably women developers, journalists and commentators. This might suggest that gamers are a closed, antagonistic and predominantly male-centred group. Fortunately, the reverse is often true.
Such socialisation and fan meet-ups have a long history – the first Worldcon was held in 1939. Charities exist for sending fans with limited means or those from under-represented groups to conventions around the world. There are even conventions for convention runners (but only if you are a Secret Master of Fandom. Behind the images of convention-goers dressed as cheerful-looking anime, television or film characters is an established community.
Conventions, the industry and fans.
There are two broad types of fan convention. The commercially run enterprise is run with profit in mind – these events tend to be large, well-publicised events such as San Diego Comicon, GenCon and PAX. Subsidiary events often attract industry professionals, while large conventions are often used as a springboard to release new work or products.
For example, Comicon is now where companies like LucasArts showcase forthcoming work: this year they treated 6,000 fans to a free outdoor concert, new reveals about the forthcoming Star Wars film, and guest star appearances from the cast. Similarly, E3, GDC and Gamescom bring together industry professionals, journalists and fans for a weekend of new games announcements, publicity and promotions. They are cheerful and noisy events, known for huge queues, freebies and panels featuring guest speakers and celebrities. The gender split of attendees at Comicon was equal this year at 49% each (the remaining 2% made up of non-binary attendees).
It's all about the fans
Fan-run conventions such as Worldcon, which hosts the science fiction Oscars each year in the form of the Hugo Awards, are no less riotous, but on a rather different scale. Worldcon is typical of these conventions in that it is entirely run by volunteers. Unusually, the location of Worldcon changes each year, as voted for by attendees, so teams bid in advance to host subsequent events and run lengthy election campaigns.
Fan-run conventions focus more on showcasing a mixture of authors, creative experts and fans, with often extensive programmes where attendees can see everything from authors playing and recommending their favourite boardgames, to discussions on diversity and representation in fan fiction, to readings and signings by people at the top of their field. The lower attendance figures allow for a more intimate setting where guests, speakers and fans can mingle.
Conventions of all shapes and forms are an increasingly important element of fandom – after all, getting together with several thousand like-minded people with the added incentive of parties, meets, talks and discussions by respected and creative people seems like a recipe for enjoyment.
For gaming events such as Quakecon, it's also the opportunity to play and compete against people who attendees may have known for years, but never met in person. Mainstream sports fans will also recognise the value of watching those at the very top of their game play competitively.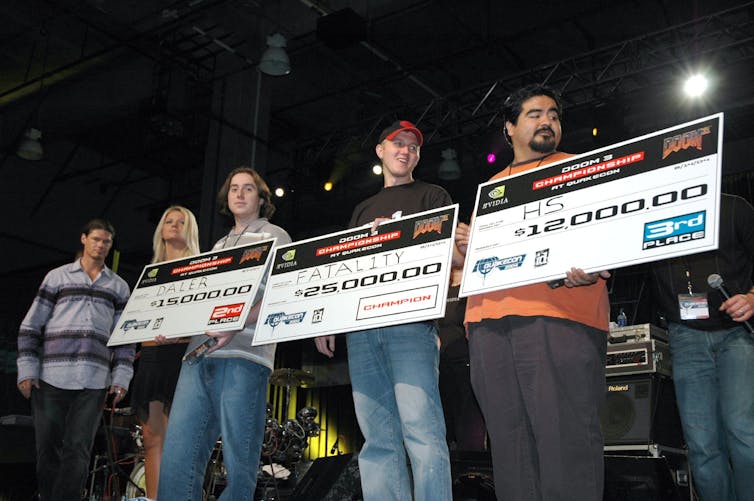 Online and Real Worlds Collide
The amount of convention-goers continues to grow as fans reach out to each other worldwide. This is partly driven by a feeling of deep reciprocity among fans: that attending is "giving back" to the community. And it's for this same reason that ructions like #gamergate and others are so alarming for the community in question.
The Hugos are currently the subject of huge controversy after two groups of right-wing authors managed to influence the nominations by releasing a recommended reading list, and having supporters block vote for these authors. Destablising such niche and esoteric groups causes great alarm, as fans realise that despite their shared experiences and interests, their cultural values and perceptions of the world may differ wildly.
It's comforting to regard fandom as one large, happy, geeky family, but the growing care and attention given by conference runners to their Codes of Conduct also speaks of a group very much aware of the need to make no assumptions about others, and to provide clear guidelines for behaviour within the convention. While conventions continue to grow and provide exciting places for fans to meet and share experiences, it's unwise to regard them are utopian spaces.